Creativity goes viral at FIFA World Cup
June 18, 2018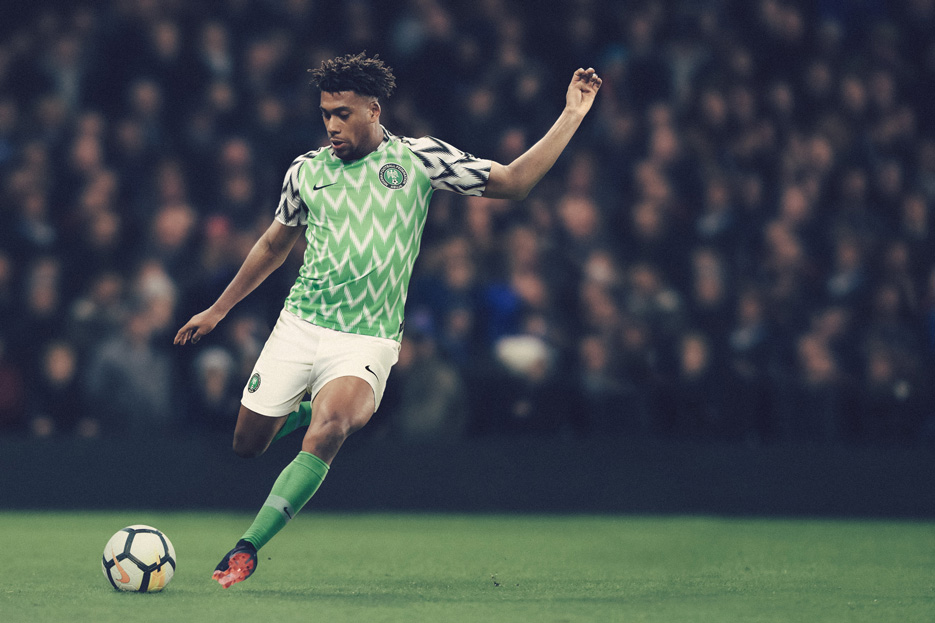 When he played right wing for the Skidmore College men's soccer team, Matt Wolff '12 was known for his speed, relentlessness on both sides of the ball and fun personality. To the guys, he was just "Wolffie," the red-haired kid from Minneapolis. And his career after Skidmore hasn't strayed far from the soccer field.
Six years after running the flanks on Wachenheim Field, Wolff is a graphic designer at Nike and his logo and soccer uniform designs have made their way around the globe.
Most notably, Wolff is credited with designing the Nigeria men's national team's home kit (uniform) for the 2018 FIFA World Cup.
The design is being hailed as a top kit at the World Cup and is becoming a viral, cultural sensation. When it unveiled at Nike's London store, it sold out in just three hours. Around the world, Wolff's design is being hailed with phrases like "instantly-iconic," "the most stylish," and promoting "Nigerian swagger."
"Matt Wolff, he designed this home kit," says Nike Football Club's Design Director Pete Hoppins. "He was inspired by the classic 1994 kit with the eagle wings. We kept pushing the design and pushing it and pushing it to see how far we could go until we were like...that just looks fire."
"Nigeria's triangle-patterned home kit became not just the best one revealed for this tournament," writes Luis Paez-Pumar in a Fader article. "It instantly became the hottest piece of soccer gear since Juventus's Drake-modeled pink jersey from the 2015-2016 season."
Adds Fast Company's Jesus Diaz, "Nigeria wins the design competition here. The designers at Nike really did their homework and weren't afraid to make bold choices. I love the pattern, I love how it looks like it's in motion, and I love how it ties with the country's culture–tying with Nigeria's green and white flag to a textile-style pattern inspired by its diaspora."
Says Wolff, "It was so much fun designing these World Cup 2018 pieces for Nigeria with the Nike team!"
Wolff's advice to current and future Skidmore students:
"Your major doesn't have to become your career. I majored in business management but pursued a career in graphic design. It's never too late to try something new."
Before joining Nike, Wolff had the privilege of launching the visual identities of the professional soccer teams New York City Football Club (NYCFC) and the Los Angeles Football Club (LAFC), as well as those of numerous minor league and youth clubs. He has also done work for IMG Colleges, Hypebeast, and TV Land.
As the lead art director at NYCFC, Wolff was responsible for designing everything from jerseys and on-field apparel to billboards in Penn Plaza and web and print collateral. He designed the club's badge and inaugural season logo, in addition to working regularly with Adidas and the club's sister company, Manchester City FC.
For the last five years, Matthew has also run his own company, Matthew Wolff Design. His clients range from professional sports franchises and non-profits to musicians, blogs, and apparel companies.
If you want to see the kit in real time, Nigeria plays Croatia June 16, Iceland June 22 and Argentina June 26.