Saisselin Art Center celebrates 40 years of making
October 15, 2018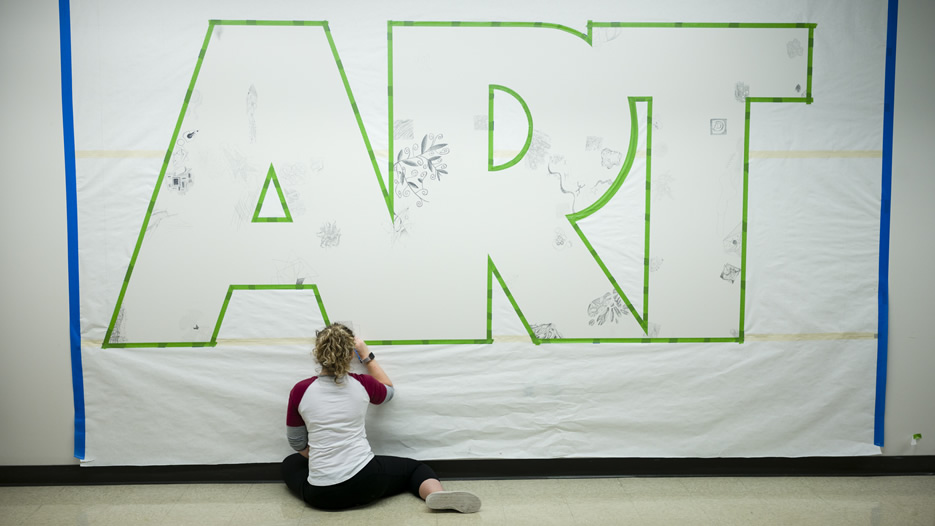 This month, the Skidmore community celebrated 40 years of a cutting-edge art center at the heart of Skidmore's campus and its creative mission.
Students, faculty and alumni gathered Oct. 12 to see the Saisselin Art Center's 10 specialized studios in action, join in the creative process and hear about the center's remarkable history.

In the mid-1970s, Skidmore College arts faculty envisioned a cutting-edge art center at the heart of Skidmore's new campus that would house all the studio art programs under a single roof. The Saisselin Art Center — named after Marjorie Saisselin Woodbury '35 — opened in 1978.

Architecture firm Ford, Powell & Carson designed the building, with input from faculty. It included spacious studios (more than 57,000 square feet), multiple darkrooms, a new art gallery, a sophisticated ventilation system, open verandas and more.

"It was a new beginning starting with a clean slate," said Professor Emeritus Regis Brodie, a ceramic artist.
The construction was part of Skidmore's move from its former campus spread throughout approximately 80 buildings in downtown Saratoga Springs.

Brodie was able to incorporate efficient design into the new ceramics studio, making it second-to-none. He had walls moved to make his office smaller and space for students was enlarged. He built grates for washing clay, which helped eliminate dust, and raised extra funds to expand and enhance the kiln room.


"The new studio helped to create a rich, creative environment and a loyal, devoted community," Brodie said.

Professor Emeritus David Miller recalls a request for skylights on the third floor.

"Having that natural light made a huge, positive difference in mixing, using and identifying color," said Miller, who taught painting and drawing for 34 years.

Miller was thrilled when the department moved into the new Schick Art Gallery at Sasselin. The welcoming, clean rectangle of the Schick could be customized with its moveable walls. It featured a storage area and a work room where glass and mats could be cut. Exhibition space could accommodate large platforms and pedestals for 3D works. The new space allowed for many impressive shows.


"Exciting, fun openings were well-attended by a growing community of folks interested in the arts," Miller said.

Those faculty design contributions, along with many others, created a space students and faculty have enjoyed for decades.

"I have worked in this wonderful building for more than 30 years," said Janet Sorensen, chair of the art department. "The Saisselin Art Center is such a very special place — it is home to our 10 specialized studio areas and the Schick Art Gallery is located right in the heart of the building."