In It 3 diversity series focuses on socioeconomic class
October 8, 2018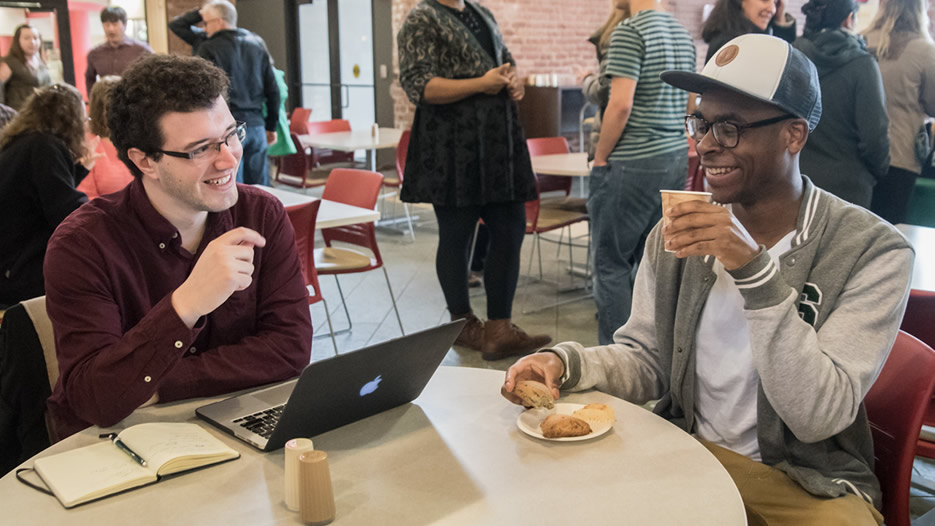 Skidmore College is sponsoring a series of lectures and special events designed to initiate conversations around diversity, equity and inclusion related to socioeconomic class.

The third In It series, scheduled for Thursday, Oct. 11 and Friday, Oct. 12, aims to raise cultural fluency and strengthen the Skidmore community. The title of the series is derived from a phrase often cited by Skidmore President Philip A. Glotzbach, "We are best served when we are all in it together."

"Issues relating to diversity are important today, not only to Skidmore College but to our city and our nation," Glotzbach said. "This year's programming offers a number of different entry points for people seeking to inquire, learn and enhance their intercultural literacy. I welcome this opportunity, and I hope that many others will take advantage of it as well."

The In It 3 series is designed to foster greater understanding around issues related to socioeconomic class and will include the following events:

Thursday, Oct. 11
Two sessions of a workshop featuring organizational development specialist, Kimberly Rattley. The workshop, Disrupting Everyday Bias, explains how bias develops and functions, its impact on decision making, and how experiences and identities shape biases. Participants will learn practice strategies on how to disrupt the impact of bias in interactions.
Natalie Gilliard, assistant vice president of multicultural experiences at Stevenson University, will present FACTUALITY: A Crash Course on Structural Inequality in America. This facilitated dialogue explores structural inequality in America based on national statistics. The process simulates real life experiences in America through a group of diverse characters who explore a series of fact-based advantages and limitations based on the intersection of their race, gender, sexual orientation, faith and class.
Lyndon Cudlitz will present TRANScending Expectations: A Transgender Perspective on Gender and Finding Home in Oneself. The program — which takes place on National Coming Out Day — will introduce concepts of gender identity and expression, provide clarification on terminology and tips for communicating with and about trans individuals. The presentation will provide candid information through storytelling. Cudlitz has 15 years in LGBTQ services and social justice education and provides training for educational organizations, healthcare providers and other organizations.
Friday, Oct. 12
The Frances Young Tang Teaching Museum will host a conversation on Intersection and Fluidity led by an interdisciplinary group of Skidmore faculty and staff: Rachel Seligman, assistant director for curatorial affairs and Malloy Curator; Janet Casey, professor of English; Mehmet Odekon, professor emeritus of economics; and Bernardo Ramirez Rios, assistant professor of anthropology. The discussion will explore the intersections of race, gender, ability and other ways of understanding identity. At the center of the discussion are six photographs by Nikki S. Lee. Inspired by the Tang's 2013 exhibition Classless Society, which included two of Lee's photographs, the event aims to facilitate a group exploration about identity in the current social, economic and political context.
Screenings of "Class Divide," an HBO documentary, will provide a look at gentrification and inequality within a Manhattan neighborhood. The film explores two distinct worlds — a public housing development which provides low-income apartments to families, and a costly private school — which share the intersection of 10th Avenue and 26th Street in Chelsea. The film explores what happens when children from both of these worlds share the same neighborhood.
In It programming is produced by Joshua C. Woodfork, vice president for strategic planning and institutional diversity, with assistance from campus inclusion liaisons, and with support from the Committee on Intercultural and Global Understanding.

The 2016 inaugural series explored race and race relations, and the 2017 program explored gender by focusing on the intersections of gender, race and LGBTQIA+ identities.

In 2017, Beverly Daniel Tatum, author of the acclaimed book, "Why Are All the Black Kids Sitting Together in the Cafeteria?: And Other Conversations About Race" and Scott Page, Leonid Hurwicz Collegiate Professor of Complex Systems, Political Science and Economics, at the University of Michigan, offered keynote addresses as part of the In It series.

All activities are free and open to the public.