Five Skidmore winter traditions we can't wait for
January 18, 2019
Winter. It's a hot topic when you go to school in upstate New York. Some people celebrate every snowfall. Others insist on hibernating all season.
No matter your position, there's something special about winter at Skidmore. In fact, some of our favorite traditions and events happen during the winter months. Ranging from culinary to comedy, cold to cozy — here are five things we're looking forward to this winter.
Getting tickets to the National College Comedy Festival
Google "college comedy" and Skidmore's National College Comedy Festival will top the results. Known as ComFest for short, the student-produced annual comedy festival features popular professional comedians and premier improv and sketch groups from colleges nationwide.
Founded by David Miner '91 (a producer on "Parks and Recreation" and "Unbreakable Kimmy Schmidt"), the festival is a veritable insider's guide to who might be the next thing in comedy or show business.
Miner himself is an example. And if you've been binge-watching "The Marvelous Mrs. Maisel" lately, you can thank Skidmore for giving Michael Zegen '01 (Joel Maisel) the platform for co-founding The Sketchies, a sketch comedy group that still participates in ComFest.
Beating last year's record for how many chowders we can taste in one day
Held in early February, Chowderfest is one of the most popular events in Saratoga Springs. Thousands of people gather to purchase $1 cups of chowder from as many restaurants as their stomachs can handle (there are more than 80 to choose from).
Some restaurants offer classic varieties like New England clam or corn chowder, while others let their creativity shine with distinctive concoctions like spaghetti and clams, chicken wing, Maui fish and Korean filet mignon. Many Skidmore students make a day of it, donning their warmest winter garb and walking downtown to get their fill.
Studying with slippers, Snuggies and all things cozy
The Scandinavians call it hygge, a feeling of coziness and comfortable contentment, but at Skidmore, it's just called life.
When the temperature outside drops, nothing beats hunkering down with a pile of blankets to read a good book. Or, braving the elements for a brief jaunt so you can settle in beside a cozy fireplace at an on-campus or downtown Saratoga Springs café.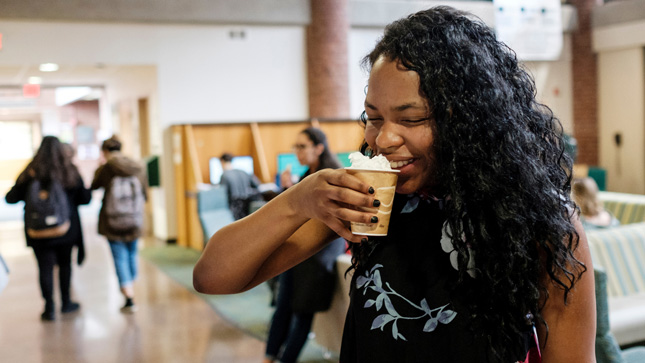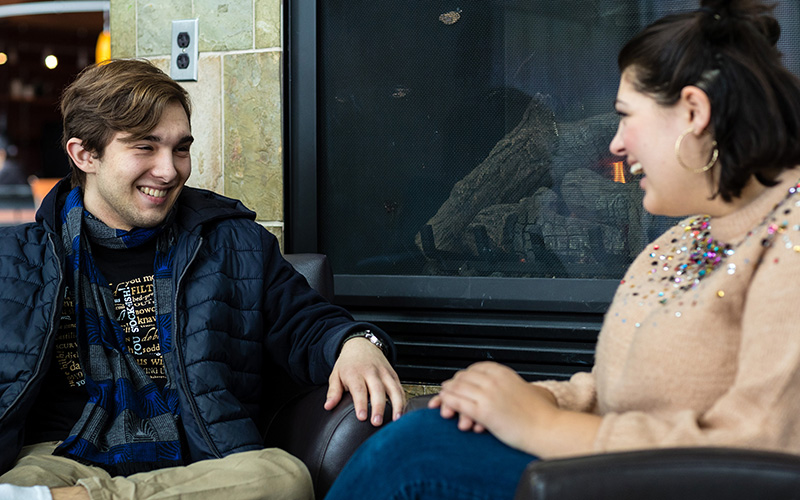 Warming our hearts with school spirit at the Big Green Scream
One of the most anticipated events of the year, the Big Green Scream is a pep rally of sorts for Skidmore's men's and women's basketball teams. Featuring back-to-back games, often against a Liberty League rival, it's an all-day event celebrating T-bred spirit.
But Big Green Scream weekend isn't just about basketball. The Skidmore community extends the fun with other family activities. Over the years, the weekend has included a winter carnival with sledding and snow angels, sustainability showcases with compost demonstrations and clothing swaps and more.
Frolicking through the snow
When cabin fever sets in, sometimes the only way to let loose is to venture outside and make the most of the snowy season. On a campus where Creative Thought Matters, it's no surprise that a typical winter day inspires students to partake in snow-themed activities ranging from traditional sledding and skiing to more imaginative fun, including hanging in a hammock and sculpting a dinosaur "snowman."
But, above all, it's the sheer beauty of the season that seems to captivate us most. With Skidmore's stunning campus as inspiration, capturing the perfect snowy photo is an annual tradition.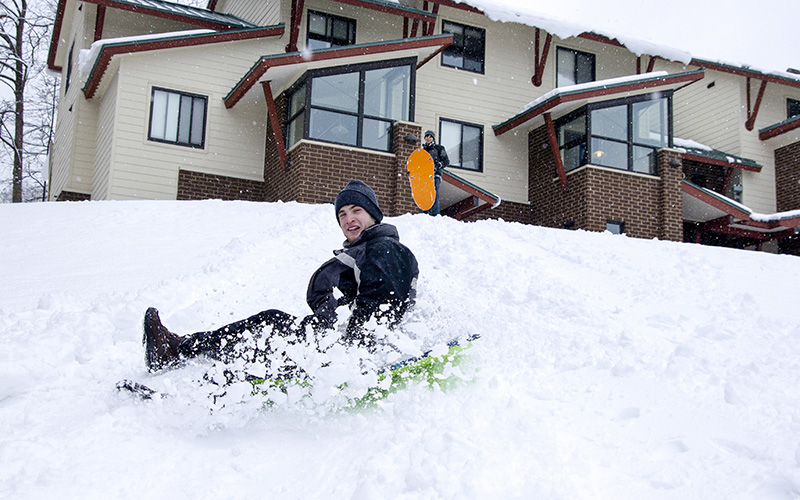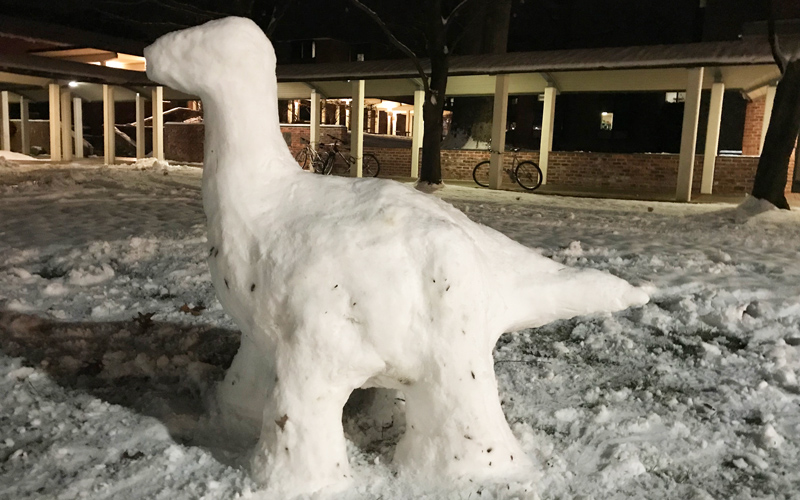 Photo by Paul Machabee '21