Where is the Class of 2019 going next?
May 13, 2019
This year, more than 600 members of the Class of 2019 join the ranks of more than 35,000 alumni in their chosen life and career paths. They're headed everywhere from the Houston Astros and Tiffany & Co. to the Peace Corps and the Dana-Farber Cancer Institute, bringing creative thought to life in their new communities and throughout the world.
Equipped with hands-on experience, new networks, diplomas and creative thought, grads are ready to tackle graduate school and the working world. Here's a small sample of where a few of our newest alumni are going and what — or who — helped them get there.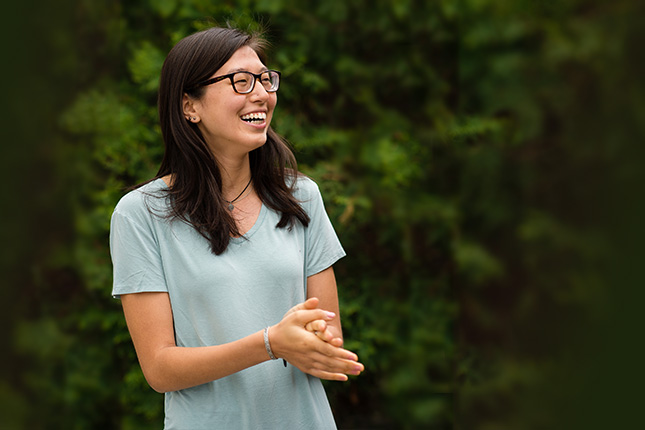 Grad: Kasia Dillon
Major: Neuroscience
Next stop: Dana-Farber Cancer Institute as a research assistant
The difference-maker: Her mentor-mentee relationship with her health professions adviser, Pat Fehling. Professor Fehling helped Kasia set her pre-med path and land a coveted space in a program at Baylor College of Medicine with world-renowned surgeons. It affirmed her passion for medicine and introduced her to the field of oncology.
Skidmore feels like a little family where everyone is looking out for you. The support system and relationships I've formed with my professors are incredible.

Kasia Dillon '19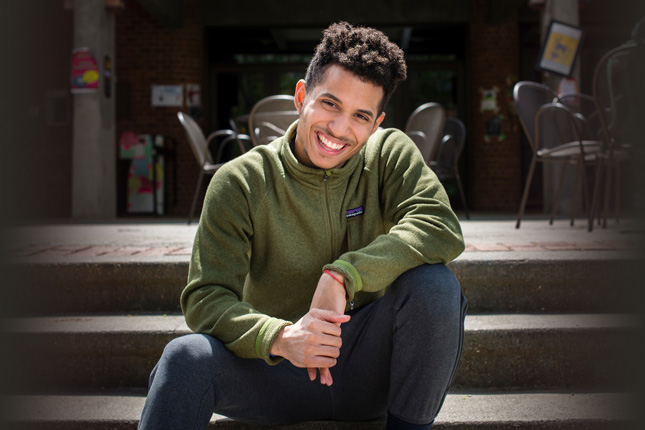 Grad: Cristian Fernandez
Major: Management and business
Next stop: Ernst & Young as a business advisory consultant
The difference-makers: Skidmore professors who were genuinely supportive of all of his passions … from business to hip-hop and spoken word.
Top honors: Cristian received the Wall Street Journal Award from the Management and Business Department for outstanding academic achievement and demonstrated interest in applied management throughout his career at Skidmore.
A fun fact: In his final semester, Cristian produced and starred in the first-ever hip-hop performance at the Zankel Music Center.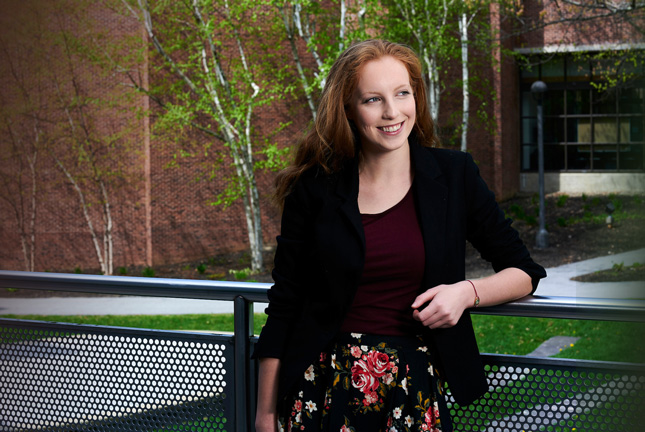 Grad: Amy Rowland
Majors: International affairs and political science
Next stop: JET Program in Japan as an English language teacher
The difference-maker: Studying abroad in Freiburg, Germany, in a program focused on the European Union program. Amy learned about EU relations firsthand and spent her summer assisting a professor at the University of Freiburg with international criminal law research.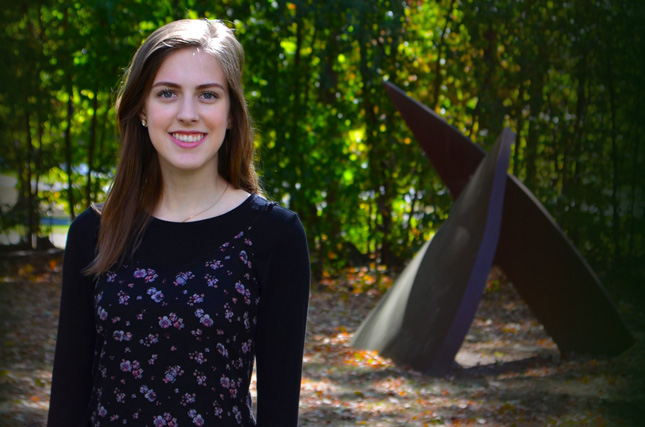 Grad: Monica Andrews
Major: Art history
Next stop: Shelburne Museum as a public programs associate
The difference-maker: The Meg Reitman Jacobs '63 Endowed Internship. As the recipient of this pre-professional internship at the Tang Teaching Museum, Monica had the opportunity to plan, curate and promote events for the Tang.
One more thing: Monica also received funding from the Skidmore Summer Experience Fund in 2018 to intern at the Design Museum Foundation in Boston, Massachusetts.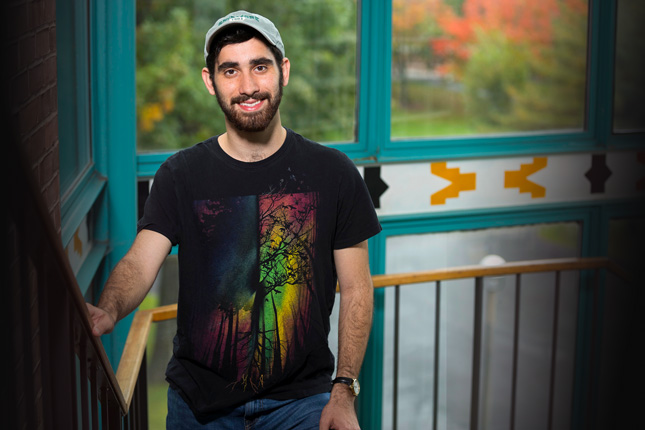 Grad: Jesse Epstein
Majors: Pyschology and religious studies
Next stop: London as Skidmore's program assistant for IES abroad and Skidmore OCSE
The difference-maker: The chance to get a variety of hands-on, interdisciplinary experiences. In addition to completing a double major, Jesse served as a peer mentor, director of Skidmore EMS, an admissions ambassador, president of Hillel, research assistant and as a participant in the College's First-Year Experience in London program.
I've discovered over time here in my experiences and talking to people that it's completely possible to merge my diverse passions and contribute to society in an area that hasn't really been developed yet.

Jesse Epstein '19
So how did the multitude of other 2019 grads chart their promising paths?
In part, by taking full advantage of the bounty of career-development and networking opportunities offered by Skidmore's Career Development Center (CDC), including:
Wall Street 101, Consulting 101 and Career Jam: These campus-based programs put students in direct contact with successful alumni, parents and friends and the companies they represent (including IBM and KPMG), with many connections leading to career opportunities.
Skidmore Recruitment Day: This new event brought Skidmore students to New York City to meet with dozens of top employers who were ready to exclusively recruit and interview Skidmore students.
Career and Internship Connections Career Fair: The career fair and interview day invited students of all class years and majors to make the most of winter break with a day spent networking in NYC.
Pathways to Health Professions: This set of programs brought health care professionals to the classrooms to offer pre-health students an inside look at health care professions.
Green Gigs: The Office of Sustainability and the CDC hosted Sustainability Careers 101, a conference introducing students to professionals working in sustainability-oriented careers.
STEM/Health Care Connect Career Fair: Skidmore students and alumni were invited to connect with STEM and health care employers, along with graduate schools. Participants this year included MVP Health Care, New York State Department of Health, and Tufts Medical Center.
On-campus recruitment, networking and panel discussions: The Clarion Group, Tiffany & Co., Ernst & Young, Credit Suisse, Abernethy MacGregor, NYS Department of Parks and Recreation, National Public Radio, Natixis, Vogue/GQ Thailand, NYS Assembly, Deloitte and Brigham and Women's Hospital all stopped by Skidmore to recruit and network with top talent.
Media and Entertainment Tour: Referred to by past attendees as "one of the most memorable days at Skidmore," students had private access to two highly recognized media and entertainment organizations: Google and HuffPost.
Local internships: Students had more than 100 local internships available to them through the CDC, including Saratoga Living magazine, Sage Hill Wealth Management, the Children's Museum of Saratoga, Fingerpaint Marketing and the City of Saratoga Springs.
Not so local internships: During their time at Skidmore, members of the Class of 2019 received tens of thousands of dollars in Summer Experience Fund awards from the CDC. Their internships took them to Croatia, Ecuador, France, Ghana and elsewhere.
Take a look at just some of the employers that have hired members of the Class of 2019 so far.
Airbnb
BlackRock
Brandeis University
Credit Suisse
Dana Farber Cancer Institute
Darn Good Yarn
Deloitte
Discovery School for Girls
EY
Goldman Sachs
GoodRx
Houston Astros
Liberty Mutual Insurance
M&T Bank
Nathan Kline Institute
Peace Corps
Qualtrics
Salesforce
Shelburne Museum
Skidmore College
Tiffany and Co.
Vineyard Vines
Yelp