Club Fair stirs up excitement for student groups
September 9, 2019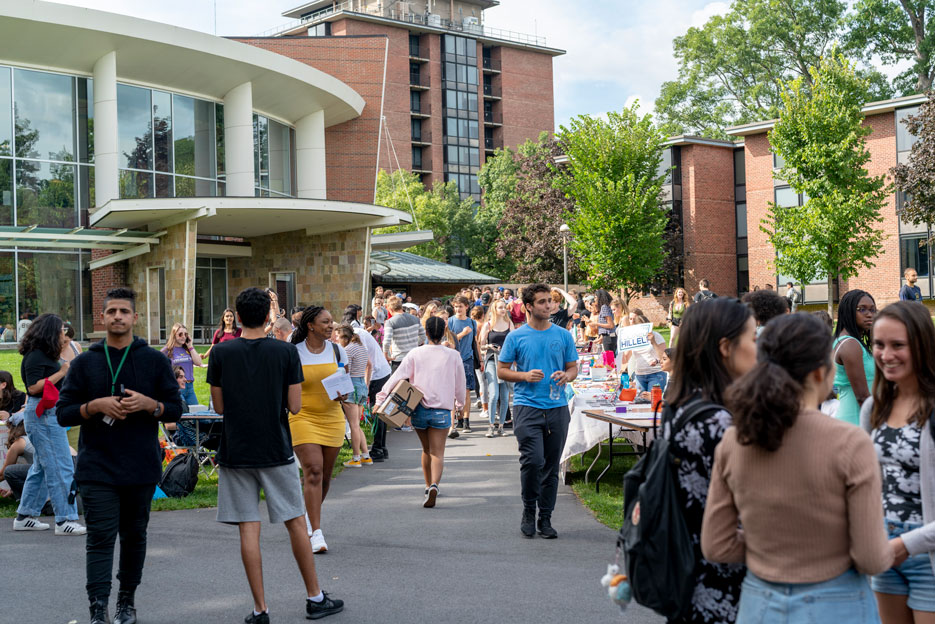 What do Ultimate Frisbee, a cappella, physics and activism have in common?
They were all part of the Student Government Association Club Fair, a Skidmore tradition that punctuates the first week of the academic year.
Skidmore has nearly 130 student clubs and 19 varsity sports. The lively Club Fair gives students opportunities to showcase their creativity and find and create communities built on mutual interests and shared experiences.
The excitement was apparent in the singing of the Sonnets, flying frisbees and reggaeton beats of Raices — just a few scenes from the festive Friday afternoon.
Brian Correl '21, treasurer of Outing Club, reflected on how student clubs give students the opportunity to embrace hobbies, like rock climbing and canoeing.
"I have been in this club since freshman year," said Correl. "I've been an outdoorsman my entire life, and this club gave me a chance to continue to follow my outdoor passion where I can expand on my own knowledge and pass that knowledge on to other people."
Student clubs also offer a sense of home for students from a variety of backgrounds. With 14 multicultural clubs, students can find community and continue diverse cultural traditions.
Thabo Bakhuluma-Ncube '21, of African Heritage Awareness Club, said, "I am a member of this club because it means a lot to me — it means diversity, inclusion … It's a home away from home, really."
After his first club fair, Tinaye Mawocha '23, felt a little overwhelmed, but excited. "I signed up for a lot of clubs. I don't know if I will be able to keep up with them all, but I'll try."
To learn more about student clubs at Skidmore, visit https://www.skidmore.edu/sga/clubs/index.php.