A "mini Skidmore" in Tiffany & Co.'s Manhattan makerspace
December 13, 2019
In the middle of Manhattan is a workshop where centuries-old tools — chains, lathes, rolling presses — meld with modern technology — microscopes, 3D printers, laser welders — and some of the most precious metals and materials in the world.
Pioneer makers are at work here, creating and collaborating for a company that has nearly two centuries of cachet — Tiffany & Co. And Dana Naberezny '95 is vice president of its latest creative revolution, the Jewelry Design and Innovation Workshop.
"Tiffany & Co. has built a secret lab to crush its rivals," reads one article from Bloomberg. Others call it a "think tank" and a "lab of shiny dreams." But it's the label that Caite Canfield '19 has given it that elicits genuine pride for Naberezny: "a mini Skidmore."
Canfield, an international student and studio art and math double major, was recruited by Naberezny to intern in the workshop over the summer.
"I love the idea of being able to give back to the school that formed my foundation. I wouldn't be the jewelry maker I am today without Skidmore and Professor David Peterson," Naberezny said, referring to her former art professor, who specializes in jewelry and sculpture.
"Dana looked for Skidmore students with dreams because she knew she could help make them a reality," said Canfield. "I was amazed when she said, 'Let me give you a kickstart, get you on your feet, offer you an incredible internship and take you under my wing."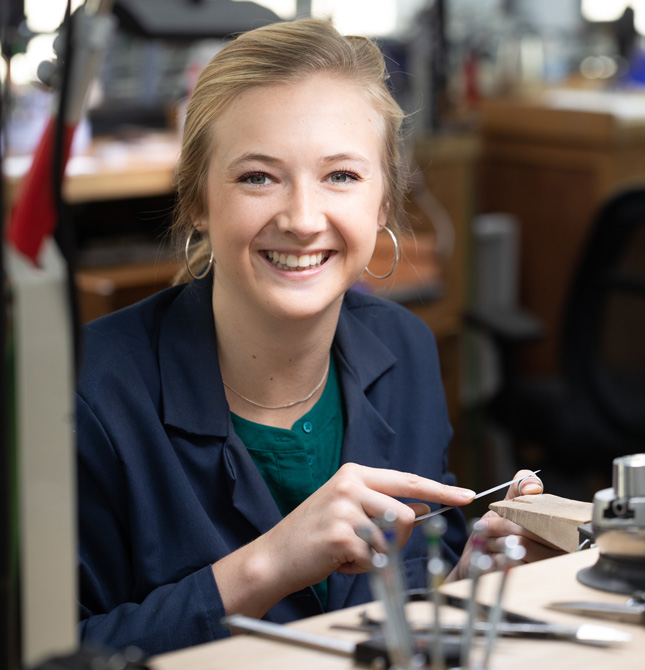 Canfield isn't the only Thoroughbred working with Naberezny. Bennett Beutel '16, a management and business major and engineering technician at Tiffany, is also part of the team.
For Beutel, working in the Jewelry Design and Innovation Workshop is "extremely informative and exciting. To be involved in molding the future of the jewelry industry is a dream come true."
Naberezny and Beutel met Canfield on campus during an exclusive Tiffany recruitment day organized by the Office of Alumni Relations and the Career Development Center.
Skidmore teaches you how to mix aesthetic and creative appreciation with business acumen, process and technology. That makes great candidates for us.

Dana Naberezny '95
Canfield spent her summer as a model maker and designer before heading off to pursue a master's degree in architecture.
"It was like a mini Skidmore, with jewelers, CAD designers, model makers and engineers from different backgrounds, nationalities and interests all working together," she said.
The model makers take designed, 3D-printed and casted prototypes and turn them into real pieces of jewelry. Those pieces are fluidly shared across the desks of internal quality, merchandising, supply and manufacturing experts. The whole process happens at a pace previously impossible in the jewelry industry.
The ability to work within a dynamic and diverse community of makers is something that Naberezny believes is a core strength of being a Skidmore graduate.
"The theme of all of our Skidmore conversations is exposure. You graduate so aware of the benefits of the diverse thoughts, people, creativity and more," she said. "And from that, you gain life gifts like self-awareness, empathy and the ability to collaborate."
Now, if you see inside an iconic Tiffany blue box, know that some of that sparkle could be thanks to a little Skidmore creativity.