Bringing the artist who inspires you to campus
March 3, 2020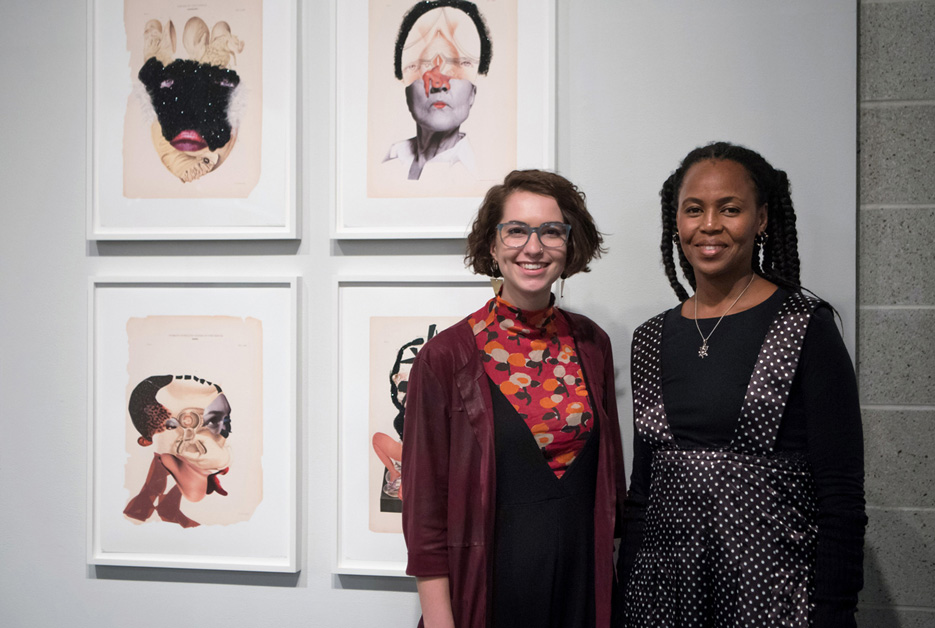 For years, Skidmore College studio art major Caroline Coxe '20 has been inspired by acclaimed Kenyan American artist Wangechi Mutu.
Now, as the Eleanor Linder Winter '43 Endowed Internship at Skidmore's Tang Teaching Museum and Art Gallery, Coxe invited Mutu to campus to deliver the third annual Winter/Miller Lecture on Feb. 27.
"Wangechi Mutu has been my biggest artistic inspiration for five years now, and getting to meet her is incredible," Coxe said. "To this day, because of her influence, my studio is scattered with magazine clippings, and fabric scraps with which I construct landscapes and bodies."
Mutu, who was born in Kenya, studied in the United States and now divides her time between studios in New York and Nairobi. Her wide-ranging body of work includes performance, sculpture, collage, painting and video.
The Winter Intern organizes the annual Winter/Miller lecture and is given the opportunity to invite an artist who is influential to the intern's own intellectual and creative development.
"When I was a sophomore, I remember going to the first Winter/Miller Lecture with (artist) Nicole Eisenman, and how my painting professor, Joanne Vella, said what a privilege the opportunity was that a student got to bring her to campus," Coxe said. "I remember thinking, 'I have to get that internship!'"
Coxe volunteered on the Tang Student Advisory Council and worked as a gallery monitor and as an programming assistant before being awarded the Winter Internship. Mutu was her first choice for the Winter/Miller Lecture.
"I thought she would be completely out of reach, so I included her on a list with others who I thought would more realistic options," Coxe said.
Mutu first gained fame for her female figures collaged out of numerous sources, like fashion, hunting and National Geographic magazines, which The New York Times has called both "politically nuanced" and "visually ravishing."
Mutu's most recent acclaim comes from being the first artist to be commissioned to create sculptures for the four niches on the façade of the Metropolitan Museum of Art in New York.
Time Magazine has praised the work, saying the bronze sculptures, which reference the tradition of high-ranking African women, "challenge the institution's own history of Eurocentrism and patriarchy."
Speaking at the Tang, Mutu shared the ideas that go into making her art, which she said is informed by concerns for issues around gender, race, identity, immigration, violence, history, mythology, the environment, being human and the power of art.
"How is it that art makes us able to see one another?" she asked.
Coxe's experience and Mutu's appearance were made possible through a gift from the family of Eleanor Linder Winter '43. The previous Winter Interns and lecturers were Rachel Rosenfeld '18, who invited Nicole Eisenman, and EB Sciales '19, who invited Chris Ware.
More information about the Winter Internship and other opportunities at the Tang are available at http://tang.skidmore.edu.