Maya Ling, Emily Egan win 10th annual Freirich competition
April 20, 2020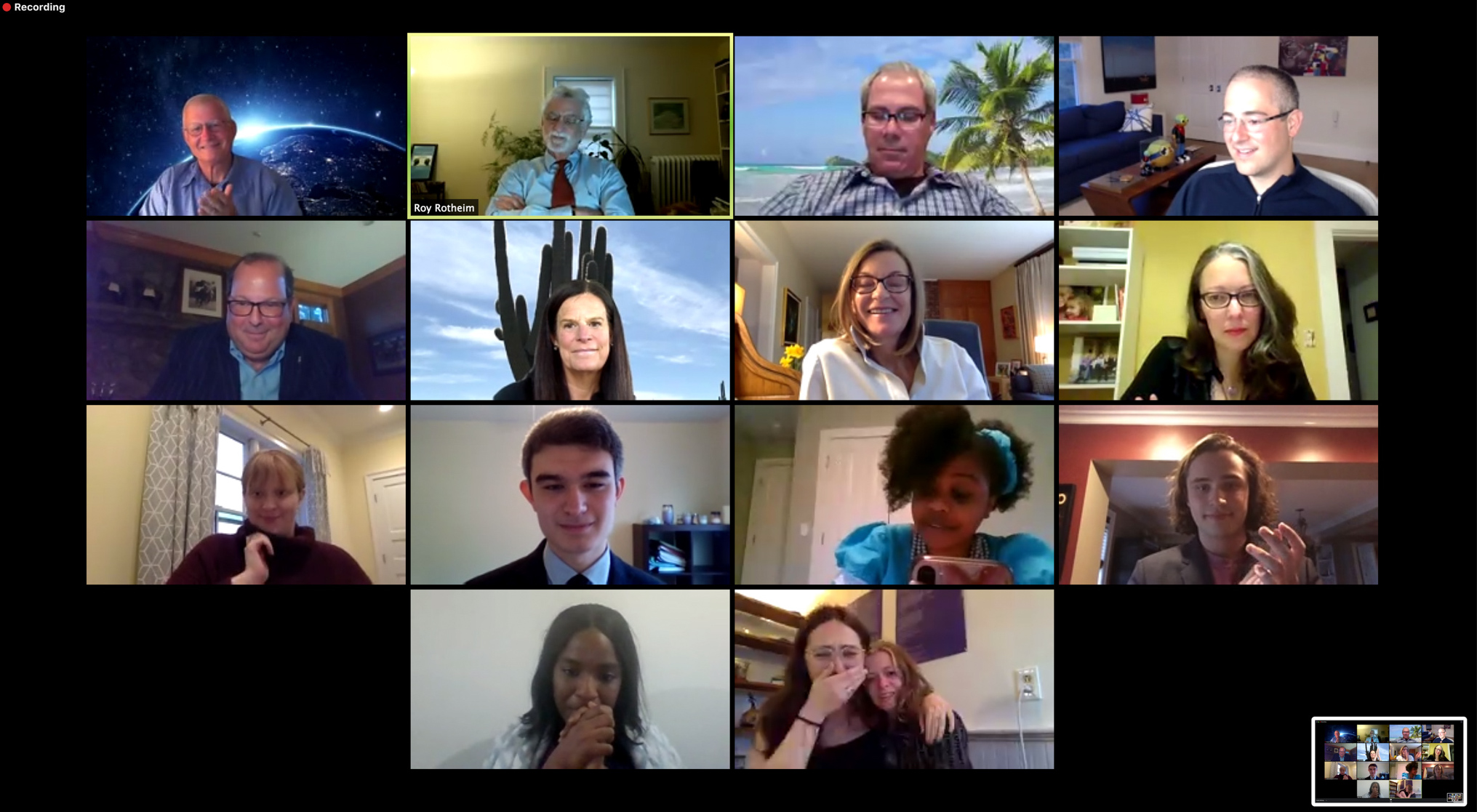 Adapting to a global health pandemic, Skidmore community members were invited to watch student entrepreneurs compete in the 10th anniversary Freirich Business Plan Competition through the videoconferencing platform Zoom.
The finalists — 11 students pitching nine business plans — shared prerecorded presentations and answered live questions from judges on Friday, April 17.  
Student entrepreneurs were awarded more than $50,000 in prizes. First prize of $20,000 cash went to Maya Ling '20 and Emily Egan '20 for their bakery business, Coven.
Self-described "natural leaders, entrepreneurs and doers," Ling and Egan met during their first year at Skidmore in the dining hall, where they bonded over their shared love of food. Since then, they have grown their passion into an herbal bakery and lifestyle brand that focuses on core values of quality local ingredients and community.
Coven baked goods are infused with herbs, flowers and spices. Current cookie flavors include rosemary dark chocolate, lavender orange, cardamom ginger and hibiscus black sesame. In addition to creating delicious treats, Coven also engages with customers on online platforms to share recipes, cooking tutorials and articles to "generate a community excited about a healthy and fun lifestyle," said Egan.
This experience has taught us the value of believing in ourselves and leaning on our Skidmore community and mentors."

Maya Ling '20
"When we decided to enter the competition, we could never have imagined that we would end up where we are now," said Ling. "We have never pursued something more ambitious, and have never felt more accomplished than we do now."
Ling and Egan plan to move to Portland, Maine, after graduation and use the competition funds to start Coven Bakery.
Izaak Cohen '20 took second place and $10,000 cash for Z's, a lifestyle accessories brand. Third prize of $5,000 went to Novilhelha Moleni '22 and Ha Linh Nguyen '22 for Natural Glow, a hair and beauty brand. Dylan Telano '23 received fourth place and $2,500 for VoyceMe, an online marketplace connecting unpublished writers with readers.
Haja Bah '21 received a social entrepreneurship award of $5,000 for her business Uman 4 Uman Salone, a nonprofit that produces sustainable sanitary pads for young women in Sierra Leone. Four other businesses — Ingles para todos (Cyntia Ismael '22), Turf Ads (Colin Mahoney '21), Trot (Abigail Kaplan '20) and Edutrer (Naira Abdula '20) — received $1,000 each.
The competition's judges have also committed to setting up a special fund for Edutrer to help rebuild a school. Freirich is donating $5,000 to the Jayne Chisesa Foundation, which Novilhelha Moleni hopes to create to prevent domestic violence and honor her mother.
Read more about the winners and mentors here.
"In this highly unusual circumstance, virtual engagement allowed us to continue to recognize the incredibly hard work the students have put into this project," said Economics Professor Roy Rotheim, who is handing off his longtime role of competition coordinator to Cathy Hill, teaching professor of management and business.
Freirich recently announced he will fund an endowment that will allow the competition to continue in perpetuity, pledging $500,000 toward the College's goal of a $1 million fund. Finals judge Rich Wartel '91 has decided to join in that effort with a pledge of $100,000.
"The Business Plan Competition over the past 10 years has exceeded all of my expectations," Freirich said. "I want every student who has ever dreamed about starting a business to have the opportunity at Skidmore."
In addition to providing winning teams with cash prizes, the competition gives student entrepreneurs the opportunity to develop and improve their business ideas through workshops, coaching, mentorships, feedback and practice sessions.
The experience begins each September with a call for entries and a series of workshops to help students prepare for semifinal presentations held in February. Over 60% of students who enter the competition are nonbusiness majors.
Over the past decade, more than 350 students representing 225 for-profit and not-for-profit enterprises have participated in the program that Skidmore President Philip A. Glotzbach says "exemplifies the entrepreneurial spirit at Skidmore."
More than 125 alumni have also been involved in the competition as mentors and judges, fostering a unique relationship between Skidmore students and their mentors and supporting the launch of the next generation of entrepreneurial businesses.