Skidmore, SPAC present violinist Joshua Bell
September 7, 2020
Saratoga Performing Arts Center's "SPAC @ Home: Concert Series" kicks off on Saturday, Sept. 12, with a virtual performance by celebrated violinist and Grammy Award-winner Joshua Bell alongside versatile classical pianist Peter Dugan, held at Skidmore College's Arthur Zankel Music Center.
Bell, who has performed with nearly every major orchestra in the world, had been scheduled to appear at SPAC with the Philadelphia Orchestra this summer before the season was canceled due to the COVID-19 pandemic. Dugan, who performs classical, jazz and pop, is host of the NPR's "From the Top."
The concert program includes Beethoven's Violin Sonata No. 5, Fritz Kreisler's arrangement of Dvořák's "Slavonic Fantasy," Pablo Sarasate's arrangement of a Chopin nocturne and Wieniawski's "Polonaise de Concert."
Bell and Dugan's performance will be followed by a Q&A session that was prerecorded at SPAC with Bell, SPAC President and CEO Elizabeth Sobol, and Dayton Director of Skidmore's Frances Young Tang Teaching Museum and Art Gallery Ian Berry.
Sobol and Berry spoke with Bell about his long history with SPAC, where he first performed at age 14, and how the pandemic, social distancing and quarantining have affected him as an artist. The trio also discuss a recent performance by Bell for health care workers and his experiences working with musicians around the world.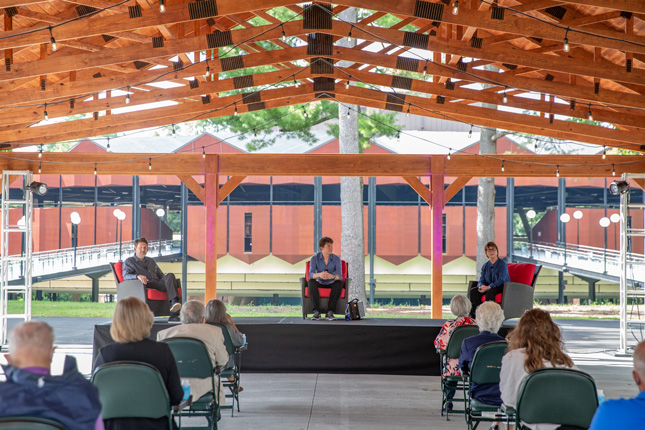 Dayton Director of Skidmore's Frances Young Tang Teaching Museum and Art Gallery Ian Berry, Joshua Bell and SPAC President and CEO Elizabeth Sobol discussed Bell's history with SPAC and how the pandemic and social distancing have affected him as an artist.
When the summer season at SPAC was canceled, Sobol and Berry connected about producing a virtual concert and behind-the-scenes interview about being an artist during COVID-19.
"It was a great opportunity to engage with a world-class artist on how his performing and artistic life has been affected by COVID-19. Life in quarantine has affected all of us, and creative people around the world are responding in different ways," said Berry. "What a thrill, too, to have music being performed again on our campus after being quiet for so long."
The collaboration between SPAC and the Tang follows a talk and demonstration on the physics of dance held last year at the Tang. The museum and nonprofit performing arts venue are continuing their partnership with a commission of new music, which is being composed in response to the upcoming exhibition "Energy in All Directions." It is scheduled to premiere at the Tang in March 2021 in celebration of the museum's 20th anniversary.
Tickets for the virtual event featuring Bell are $10 and can be purchased at spac.org. Ticket buyers will be directed to an exclusive stream, which will be available from 8 p.m. on Sept. 12 until midnight on Sept. 19.