Creating Our Future: The Campaign for Skidmore raises a record $229.4M
February 18, 2021
Creating Our Future: The Campaign for Skidmore has raised a record-setting $229.4 million from 27,193 donors to support innovative opportunities and an overall exceptional liberal arts experience for students while continuing to build resources for the College's future.
The seven-year campaign — which was launched in October 2013, publicly announced in 2017 by President Emeritus Philip A. Glotzbach and Marie Glotzbach and concluded on Dec. 31, 2020 — was marked by major milestones for Skidmore and meaningful acts of generosity from alumni, parents, friends, retirees, students, faculty and staff.
"Strengthening a creative, collaborative and community-centered future for Skidmore has always been at the core of Creating Our Future," said President Marc Conner. "Our commitment to this vision for the future remains steadfast."
This is an incredibly important moment for our college because of what our entire community — past, present and future — has made possible."

President Marc Conner
Gifts raised through the campaign are strengthening every aspect of the Skidmore experience. Donations are helping to fund construction of the new Center for Integrated Sciences (CIS); support critical priorities through the Skidmore Fund; bolster scholarships and financial aid; enhance athletics, health and wellness initiatives; fund innovative exhibitions and programming at the Frances Young Tang Teaching Museum and Art Gallery; and increase career development opportunities.
The first phase of Skidmore's Center for Integrated Sciences, the largest academic initiative in the College's history, opened in fall 2020 with the completion of the 58,000-square-foot North Wing, home of the departments of computer science and mathematics and statistics. The state-of-the-art facilities will support modern research and world-class instruction while furthering interdisciplinary connections. When the entire project is completed in 2024, CIS will host all of Skidmore's 10 science departments and programs.
Author Neil Shubin and Skidmore College Librarian Marta Brunner sign a beam during the groundbreaking ceremony for the Center for Integrated Sciences on Oct. 20, 2018.
As the need for student scholarships and financial aid continues to grow, Creating Our Future has improved access to a Skidmore education through programs such as the Davis UWC Scholars program, which supports opportunities for international students, and Glotzbach Scholars, an initiative to honor the Glotzbachs' 17 years at Skidmore.
In the last year of the campaign, gifts played a critical role in addressing unprecedented challenges brought on by the COVID-19 pandemic, including costs associated with reopening campus and creating a safe residential environment for teaching and learning.
"Faculty, staff and students have demonstrated resilience, adaptability and creativity," said President Conner. "We know they are grateful to the donors who support Skidmore's continued success. The Creating Our Future campaign is an important indicator of what our community can accomplish together in the years ahead."
Students participate in Associate Professor Tim Harper's Industry and Innovation class in September 2020.
Far surpassing its initial fundraising goal of $200 million, Creating Our Future became the largest campaign in the College's history by nearly $13 million.
A record-setting number of individuals and organizations made gifts and commitments and volunteered their time and talents to the campaign, including 27,193 individuals and organizations who made donations; 6,336 alumni and parent volunteers who encouraged ongoing connections and financial participation; and 48 faculty and staff volunteers who led the campus campaign that involved 689 current and former employees and retirees.
Volunteer leadership includes co-chairs Susan Gottlieb Beckerman '67 and Tom Wilmot '99 and original co-chairs Nancy W. Hamilton '77 and W. Scott McGraw P'12.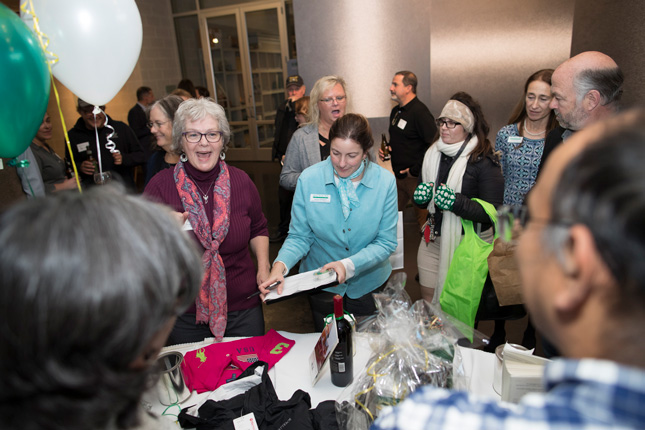 The Skidmore community comes together to celebrate Creating Our Future: The Campaign for Skidmore during an event at the Tang Museum on Oct. 18, 2018.
"This campaign brought our community together in important ways, and we couldn't be more grateful for the support and engagement of alumni, parents, faculty and staff, foundations and other friends of the College who joined together in their support of Skidmore and our students," said Hamilton, current chair of the Board of Trustees.
President Conner hopes to build on that momentum well into the future.
"Going forward, our collective support will continue to keep Skidmore strong and true to its mission of delivering a life-changing education to our students and preparing them to thrive and lead lives of consequence after graduation."