Celebrating a CIS milestone
April 27, 2021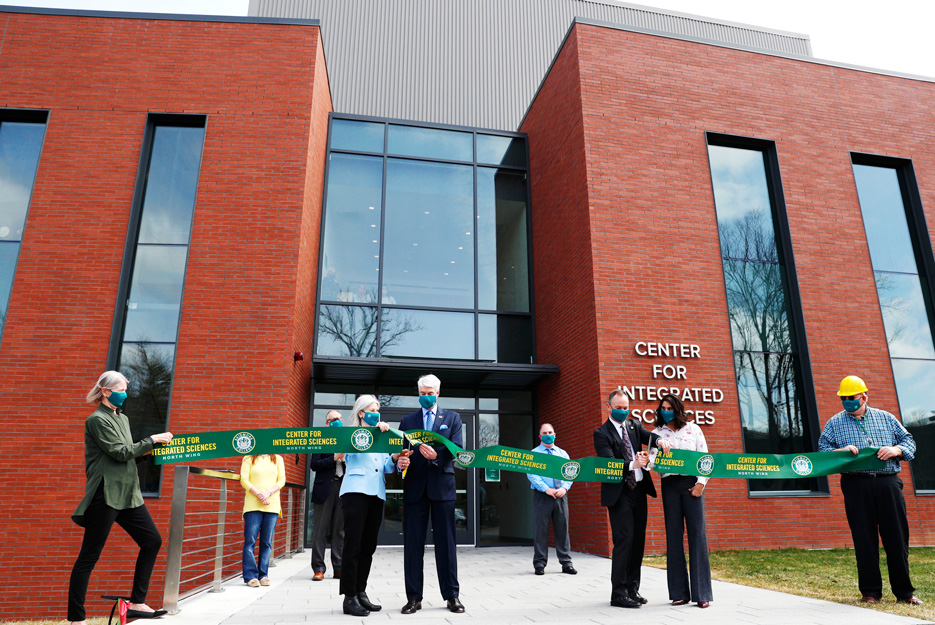 In a socially distanced, outdoor ceremony held in late March, Skidmore officially celebrated the completion of the Center for Integrated Sciences' North Wing and becoming one step closer to achieving the full vision for the College's CIS initiative.
"We are here, in person, to mark a great achievement. Despite a global pandemic, we have continued the construction of our Center for Integrated Sciences," President Marc Conner said to the small group in attendance, which included wife Barbara Reyes-Conner, President Emeritus Philip A. Glotzbach and Marie Glotzbach, CIS faculty coordinator Pat Fehling, Facilities Director Dan Rodecker, Construction Services Assistant Director Paul Lundberg, Vice President for Finance and Administration and Treasurer Donna Ng and Dean of the Faculty and Vice President for Academic Affairs Michael Orr. "We completed the North Wing ahead of schedule and safely. We are well on our way to completing the East Wing on schedule too."
When the entire project is completed in 2024, it will boast 200,000 square feet of new and renovated space and will house all 10 scientific departments and more than 90 faculty. It is the largest building project at Skidmore since the College moved to the North Broadway campus in the 1960s.
"Our community, including our wonderful CIS donors, have come together from afar to support the construction. Our students and faculty have been working and learning in the North Wing since the academic year began in late August. It's a collective effort of which we can all be proud," Conner said.
Fehling, associate dean for infrastructure and faculty affairs, spoke about what CIS means for Skidmore's academic programs.
"Our students now have a beautiful space for labs and classes, our faculty have updated and fully functional teaching and research spaces, and our community has a building that can be used by all departments on campus," said Fehling. "This building is a testament to our commitment to ensuring our students have the facilities and programming necessary to thrive in their education and to preparing them to engage deeply with pressing issues in their post-graduate lives. In this case, it's to ensure that all Skidmore students receive an education in the sciences that is necessary for informed citizens in the 21st century."
Glotzbach, who oversaw the launch of the CIS initiative during his presidency and has long emphasized the importance of science literacy and its place in the liberal arts, took a tour of the North Wing ahead of the ceremony.
"Nearly two decades in the making, this celebration represents a significant moment in the history of Skidmore College," Glotzbach said. "The CIS will become a vital hub of learning not just for science majors, but for all Skidmore students. As we cut the ribbon this afternoon, we reaffirm the College's commitment to cutting-edge disciplinary and interdisciplinary scientific education — a commitment Skidmore demonstrates every day that in these fields too, creative thought matters."