Photo essay: Scenes from summer at Skidmore
July 28, 2021
Summer is a time to take a deep breath, enjoy the warm weather, and also learn new things. With its vibrant summer scene, world-class performances at the Saratoga Performing Arts Center, and engaging summer programming at the College, Saratoga Springs is a great place to enjoy the summer.
This summer has been no exception: Students and faculty are pursuing collaborative research projects, the Tang Teaching Museum and Art Gallery is hosting new exhibitions and other events that are open to the public, prospective students are visiting campus, and Skidmore students are participating in a range of activities to advance their career goals and support sustainability initiatives at the College. Those on campus are also engaging in new pursuits – like an outdoor painting course taught by a chemistry professor. There was even a marriage proposal!
Here are a just a few scenes from this summer at Skidmore.
Emily Gilbert '22, left, and Richard Glynn '24 conduct research with Sarita Lagalwar, associate professor and director of the Neuroscience Program, as part of the Summer Faculty Student Research Program.
Karen Kellogg, associate professor of environmental studies and sciences, center, talks with Skidmore College students Paige Karl '23, left, and Chloe Faehndrich '23 at a wind farm in Vermont.
Yalinel Beltre '21, right, supports the research of Ruth Hernandez, visiting assistant professor of sociology.
The Tang Teaching Museum and Art Gallery reopened to the public this summer. Here, visitors explore the exhibition "Opener 33: Sarah Cain — Enter the Center." (Photo by Cindy Schultz)
Andrew Radoccia '12 planned a surprise proposal to Sophie Mendelson '14 at the Arthur Zankel Music center with the help of Skidmore staff. She said yes! (Photo by Just Shoot With Saumya)
Jacob Adams '21 spent his summer working as a North Woods steward, a student employee who helps to protect and raise awareness about the College's 155 acres of protected woods. Here, he helps to build stairs leading to the woods.
Ora Ehrlich '22 inspects the Skidmore Community Garden, where she is serving as the garden manager this summer. The garden supplies local food, grown using organic practices, to Skidmore's Murray-Aikins Dining Hall.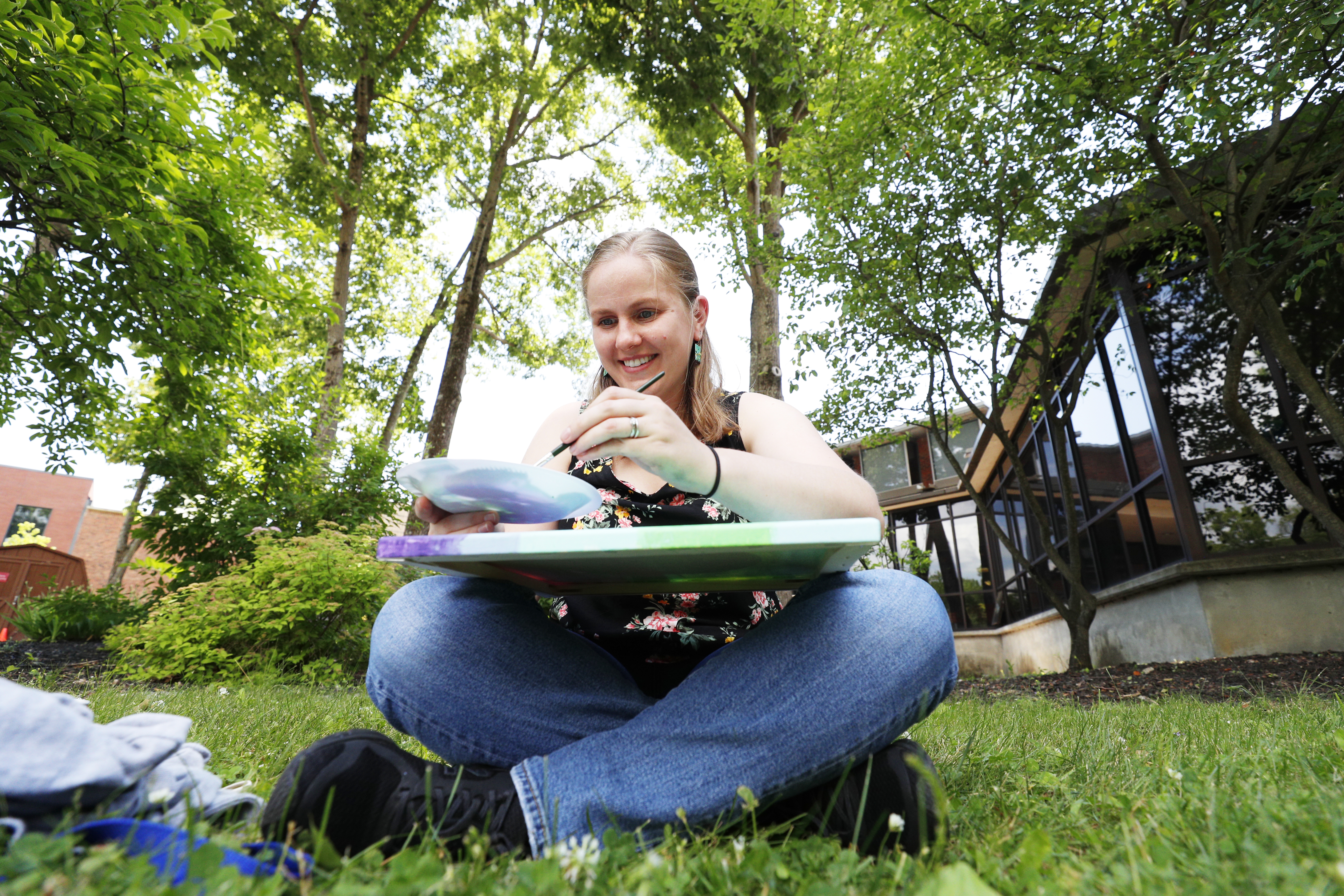 Summer is also a time to try new things. Here, Anna Brezny, assistant professor of chemistry, participates in an outdoor painting class with faculty, staff, and students that is directed by her colleague, Senior Instructor of Chemistry Beatrice Kendall.
Ray East '23 and Elizabeth Miller '23 paint on the lawn in front of Palamountain Hall.