Skidmore celebrates Founder's Day
September 8, 2021
Members of the Skidmore community gather each year to celebrate the life and legacy of Lucy Skidmore Scribner, the College's beloved founder.
The Skidmore tradition offers a festive start to the academic year. This year, the celebration on Tuesday, Sept. 7, was particularly meaningful, as all students were invited to assemble safely
— according to campus COVID-19 safety and health protocols — for the first time since the onset of the COVID-19 pandemic in 2020.
That spirit of endurance and hope also reflects the perseverance of Scribner, who endured in the face of adversity to give others the opportunity to pursue higher education and chart their own paths.
Lenny Villalobos '25, left, and Lulu Feeney '25 were among those to participate in Founder's Day celebrations on Tuesday, Sept. 7. Due to the pandemic, the Skidmore community last assembled for Founder's Day in 2019.
From her birth on July 4, 1853, Lucy Skidmore Scribner's life was filled with tragedy, including the death of her mother shortly after Lucy's birth.
The only daughter of Lucy Hawley and Joseph Russell Skidmore, a wealthy coal merchant, she was widowed at age 25 by J. Blair Scribner of the famous Scribner publishing house.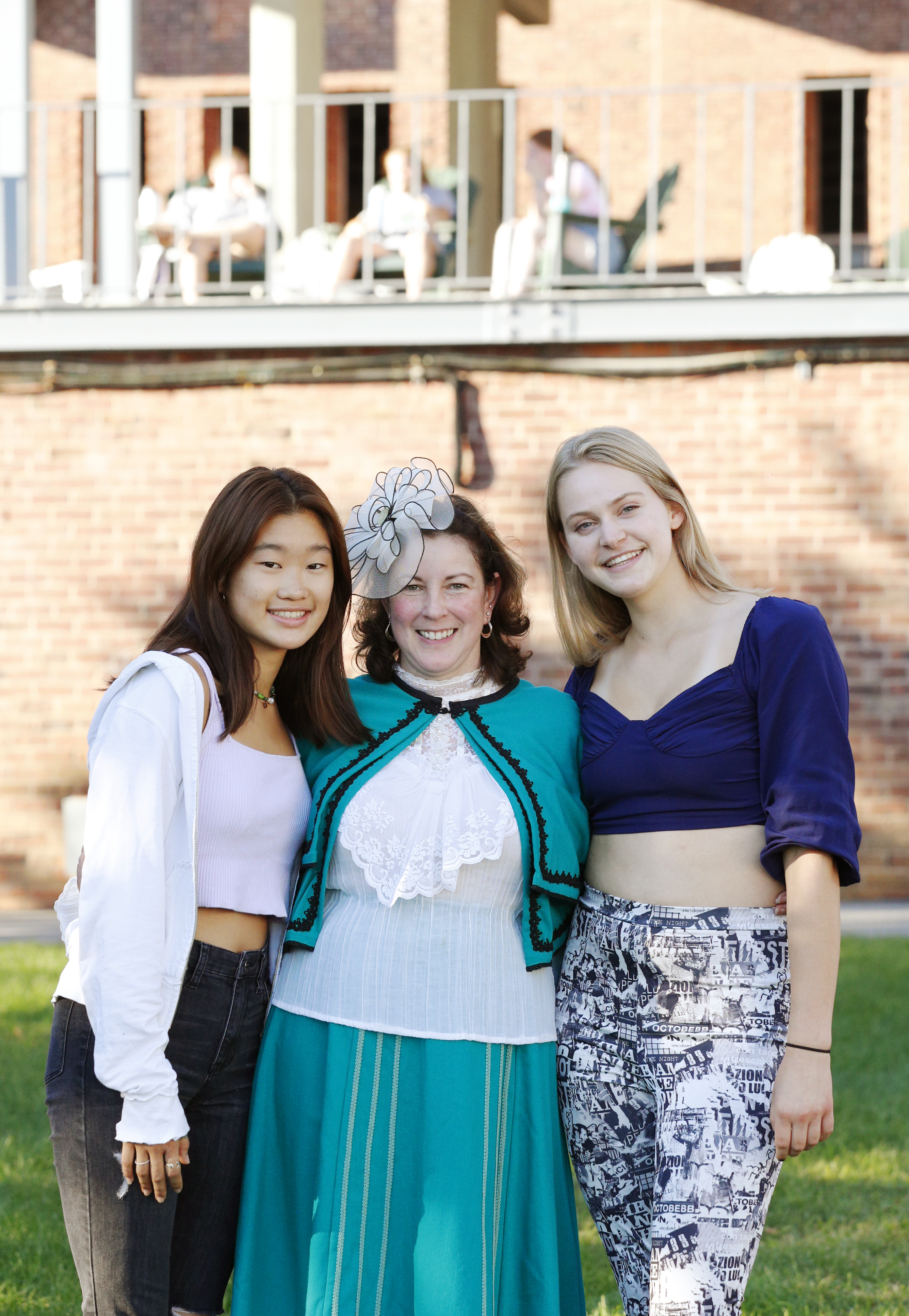 Desiree Palmateer, office coordinator in the Facilities Department, dressed up like Lucy Skidmore Scribner for the 2021 celebration.
In January 1903, she transformed personal tragedy into inspiration, founding the Young Women's Industrial Club. The Club's mission would be "to help little girls and young women to become self-supporting, and to provide a social center for them." The school would be open to all women, regardless of race or religion.
Scribner also overcame numerous health challenges in her life, including typhoid fever in 1905 and retinal hemorrhages five years later that left her nearly blind. Despite severe illness in 1916, she stayed involved in managing the school, which by then was the Skidmore School for the Arts.
In 1922, the school became Skidmore College, a four-year degree-granting institution. It became co-educational in 1971.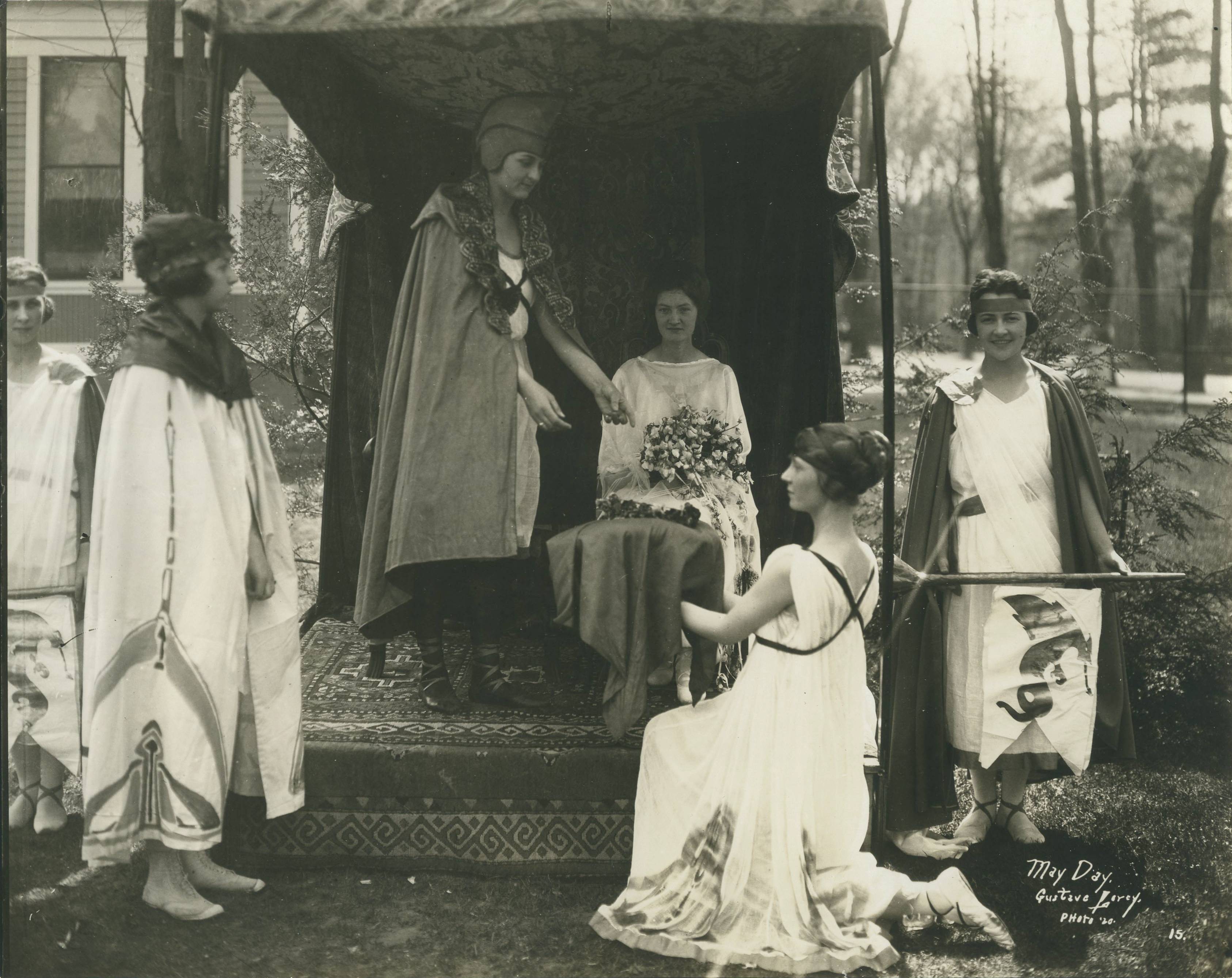 With characteristic modesty, Lucy Skidmore Scribner preferred May Day to the celebration of a founder's day. May Day was quite distinct from today's celebration as can be seen in this 1920 photograph. (Courtesy: Special Collections, Scribner Library)
In 1915, Dean Sarah Gridley Ross first proposed the idea of a founder's day celebration to honor Scribner, which Scribner declined. Instead, students celebrated May Day each spring.
Upon Scribner's death in 1931, Founder's Day was finally celebrated. Over time, interest in the spring celebration waned and was marked only sporadically.
The schedule of Founder's Day in 1982. (Courtesy: Special Collections, Scribner Library)
In 1991, J. Erik Jonsson, whose support enabled the construction of Skidmore's current campus, celebrated his 90th birthday on campus with a lively Texas-style barbecue. "JEJ Day" continued as a Skidmore tradition for several years.
In 2014, the Office of Alumni Relations and College Events and the Division of Student Affairs revived the tradition of a fall picnic as Founder's Day in recognition of Lucy Skidmore Scribner, whose passion, tireless work, and boundless generosity have changed the lives of women and men for generations.