Welcoming the Class of 2025
September 7, 2021
With robust measures to protect the College community from COVID-19, Skidmore is welcoming a first-year class of 728 students drawn from a record pool of 11,200 applicants for a fully in-person academic year.
Members of the Class of 2025, who come from 39 states and 24 countries, were officially welcomed to campus during New Student Convocation, which was held at Williamson Sports Center on Sunday, Sept. 5.
With 98% of all students and employees vaccinated against COVID-19, the first-year class, 20 transfer students, and all returning Skidmore students can look forward to a 2021-22 academic year that will take place fully in person and include the many rich activities and educational experiences associated with a liberal arts education at Skidmore, from athletics competitions to events organized by more than 100 student clubs.
"Has it ever felt so good to welcome the start of a new academic year?" President Marc Conner said at the ceremony. "I can't tell you how glad I am that we are gathered together here."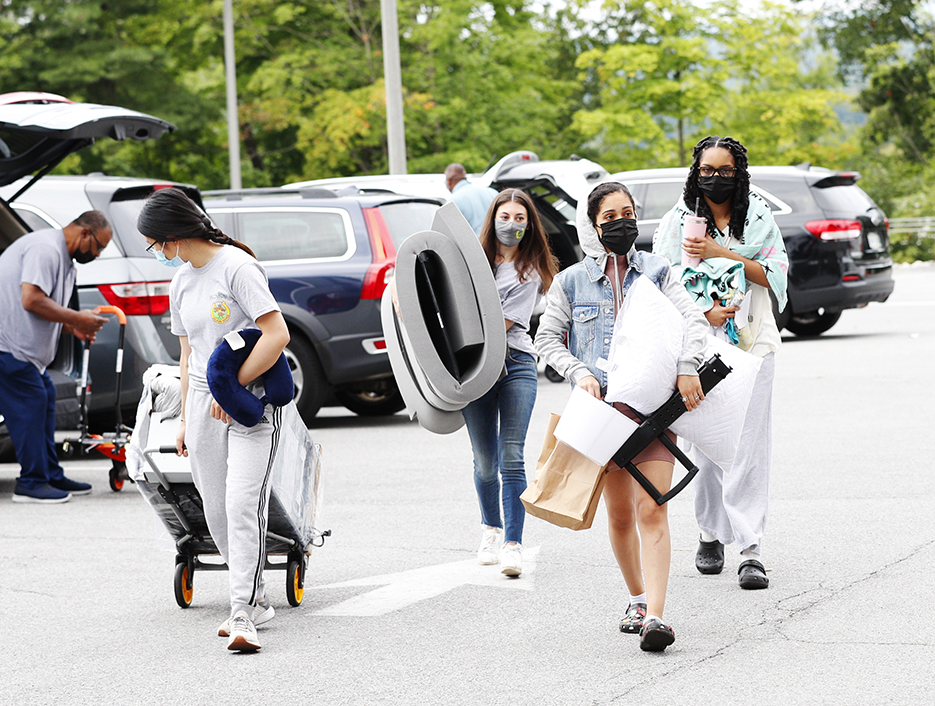 Students move in on Sunday, Sept. 5, ahead of New Student Convocation and orientation.
More than half of the class — 402 students — arrived at Skidmore on Thursday, Sept. 4, for Skidmore's vibrant pre-orientation programs, which ranged from hiking expeditions in the Adirondacks to programs at Skidmore's Tang Teaching Museum and Art Gallery. Another 26 students are spending their first semester in London as part of a Skidmore academic program.
First-year students also participated in a series of orientation programs organized by Skidmore's First-Year Experience program. Classes for all students began Wednesday, Sept. 8.
As part of measures to protect the entire College community from COVID-19, all employees and students must be vaccinated or be approved for a medical or religious exemption. Everyone is also undergoing testing for COVID-19 at the beginning of the term. An indoor mask requirement is also in effect as part of the College's current health and safety guidelines.
"The hope is that the infection rate in the surrounding county will soon decline, and we can introduce more freedoms in our day-to-day lives. But for now, care is the word," Conner told students at Convocation. "Last year, we accomplished amazing things in managing the pandemic."
Many students arrived to campus on Thursday, Sept. 2, for one of Skidmore's pre-orientation programs.
"I'm confident that we'll get through this next stage just as well. That's who we are at Skidmore: We are a community of trust, and we take care of each other."
Mary Lou Bates, vice president and dean of admissions and financial aid, described an incoming class that is as diverse as it is engaged.
New students have volunteered in homeless and refugee centers and are actively involved in causes ranging from shark conservation to saving bees. They speak more than 40 different languages, have been recognized for outstanding athletic and academic achievements, and have performed with both the Joffrey and Bolshoi ballet companies. More than a quarter self-identify as domestic students of color, and 10% are the first in their families to go to college.
As a class, you bring to Skidmore a wide range and diverse assortment of talents and experiences.

Mary Lou Bates

Vice President and Dean of Admissions and Financial Aid
"You are a wonderfully talented, energetic, and diverse group," Bates added.
Together, they joined the Skidmore community by affirming Skidmore's Honor Code, which was administered by Issy B. Mejia '23, interim president of the Student Government Association. Amon Emeka, director of the First-Year Experience and associate professor of sociology, welcomed the incoming class on behalf of the Skidmore faculty.
"This is your community. Take the rights and responsibilities of membership in this community seriously," he said.
Carol Daggs, a local performer and author of the local history "Saratoga Soul Brandtville Blues," welcomed the students to the Saratoga Springs community and "a new academic year with endless possibilities."