Thoroughbreds triumphantly return to competition
September 15, 2021
The Thoroughbreds are back.
Skidmore's fall athletes have been waiting a long time. This time last year, there were no fans in the stands and no games under the lights. As COVID-19 surged, the Liberty League canceled competition.
The pandemic continues, but our student-athletes, coaches, families, and fans have found ways to safely return together. With 98% of all students and employees vaccinated against COVID-19, all spectators required to wear masks, and other campus safety measures in effect, it's a homecoming unlike any other.
Check out what some of our teams have been up to below and be sure to follow Skidmore Athletics for the latest schedules, results, and safety precautions.
Men's soccer shows off nearly impenetrable defense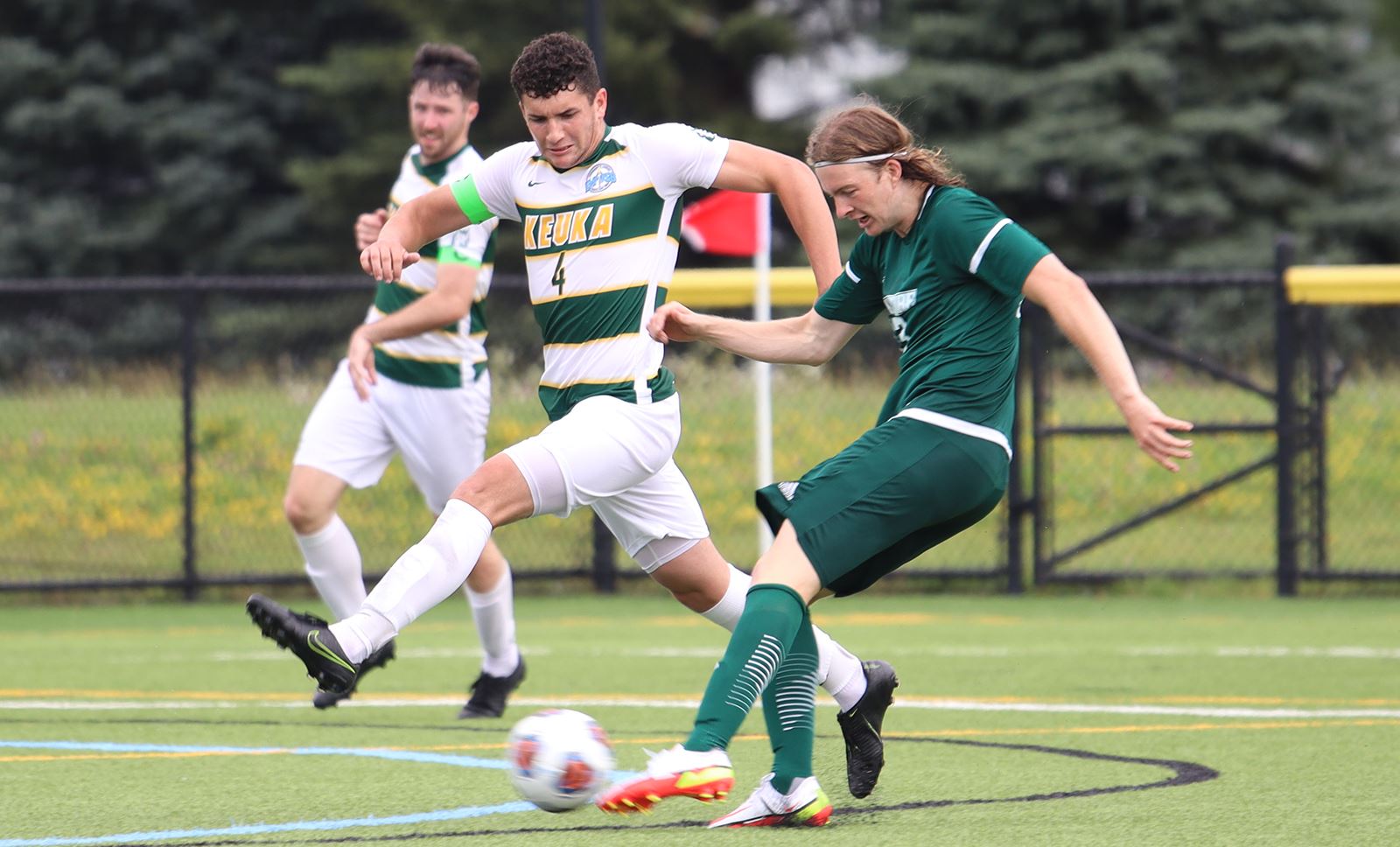 In the men's soccer season-opening 2-0 win against Utica College, Finn Weber '23 and Kamal Ibrahim '24 scored for the Thoroughbreds. In Oswego, Keuka College frustrated the team in a scoreless first half, but Weber cracked the ice at 50:14. Roman Toepler '22 and Ibrahim scored goals 24 seconds apart to break it open for a 3-0 finish. And in Purchase, the Thoroughbreds toppled Manhattanville College 3-0 with scores from Toepler, Weber, and Nick Jardim '24.
Williams College handed the team its first loss, but the team still racked up accolades. After multiple shutouts and a career-high seven saves against Williams, goalkeeper Bobby Stratts '22 earned a Liberty League Defensive Player of the Week award.
Skidmore (3-1) opens Liberty League play Friday, Sept. 17, with a 7 p.m. game at Union College.
Stamina and focus make women's soccer a fierce competitor
The women's soccer team has a 3-1 record so far and has already racked up an impressive 12 goals. The women also gave Thoroughbred fans the excitement they've been waiting for with a nail-biting, overtime-winning performance.
The team started with a 1-0 loss against Mount Saint Mary but has been galloping since. They bounced back one day after their loss to crush Mount Holyoke 7-0 with a true team effort: seven goals from six players, including two from Isabelle Sullivan '24.
An intense game against New Paltz went into two overtimes with Skidmore's Liz Foley '25 pushing it to 2-1 for the win. It was Foley's first collegiate goal.
The team went on to shut out Russell Sage 3-0, and the players will return to action with a home game Sept. 18 at 1 p.m. against Plattsburgh State.
A solid showing at season opening tournament for men's golf
Skidmore golf started its season at the Duke Nelson Invitational in Middlebury, Vermont. First-year Kevin McGough shot 72-74—146 to tie for 10th to lead the Skidmore College golf team to an eighth-place finish. Skidmore is at the Williams Invitational Sept. 18-19.
Shootout seals field hockey's position as a team to beat
The field hockey team may have had a wobbly start, but the players went on to beat the SUNY Geneseo Knights in a fierce battle at home.
Skidmore dominated the offense for much of the game but the Knights snuck in a score with 32 seconds left in the fourth quarter.
Both teams had chances through the overtime, but nothing to end it. In the shootout, the Knights took a 2-0 lead after three attempts. Kayla Hassett '25 kept Skidmore alive by scoring on her attempt. Sofia Marshall '22 then tied it 2-2, and it was sudden death after a Geneseo miss. Both teams missed their sixth attempts, then goalkeeper Jess Gaetgens '22 made a clutch glove save setting up Hassett, who found the back of the net to seal the win.
Men's tennis opens season with an impressive sweep
The men's tennis team opened the 2021-22 campaign with a 9-0 Liberty League win over Bard College Saturday afternoon on Skidmore's Wenger Courts.
The Thoroughbreds started the match with a 3-0 doubles sweep. Brendan Jimenez '24 and Zachary '24 won 8-3 at No. 1. Portnoy was a 6-3, 6-0 winner at No. 1 singles. Tristan Thiebaut '22 won 6-0, 6-0 at No. 2.
Skidmore plays in the Middlebury Invitational Sept. 18-19.
Women's volleyball digs in for a strong start
The volleyball team opened play in the Union Invitational with a 3-0 (25-21, 25-21, 25-17) win over Suffolk University. Jo Blanco '24 had 12 kills and three blocks to lead Skidmore. Audrey Powell '23 added 25 assists, while Elizabeth Miller '23 had a team-high 10 digs. Sophie Sacco '23 had seven kills and three blocks, while Grace Aronson '23 contributed three blocks.
The team dropped two matches in the second day of play at the same event, but will be back on the court Sept. 17 and 18 for the Union/Russell Sage Crosstown Challenge.