Wyckoff Center is 'a promise for the future'
June 15, 2022
Wyckoff Center, Skidmore's dedicated space for connecting people and programs that underscore the importance of diversity, equity, inclusion, and justice, has been named in recognition of the leadership and generous support of Alicia and Bob Wyckoff.
The Wyckoffs are parents of Harry, Skidmore Class of 2022, and chairs of the Parents Council.
A ribbon-cutting ceremony for Wyckoff Center was held during the College's May 2022 Commencement Weekend.
The Wyckoff family gathered with other members of the Skidmore community during Commencement Weekend 2022 to celebrate Wyckoff Center, Skidmore's dedicated space for connecting people and programs that underscore the importance of diversity, equity, inclusion, and justice.
Anita Jack-Davies, deputy chief diversity officer and inaugural director of Wyckoff Center, said the project will have a profound impact on countless students, faculty, staff, administrators, and community members.
"Today marks a special day for a special place — a place at Skidmore where we prioritize diversity, equity, inclusion, difficult conversations, and making the uncomfortable comfortable. Today we realize the promise of past generations," she said.
In their four years as Skidmore parents, Alicia and Bob have embraced the Skidmore community and demonstrated their commitment to the College's key priorities, supporting impactful initiatives that provide access and promote inclusivity, including the Parents Fund, financial aid, the Racial Justice Initiative, and now Wyckoff Center.
At the ceremony, Bob Wyckoff spoke about how important it has been to him and Alicia to be part of the campus's "essential conversations for inclusion and helping create a community of trust," noting that he and his family are "honored and absolutely thrilled to join over 200 other donors to this center."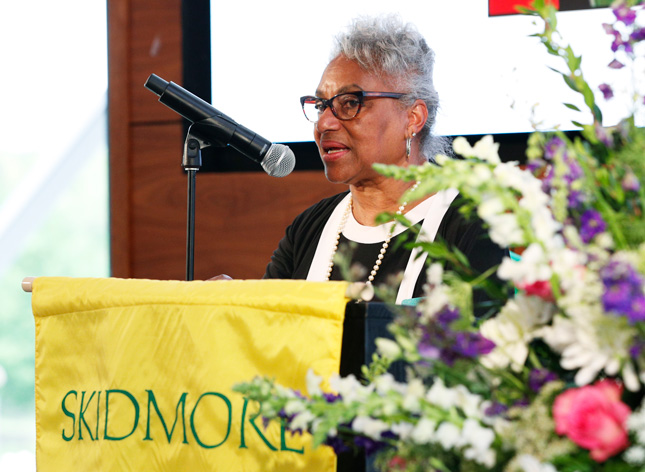 Trustee Linda Jackson-Chalmers '73 speaks at the May dedication ceremony for Wyckoff Center.
President Marc Conner thanked the Wyckoffs, along with numerous staff, alumni, and students, including Trustee Linda Jackson-Chalmers '73, Malchijah Hoskins '22, and Joshua Woodfork, executive director and vice president for strategic planning and institutional diversity, for their engagement and guidance in bringing Wyckoff Center to fruition.
Conner also reflected on how the dynamic space at the heart of campus will support dialogues, debates, and moments of reflection. "The fundamental thing [about Wyckoff Center] is it is a place where we gather, where we can come together. And as long as we are able to gather, the good work that we need to do can occur," he said.
"To have a space that is going to evolve and change as our students and our community evolves over time … that is a bold concept. Wyckoff Center is a promise for the future."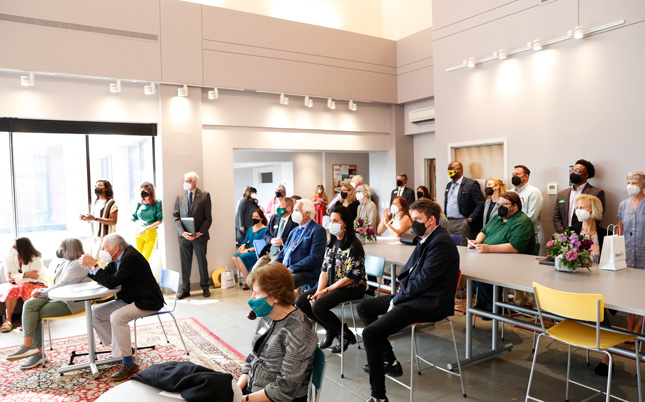 Members of the Skidmore community gather for the Wyckoff Center dedication ceremony in Case Center.
In total, more than 210 alumni, parents, families, and friends made gifts amounting to $1.4 million to support the creation and construction of Wyckoff Center, with contributions ranging from $5 to multiple six-figure gifts.
An additional gathering to celebrate Wyckoff Center will be held during the fall semester when students return to campus for the 2022-23 academic year.