Skidmore free speech symposium models listening and understanding
April 5, 2023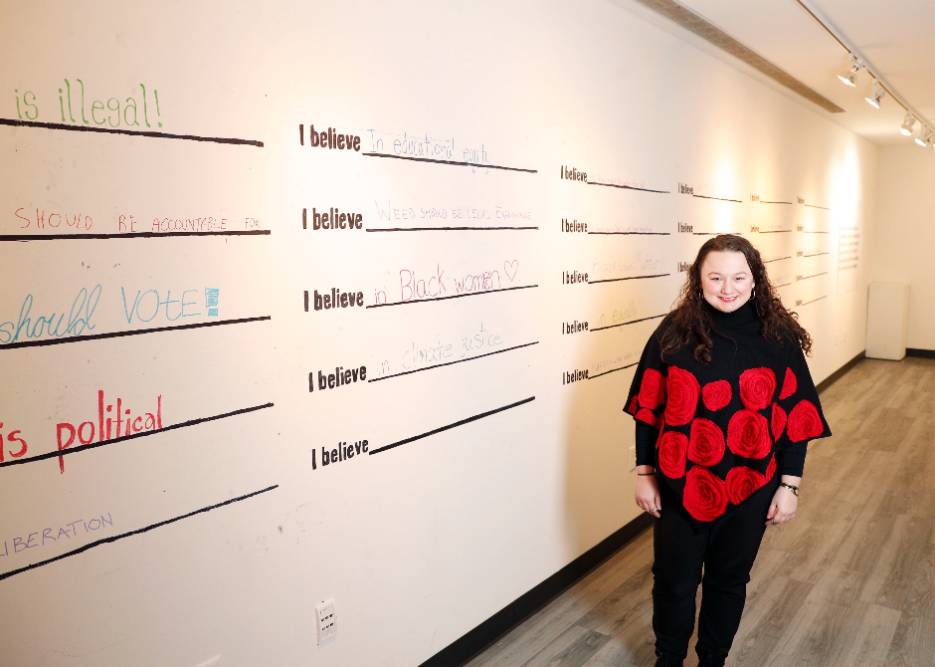 According to Skidmore College senior Kiryat Hance '23, free speech often has less to do with speaking than it does with listening.
It's a lesson that she learned in part from a course she took with Pushkala Prasad, Zankel Professor of Management for Liberal Arts Students, and one that she will bring as a panelist to the Speech and Expression on College Campuses Symposium, April 14-15 at Skidmore.
The major forum will feature leading academics, public intellectuals like New York Times columnist David Brooks, and Skidmore faculty and students, including both Hance and Prasad.
"A lot of times, we fail to dive into the other person's perspective. I've learned in class that's something I need to do," Hance said of the course Diversity and Discrimination in the American Workplace. "Professor Prasad helped me question my assumptions. It was eye-opening, and so my goal in participating in the symposium is to have other people experience that same thing — for them to step out of their comfort zone."
Listening and understanding to others is a skill, but it is a skill that can be taught.

Kiryat Hance '23
At the symposium, faculty, students, and national thought leaders will interrogate, discuss, and model how to talk about and engage multiple, diverse, and often conflicting perspectives on college campuses in a way that supports democratic and civil discourse and encourages community. 
The conversations include some of the most difficult and pressing topics at the intersection of free speech and higher education today, from questions of the First Amendment and pluralism to social justice and geopolitical tensions.
Hance, for example, will interrogate "The Reality of Wokeism in Higher Education" as a participant on a panel featuring Skidmore students. Classmate and fellow panelist Amr Fatafta '23 will consider "The Erosion of Free-Speech on University Campuses: Palestinian Discourse Censorship."
Joshua Cherry '23 said his talk ("What's Free?") drew inspiration from the course Free and Civil Speech that he took with Associate Professor of Political Science and Periclean Honors Forum Director Flagg Taylor, who will be participating on a faculty panel with Prasad and other Skidmore faculty members.
"Our class examined the current state of free speech and dove into theory and foundational ideas about it," Cherry said. "The way the class was structured helped us find out why we do, think, and say certain things. I found myself asking those big questions and wanting to discuss how we can better ourselves as a society."
Danielle Allen, James Bryant Conant University Professor and Director of the Edmond and Lily Safra Center for Ethics at Harvard University, will open the two-day symposium on Friday, April 14, with her talk "How to be a confident pluralist."
On Saturday, April 15, morning panels featuring Skidmore faculty and students will be followed by a plenary with Wesleyan University President Michael Roth. Roth will speak on "From Safe Enough Spaces to Intellectual Diversity: Educational Tensions on Campus."
The symposium will conclude with New York Times columnist, author, and commentator David Brooks, who will deliver his talk "A Just and Loving Attention: How we can treat each other more considerately in the daily interactions of life." His talk will also be livestreamed.
The symposium's organizer, Skidmore College President Marc Conner, emphasized that all participants were free to develop their own topics — in line with the College's longstanding commitment to academic freedom and free speech — and praised their courage.
"The whole point is to go beyond simplistic and simplifying bipartisan, polarizing approaches," Conner said. "If anybody is there for the whole weekend and they agree with everything that is said, then we will have failed. This symposium should model difference of perspective and how we how we talk about and welcome such differences — which are really the glory of a liberal education and indeed of the human condition. We intend to model the kind of democratic engagement that we hope will inspire and inform not just our students, but the larger communities of which we are all a part."
And learning by listening is at the heart of that endeavor.
"I think this symposium has the possibility to start conversations like what does it actually look like to help our students be leaders in this field — to be engaged and to think about others' opinions?" said Morgan Sickels '23, who is also among the student panelists.
---
Visit the Speech and Expression on College Campuses Symposium website for detailed information about the symposium, speakers, and speech and expression at Skidmore College.