'Our new home': Skidmore's new outdoor tennis courts open
September 20, 2023
Skidmore unveiled the outdoor tennis courts at McCaffery-Wagman Tennis and Wellness Center and held its first-ever competition at the new complex in September.
"It was a special time for us to be competing at the new facility for the first time," said Coach Curt Speerschneider: "The players and I kept having to stop just to take it in that this was our new home."
The women's tennis team — which has won 18 conference titles, including 12 consecutive Liberty League titles — hosted Hamilton, Middlebury, Siena, and Union colleges at the Thoroughbred Invitational, Friday, Sept. 15, through Sunday, Sept. 17.
The men's tennis team, which has won 15 conference titles of their own, also competed on the new courts in the Skidmore East versus The Rest Invitational, Saturday, Oct. 7, through Sunday, Oct. 8.
Foundational support for the new outdoor courts was made possible by a generous gift from Susan Kettering Williamson '59, for whom Skidmore's Williamson Sports Center is named. That gift specifically supports the tennis complex, which features eight new lighted outdoor courts.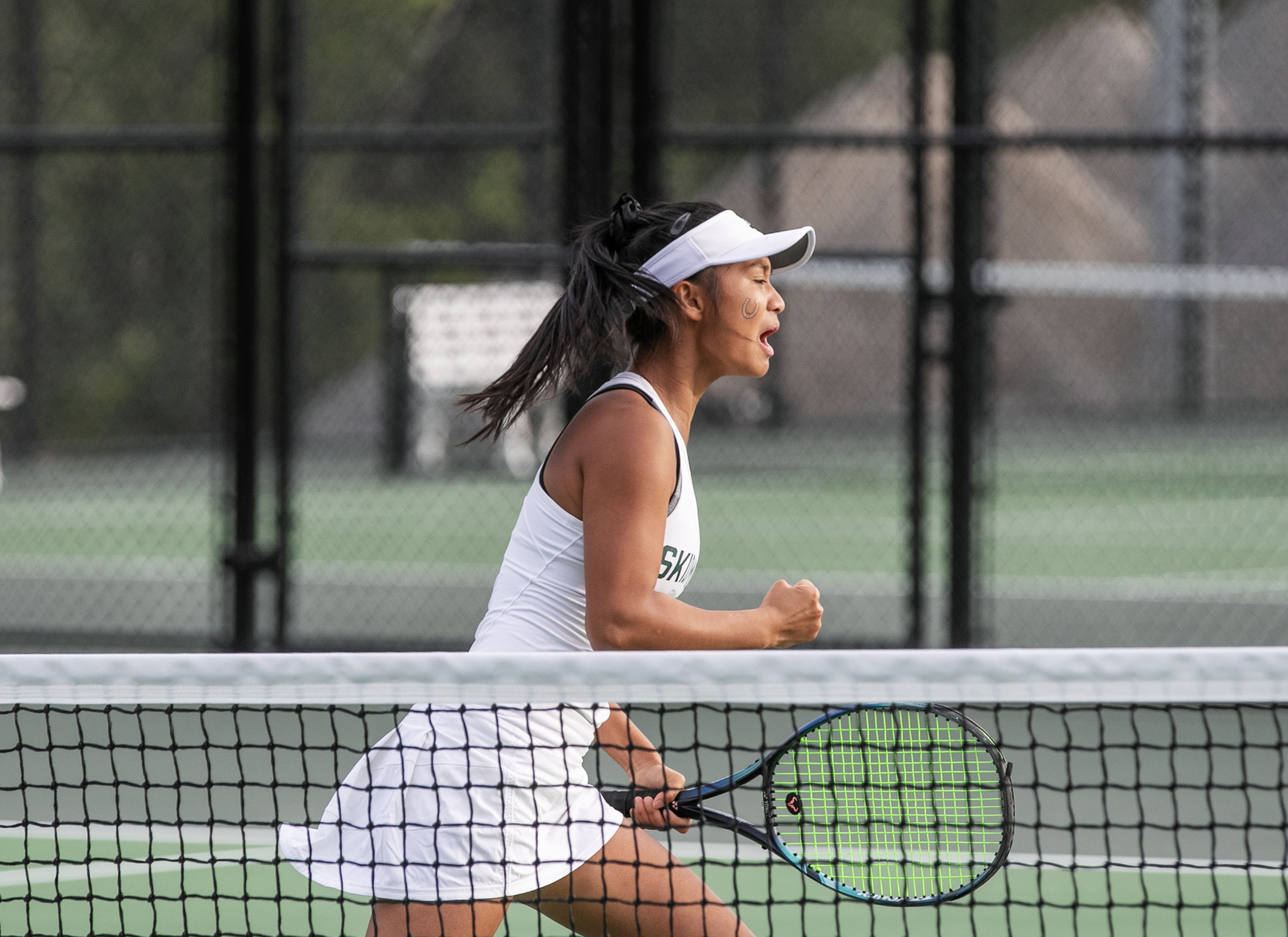 Katelyn Corpuz '26 celebrates a point on the new courts.
The women's team opened their tournament on Friday, Sept. 15, by winning five matches, two against Siena and another three against Middlebury. The Thoroughbreds continued their strong play on Saturday, taking seven of eight singles matches against Union and five of eight doubles against Siena. They also swept three doubles matches with Hamilton. Skidmore picked up three more singles victories and another three doubles victories on Sunday.
The Thoroughbred Invitational concluded with a ceremony attended by College leadership, including President Marc C. Conner, that celebrated the opening of the new courts.
The Thoroughbred men performed well as they competed on the courts for the first time Oct.7-8. Three out of the top five ranked teams in the nation were in attendance (Tufts, Middlebury, and Claremont-Mudd-Scripps). The doubles team of Josh Finkle '27 and Fletcher King '27 advanced all the way to the 'B' Flight Doubles Semifinal with a pair of Saturday victories. The Thoroughbreds excelled Sunday with a total of eight match wins, including three by Nika Mori '26 in the 'B' Flight Singles Backdraw.
Josh Finkle '27 and Fletcher King '27 made a strong showing on the new courts.
McCaffery-Wagman Tennis and Wellness Center, which is adjacent to the new courts and is under construction, will bring Skidmore's physical and mental health resources together in a single space, open doors for everyone to pursue athletics and fitness, and create a welcoming and inclusive space for all centered around health and wellness.
In addition to the outdoor courts, The LEED-certified project will offer four new indoor courts, new locker rooms, and a meeting room for teams.
The facility is supported by a lead gift from former student-athletes Kim Wachenheim Wagman '88, P'15 and Amy Wachenheim McCaffery '01 and their families.
President Marc Conner speaks at a ceremony marking the opening of the new outdoor courts.
A state-of-the art 10,000-square-foot cardio and weight room will be open to all students, faculty, and staff, with adjacent spaces for wellness classes including yoga, martial arts, and spin. Additional multipurpose gathering areas will be available to support student activities.
Health Services, the Department of Health Promotion, the Counseling Center, and other wellness services and resources will also relocate to the new building, which is set to be completed next academic year.
"This visionary project is one that will support everyone in the Skidmore community. Sustainability and diversity, equity, and inclusion are our guiding principles," said Assistant Vice President for Student Affairs and Director of Athletics Gail Cummings-Danson. "Today, we celebrate these beautiful new courts that are available to our entire Skidmore community. Of course, we're especially thrilled for members of our women's and men's tennis teams and grateful to everyone who has supported this project. Go Thoroughbreds!"