Porter-Wachenheim Scholarship celebrates a quarter century
October 16, 2023
Lily Watson and Jude Remenar are members of Skidmore's first-year Class of 2027. They also hold the distinction of being two of 19 current first-year students to receive a Porter-Wachenheim Presidential Scholarship in Science and Mathematics.

Watson hopes to build a career in chemistry, but she's also excited to delve into other areas.
While other colleges may have wanted me to follow a very STEM-focused track, Skidmore makes it easy to explore different interests — and I love that I can major in chemistry and continue with German studies.


Lily Watson '27
Remenar, who aspires to become a neurosurgeon, was also attracted to Skidmore's commitment to nurturing student's multiple interests and talents.
With interdisciplinary pathways and flexibility in course selection, I felt assured that I could touch upon all my various interests including the sciences, global cultures, and music.


Jude Remenar '27
Jacob Lord '24, another Porter-Wachenheim scholar, is on track to be among the first undergraduate students in the world to be published in the field of cosmic string research.
About the Scholarship
In 1998, the College created the merit scholarship program, one of just two such merit awards at the College. It was named in honor of Skidmore's fifth president, David Porter. In 2018, the scholarship was renamed the Porter-Wachenheim Scholarship thanks to generous support from members of the Wachenheim family. Each year now, 14 to 19 incoming students are recipients.
 
Since its inception, more than 200 students have received the award. A faculty committee bases its selections on coursework, teacher recommendations, test scores, co-curricular achievements in STEM fields, and passion for growth as a scientist or mathematician. Some 1,200 prospective students apply annually for the scholarship, which provides recipients $20,000 per year and $80,000 over the course of their Skidmore careers.

In the true spirit of the liberal arts, awardees must take one course each semester in science or math, but they are not required to major in either. Majors have ranged from biology, chemistry, and computer science to anthropology, business, and dance. In all, 20 different disciplines, including double majors, have been represented.
Scholars out in the world...
So, where are those 200 Porter-Wachenheim graduates now?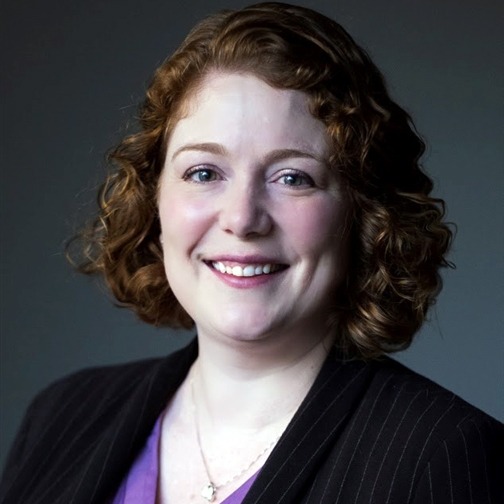 Catherine Cella '02
Leading public health initiatives
Cell and molecular biology
major Catherine Cella '02, who earned a master's in public health from the University of California, Berkeley, is the regional director for quality, population health, and technology integration for The Permanente Medical Group, Inc., a major California healthcare provider. She "functions as a leader, a designer, and a translator across very different populations, teams, and technologies," a career path that Cella insists she would not have found if not for her education at the College: "Without my diverse Skidmore experience and the challenge to not just know, but to create, I would not have found my passion and my career."

A self-described "musician and a scientist," Cella lauds Skidmore's "creative soul" and recalls that one of her all-time favorite Skidmore memories was joining music majors for several years in an AIDS benefit musical revue.
Jay Brett '12
Modeling our oceans
Math and physics double major Jay Brett '12, who earned a Ph.D. at MIT in physical oceanography, is a research scientist at the Johns Hopkins Applied Physics Laboratory, in Laurel, Maryland, where they study the physics of the moving ocean, from turbulence and waves to large-scale circulation patterns and climate. Says Brett, "My research depends on numerical modeling of the ocean and analyzing observed data — skillsets that have foundations in my majors and research at Skidmore."

Brett wasn't just a number-cruncher at Skidmore. Outside the classroom, they were heavily involved in club activities, including martial arts, ballroom dancing, and circus arts. They recall that the multipurpose room in the athletics center was their "home away from home in the evenings."
Paul Legan '06
Digital consulting around the globe
Computer science and economics double major Paul Legan '06 is the chief technology officer at Boston-based 3|SHARE, a digital experience consulting company that is one of the largest advertising and media companies in the world. He says he "loves being able to utilize technology to solve complex problems – both for our clients and for ourselves."

Legan, who fondly remembers nature hikes in the Northwoods (in a math class!) and poetry slams at a professor's house, credits Skidmore's "interdisciplinary mentality for teaching [him] how to communicate effectively with others in both a personal and professional setting. Being able to construct ideas and pull information from a variety of subjects lends to better writing, and better writing leads to a better understanding of the world around you."
Other Porter-Wachenheim alumni include a software engineer at Google; a San Francisco-based primary care physician specializing in LGBTQ care and rheumatology; a performance engineering research director at Nike; an associate director of wind technology optimization at EDF Renewable Energy; a UK-based medical anthropologist; a senior 3D artist at PixelPool; and a water engineer at Arcadis.

Alumni have also pursued scientific research at top graduate schools such as the University of Michigan, Harvard University, Vanderbilt University, the University of Rochester Medical Center, the University of California Irvine, the University of Hawaii, and Georgetown University.
making their mark on Skidmore
"Porter-Wachenheim Scholars have been my most memorable students," said Professor of Mathematics Mark Hofmann. "Often when I grade an exam and see outstanding results, I'll find out that the student is a scholarship recipient and I will say to myself, of course they're a Porter-Wachenheim scholar!"
"They lift the standards of each class and enhance the conversations in the classroom," Hofmann continued, naming recent graduate Heather Ricker '22 as an example, who likely wouldn't have come to Skidmore without the scholarship. "She majored in chemistry but was in my Honors Calculus III class in her first year — as were two other Porter-Wachenheim Scholars and a real Porter, David Porter's granddaughter. It was the best class I had at Skidmore in 37 years."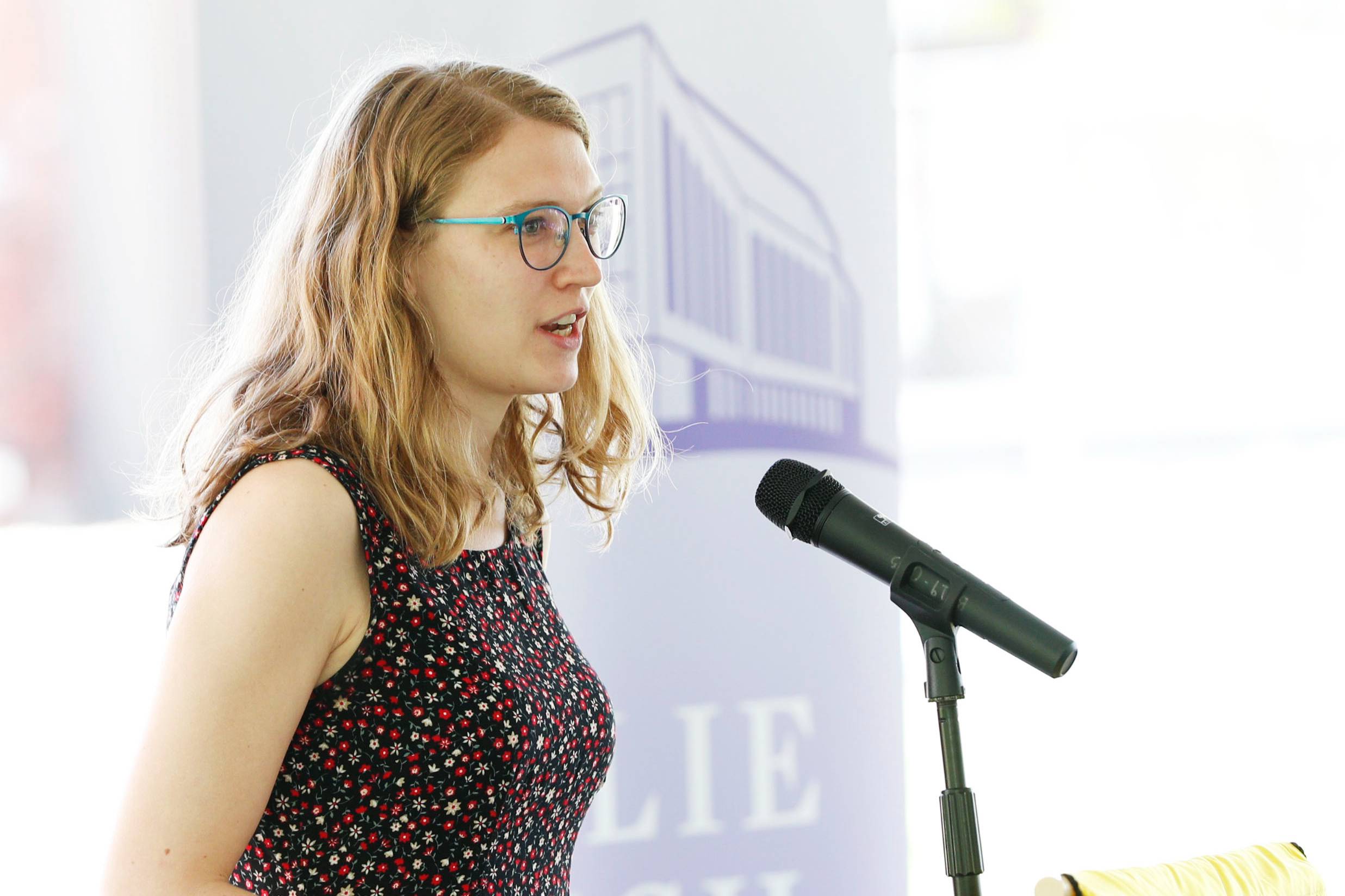 Heather Ricker '22 received the Barry Goldwater Scholarship, the most prestigious scholarship in the United States for undergraduates in STEM fields, in 2021.
In May 2022 Ricker spoke at a naming ceremony and dedication for the new Billie Tisch Center for Integrated Sciences.
Professor and Chair of the Psychology Department Rebecca Johnson, who has chaired the Porter-Wachenheim Scholarship Committee since 2013, said she especially loves coordinating personalized visits to campus for each of the winners in the spring: "They see our research labs, eat lunch with our STEM students, meet with faculty, sit in on a class, go on a campus tour, and imagine what their college life would be like if they enroll. And then they do!"
"And why wouldn't they enroll? Skidmore's science and math professors are some of the best in their fields, publishing in top-tier journals and securing generous grant funding. Skidmore's research projects engage students as collaborators and co-authors, and now we've opened the doors to our new Billie Tisch Center for Integrated Sciences!


Rebecca Johnson, Professor and Chair of Psychology, chair of the Porter-Wachenheim Scholarship Committee