Faculty-Staff Achievements
July 1, 2020
Research by Paul Arciero, professor of health and

human physiological sciences, was highlighted in The Great Courses Daily. The article summarizes a study he conducted at Skidmore that was published in the Journal of Applied Physiology.
Yelena Biberman-Ocakli, associate professor of political

science, was invited by the Association of Asia Scholars to present her recent book, "Gambling with Violence: State Outsourcing of War in Pakistan and India," for its webinar series.
Gwen D'Arcangelis, associate professor of gender
studies, authored an editorial commissioned by the National Center for Institutional Diversity, "The Revival of the Yellow Peril: Culture and Scapegoating During COVID-19," on the impact of dangerous rhetoric and how offering current knowledge of how infectious diseases arise and spread can help counter uninformed ideas about China and Chinese culture in relation to disease.
Corinne A. Moss-Racusin, associate professor of
psychology, discussed her research about discrimination in STEM fields in the documentary "Picture a Scientist," an official selection of the 2020 Tribeca Film Festival.
Juan Navea, associate professor of chemistry,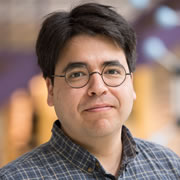 co-authored an academic article with Angelina Leonardi '20 and Heather Ricker '22, "Particle formation and surface processes on atmospheric aerosols: A review of applied quantum chemical calculations," in the International Journal of Quantum Chemistry.

We welcome submissions from faculty and staff related to professional accomplishments and scholarly endeavors. Please send submissions to the Office of Communications and Marketing.