2008 Faculty Award Recipient
Carrie von Glahn
"Forgive Us Our Sins": Public Historians, American Memory, and the Conversion of Slaves
This two-part paper explores the role of public history in America's collective memory of the conversion of African slaves to Christianity in eighteenth-century Virginia. The first part of the paper outlines the historical relationship between Christianity and slavery in Virginia. During the eighteenth century slavery took on greater prominence in Virginia and the rest of the colonies; it became an institution based solely on race and lifelong enslavement. By this time many slaves had been born in American colonies and so they no longer had the attachment to Africa and African cultures of African-born slaves; as a result a more Afro-American culture developed. This changed occurred alongside the development of a uniquely American culture which was beginning to reject Anglo-European influences. Therefore, because of these simultaneous cultural assimilations, African-Americans came to greatly influence American culture during this period. One of the characteristics of the emerging African American culture was the slaves' more ready acceptance of Christianity and Christian religious practices. Many slaves were converted by their own or their master's decisions to various Christian denominations--most notably in Virginia were the Baptist, Anglican, Methodist, and Presbyterian denominations. Using evidence from personal letters, journals, sermons, and slave narratives along with scholarly articles and books, Part One provides the historical background necessary to understand the importance of these issues and their place in America's collective memory.
Part Two of the paper outlines and evaluates the current state of public historical education on slavery and its relationship to Christianity. For this work, I interviewed public historians, explored online media for historical tourism, and analyzed texts about public history. Through this research I assess the progress of public history over time in how it deals with slavery and Christian conversion. My thesis argues that public history is one of the most important methods of educating the public on slavery; therefore, accurate and fully candid explanations of the relationship between slavery and Christianity are needed to properly inform Americans about their country's history.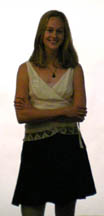 Carrie von Glahn is this year's recipient of the American Studies Faculty Award. Carrie has demonstrated both excellence and growth in the major, proving himself an extraordinarily versatile student in a wide array of American Studies courses on identity, religion, regional culture, cultural periods and, autobiography, as well as courses focused on the history of travel and tourism in Paris while abroad in Fall 2006 (a program led by the History Department--Carrie's minor).

Carrie's writing is impressive, as can be witnessed by her Senior Honors Thesis, "Forgive Us Our Sins": Public Historians, American Memory, and the Conversion of Slaves.

As well as being a History minor, Carrie also double majors in English. She has been on ResLife staff and extremely active in Benef-Action all four years.

Carrie has just received news that she will be teaching English at Sun Yatsen University in Zhuhai, China, stating this fall.

Carrie's academic, as well as extra-curricular, life at Skidmore is a clear demonstration of gowth in excellence and a wonderful example of the Skidmore credo — Creative Thought Matters.

Congratulations, Carrie!