Alum Emily Lazar masters multiple Grammy winning album
February 13, 2012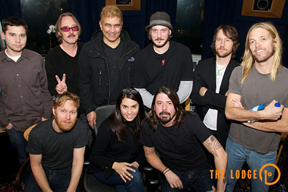 Standing L-R: Joe LaPorta, Butch Vig, Pat Smear,
James Brown, Chris Shiflett, Taylor Hawkins;
seated L-R: Nate Mendel, Emily Lazar, Dave Grohl
Emily Lazar, a 1993 Skidmore College graduate who is president and chief mastering engineer of The Lodge, shared Grammy glory Feb. 12 with the Foo Fighters, who took five awards at the nationally televised Grammy Awards ceremony. Lazar was mastering engineer on the band's Wasting Light, which won "Best Rock Album" honors.
Foo Fighters frontman Dave Grohl said, "Not only was it an honor to work with Emily Lazar on Wasting Light, but an incredible (and historic) privilege to have worked with the first female mastering engineer to be nominated in the album of the year category! We're very, very excited for her." The band won Grammy Awards in the following categories: "Best Rock Album," for Wasting Light; "Best Rock Performance" and "Best Rock Song" for "Walk," from Wasting Light; "Best Hard Rock/Metal Performance," for "White Limo," and Best Long-Form Music Video for "Back and Forth." Wasting Light also was nominated for "Album of the Year."
Lazar's discography encompasses every genre including but not limited to work with David Bowie, Lou Reed, Morrissey, The Shins, LCD Soundsystem, Vampire Weekend, Depeche Mode, Bjork, Wu Tang Clan, Garbage and literally dozens more over the last 15 years--not to mention soundtrack credits ranging from Training Day to HBO's Six Feet Under.
Lazar was already amassing an incredible resum --having worked at Masterdisk on albums by the likes of Paul McCartney, Luscious Jackson and more--by the time NYU (where she earned an M.A. degree) invited her to teach in its Music Technology Graduate program in 1996. It was during that time she opened her own mastering facility in her apartment, where the early incarnations of The Lodge were born. She quickly became recognized for her talent and ability to combine old-school analog mastering techniques with modern digital technologies and became a highly sought after mastering engineer in the New York music and studio scene. It didn't take long before she needed to expand her operations and by 1997 she relocated and settled The Lodge in the heart of Greenwich Village at its current location.
She earned a B.A. degree in English with a minor in music at Skidmore.