A $10,000 boost for 2 Skidmore students' new business
April 16, 2012
A $10,000 boost for 2 Skidmore students' new business
If all goes as planned for two Skidmore students who won $10,000 Friday in this year?s Kenneth A. Freirich Business Plan Competition, Saratoga Springs will be the testing ground for a new social-media application that revolutionizes how customers register complaints with companies whose products or services they find disappointing.

"Grumbul" is the name that juniors Isaiah Crossman and Matthew Miron have trademarked for their new app, which will enable consumers to privately register complaints with companies, thereby enabling firms to address and rectify the problems.

A jury of seven business-savvy Skidmore alumni declared Grumbul the winner after hearing nine students present business plans for six companies they're developing singly and in teams of two. They awarded a second-place prize of $5,000 to juniors Zachary Fagiano and Hope Schwartz-Leeper for their plan to make the Wellfleet Sea Salt Company -which harvests sea salt using a new technology they've devised - a national brand. And they gave a third-place prize of $2,500 to senior Hattie Young, a dance major, for her plan to develop the Chicago-based Rephrase Dance Collective.
Freirich, a 1990 Skidmore graduate who has started multiple businesses during his career and is now president of Health Monitor Network, launched the competition last year to foster entrepreneurship and encourage students to start real operating businesses. Having launched his own publishing venture while a student at Skidmore, he says, "I know this can be a life-changing experience."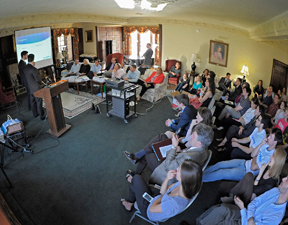 Skidmore juniorsMatthew Miron andIsaiah
Crossman present their plan for Grumbul
to seven judges at Skidmore's Surrey
Williamson Inn. (Gary Gold photo)
Freirich and Roy Rotheim, professor of economics and director of the competition, are building a network of alumni to make the experience as rewarding for students as possible. Alumni this year donated $17,500 in prize money. They also judged the competition's preliminary and final rounds and served as mentors for the finalists, helping them sharpen their presentations for Friday's finals.

Freirich and Rotheim also hope that alumni will step forward to invest in the start-ups that show the most commercial promise - such as Grumbul.

Crossman says the essential idea for Grumbul - which he and Miron pitched as the "first universal customer-service application with full continuity from complaint through action and resolution" - came to him last summer when a restaurant served him a bad meal. "I wanted to complain, but I was with my girlfriend and just didn?t want to hassle with it. Later, I wondered: I have an iPhone, so why can't I just solve this problem right now?"

That idea still would be only an idea if not for the competition. Sitting last fall in the same room in Skidmore's Surrey Willamson Inn where Friday's finals were held, he and Miron pitched Freirich on two ideas that each had been developing for possible entry in the contest.

"Mine won," he smiles.

Adding the $10,000 prize to $20,000 they had already saved, Crossman and Miron say they have accumulated just about enough money to start building Grumbul?s Web site and iPhone app.

"We have office space in New York City and we'll be working on this all summer," says Miron. "We're aiming for a full release in Saratoga Springs before we graduate next May. Hopefully in a year or two, you'll see us everywhere. That's the goal."