Medieval mindset
May 29, 2013
The year is 1377; the place, rural Germany. Your name is Heinrich Berg and you're a 40-year-old priest in the Church's newly established Office of Inquisition. Assigned to the town of Rottweil, which is being ravaged by the plague, your job is to find evidence of witchcraft. Or perhaps your name is Jos Baum, and you're an illiterate laborer who has lost his entire family to the plague. Or you're Margaret Schaffen, an 18-year-old nun who has been having visions of the Virgin Mary ever since the plague struck.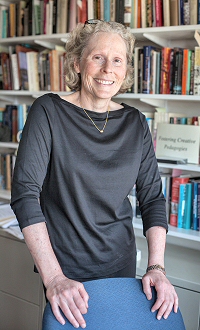 Erica Bastress-Dukehart
All of these people might have lived in Rottweil 800 years ago. Today they're biographies that Erica Bastress-Dukehart, associate professor of history, assigns to students whenever she teaches her introductory course in medieval history, as she did this spring. The goal of the exercise: to equip students to distinguish the romantic myths of the Middle Ages from the period's harsh realities of warfare and chaos. "I want my students to understand, as best they can with the sources we have, what it was like to live in medieval Europe," she says. "To do so, we have to enter different mindsets and expand our awareness. It takes a creative leap."
In appreciation of her innovative approaches, the Class of 2011 chose Bastress-Dukehart as their commencement speaker. Now the College's Faculty Development Committee has bestowed on her the 2013-14 Ciancio Award for Excellence in Teaching. Noting that he and Bastress-Dukehart share many of the same students, classicist Michael Arnush says, "I can always tell when I'm teaching one of hers: They are well-informed, inquisitive, sufficiently prepared, and voracious learners. When students exemplify excellence in learning, that means they have experienced excellence in teaching."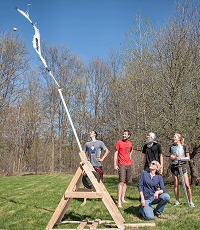 At an end-of-year picnic for
students who took The Art of
Medieval Warfare, Bastress-
Dukehart tested a student-made
catapult's ability to bombard
enemy forces with water
balloons. All agreed it worked
pretty well.
Another Bastress-Dukehart course this spring, The Art of Medieval Warfare, featured her most ambitious teaching experiment yet. At a planning meeting last fall, she asked 20 students—mostly juniors and seniors—to join her in designing the course. They decided it should follow two "narrative arcs": one focused on the life of the medieval knight, the other on the creation of medieval myths. In this latter arc, they chose to divide into four "alliances" and embark on a competitive "quest" for the much-sought Holy Grail.
There were extensive readings on medieval warfare, the development of feudalism, and theories of "Holy War." And there were 20-page papers based on primary research sources, covering such topics as chivalry, alchemy in medieval Europe, and how the English longbow deposed the mounted knight as the most powerful unit on the battlefield.
But it was the "quest" that most excited and engaged them, keeping them up to all hours strategizing on Facebook. Each alliance coined its own motto and created a standard and coat of arms. To each alliance Bastress-Dukehart presented a large, specially crafted brass key as well as cues for the students to perform various medieval tasks for a student-staffed "Council of Twelve" that judged the quality of each presentation. A typical cue: "One of your knights has been kidnapped. Negotiate a ransom." That prompted a heated, hour-long discussion about knightly behavior and honor.
To lend the proceedings additional drama, Bastress-Dukehart at the outset appointed three students to be secret spies who could buy, barter, or steal information and share it with others. "Consider them the ultimate mercenaries," she wrote in the course syllabus. "They answer to no one, not even me." At an end-of-semester barbecue at Bastress-Dukehart's home, one group of students used a scale-model catapult they had built as a course project to launch water balloons. Another passed around a full-size medieval ballista, or crossbow, made in another course on ancient technology.
The students' enthusiasm for the course is unbridled:
Teddy Moss '13: "Any time you take a course with Erica, you're guaranteed to learn in a variety of ways. It's not just going to be reading or lecturing. She plays to everyone's strengths."
Zoe Bent '13: "We learned to empathize with historical figures, realizing that history is simply the result of people reacting to the circumstances in which they live."
Lyle Stephenson '15: "Often in history, the actions of leaders or armies seem irrational or even ridiculous, which makes it easy to dehumanize them. What Erica has taught me about mindset has affected me throughout my college career."
Jordy Elias '13: "We discovered that rash actions lead to rash words, and that leads to even rasher actions. We had to learn to work together."
Bastress-Dukehart's raves for her students are equally fervent: "I take heart every semester in knowing that—while on the first day of class we are a roomful of strangers searching for meaning and often at odds over how we're going to get there—we come together in the end, having learned about the past through the accounts of others."
"This was an amazing experiment," she adds. "We knew it from the start. We were all in this together."