SU scholar's Feb. 24 topic: Community geography
February 24, 2014
SU scholar's Feb. 24 topic: Community geography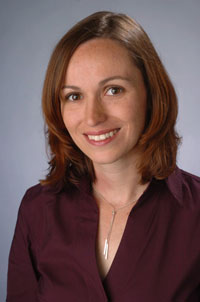 Jonnell Robinson
Feb. 24, 2014
"Points, Lines, and People: Plotting a Course for Community Geography," a talk by Jonnell A. Robinson of Syracuse University, is scheduled at 7 p.m. Monday, Feb. 24, in Gannett Auditorium, Palamountain Hall. Admission is free and open to the public.
Robinson will discuss how maps can be a powerful and provocative way to convey information about place. Citizen groups and community-based organizations are keen to use GIS mapping to build spatial awareness of important community issues. In an effort to foster community-based spatial knowledge production, Syracuse Community Geography—a unique university and community collaboration—was established in 2005 to assist grassroots groups in Central New York to frame research questions; generate, collect, manage, analyze and interpret geographic data; and use geographic information to create positive change. Robinson will explain the conceptual framework of "community geography," share results from community mapping projects, and discuss the value and challenges of Syracuse Community Geography's participatory process.
Robinson started at Syracuse University in 2005 as its first community geographer, assisting community-based organizations in analyzing geographic research topics of their choosing, which she called "a labor of love." Among her assignments: helping to forge partnerships between academic specialists and local experts to tackle pressing community concerns.
In 2011 she received a Syracuse University Chancellor's Citation for Excellence for my work with hundreds of community partners, students, and faculty on participatory research projects. In 2012 she was promoted to assistant professor of geography at SU, providing increased opportunity to advance participatory research as a pedagogy and scholarship.

She is an approved speaker in the Visiting Geographical Scientist Program (VGSP) sponsored by Gamma Theta Upsilon and the Association of American Geographers. Through the VGSP program she has consulted on newly created community geography programs at Georgia State University and Columbus State University. In the Syracuse area, she serves on a number of community-based steering and advisory committees to offer a geographic perspective to important community concerns.
Robinson earned bachelor's degrees in international studies and political science from Niagara University and completed the master of public health in maternal and child health/global health at the University of North Carolina-Chapel Hill. She obtained a PhD in geography, specializing in medical geography under the direction of the renowned medical geographer Melinda Meade from the University of North Carolina-Chapel Hill.
Click here to learn more about Syracuse Community Geography.
Robinson's talk is co-sponsored by the Environmental Studies Program, the Office of Community Service Programs, the Social Work Department, the Sociology Department, the Economics Department, and the GIS Center for Interdisciplinary Research.
On Tuesday, Feb. 25, Robinson will lead a workshop titled "Making Sense of the Census: Finding, Understanding and Using U.S. Census Bureau Data," from 12:30 to 1:30 p.m. in the GIS Center for Interdisciplinary Research, second floor-room 227, Scribner Library.

Effective scholarly research, program planning and grant writing require a good understanding of your community's population characteristics. To help agencies understand the dynamics of their local population, the U.S. Census Bureau makes available an overwhelming amount of data from the decennial census, American Community Survey, Economic Survey and more. But these data can be difficult to find, interpret and manipulate. Robinson will explain how to navigate the Census Bureau's American FactFinder website, identify appropriate datasets, and use the data effectively. The program is open to the Skidmore community.