Living today for what it will mean tomorrow
October 6, 2014
by Helen S. Edelman '74
People and planet, ethics and economics are what define sustainability in the 21st century. A decade ago, turning down the thermostat, recycling paper, and carpooling were considered sustainability efforts. Today at Skidmore they include a community garden, composting, a free bike-sharing program, dialogues exploring how food security relates to social justice and diversity, and many other initiatives that benefit the campus and region and prepare students to become global citizens with the knowledge and passion to protect the world that is both their inheritance and their legacy.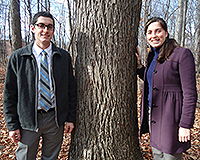 Levi Rogers and Rachel Willis
Levi Rogers and Rachel Willis are the college's sustainability coordinators, charged with guiding campus activities that align with goal 3 of Skidmore's strategic plan, spearheaded by President Philip Glotzbach. That goal includes: "Make the Skidmore campus an environmental laboratory, increase our emphasis on responsible planning for environmentally sustainable operation, and continue efforts to reduce the College's 'environmental footprint.'" In serving that mission, they're also steering students into experiential learning, job-skills development, and opportunities to put their values into action.
Some projects were initially made possible by a major grant from the Margaret A. Cargill Foundation. And a fund is available to help students, staff, and faculty implement their own initiatives in sustainability. "Those involved in these programs are hands-on," Rogers says. "They're not merely playing at hobbies, but real advocates for sustainability. It's so much deeper than getting caught up in a 'trend.'"
Dig and delve
Probably the most visible project is the 6,500-square-foot garden. Begun in 2009 near the Colton Alumni Welcome Center, the student-run garden was soon producing half a ton of organic vegetables each year for Skidmore's dining services. In 2013–14, after soil testing, scouting, and extensive planning by staff and students—especially manager Margot Reisner '14 and design draftsman Kate Brittenham '14—the garden was moved to the Wiecking Hall green. With its central, visible location and an emphasis on all-campus inclusion, it's been officially dubbed the Skidmore Community Garden.
Starting seedlings in the Dana Science Center greenhouse this spring, garden manager Eliza Hollister '15 and others dug furrows, laid irrigation tubing, and built trellises for the new plot this summer. Rogers says it quickly became an "intergenerational hangout," and Hollister '15 reports that "many people walk by the garden every day, stop to chat, learn a bit about what we're doing, and offer to come volunteer. It's incredibly rewarding to see people get excited about growing local food, whether they are experienced or new to gardening." Most of its tomatoes, peas, beets, carrots, lettuce, squash, eggplant, and other produce gets sold to Skidmore's dining services for use in regular meals at Murray-Aikins Dining Hall, and a student-hosted Harvest Dinner has become an autumn tradition.
Students' work with dining services has also included studying its "trayless dining," which requires diners to carry each plate and glass to the table, resulting in significantly less unconsumed food going into the trash (plus the water and electricity conservation of eliminating trays from the dishwashing stream). Even learning how to use a knife properly to reduce waste in food preparation supports sustainability. Such collaborations help students get a taste of healthy eating habits, recipe creation and sharing, and the satisfaction of breaking bread with friends.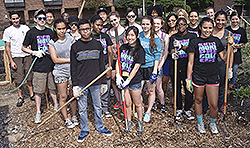 Precollege students use the garden for
service-learning in a summer program
on campus.
For Reisner, an environmental studies major with a focus on food, "The Skidmore garden was the perfect emblem for my education, and a way to put what I was learning into practice. Lessons from class were echoed in garden projects—from politics and negotiating to ecology, from business and economics to design and writing." She says the garden "shines a light on food issues at a global level: by educating the community about the source of their food on campus, we hope they'll examine their food choices within the global market and begin to understand how foods are grown and how ecological cycles play into their lives." She maintains, "Colleges are influential in the greater community, and by adopting sustainable campus operations, they can ignite the necessary shift toward sustainable towns, cities, and societies."
Reisner hopes to found her own farm, to sustain her family and educate her neighbors. "I believe that all ecological problems today are caused by an ideological disconnect between humans and nature," she says. "Gardening can remedy that problem by reminding people of simple, yet vitally important facts—which way is north, where the sun comes up, how much rainfall we get, what fruit is in season, and so on."
Another agro-venture is the relationship with the 9 Miles East farm in nearby Schuylerville. Owner Gordon Sacks says, "We started working with Skidmore to develop a community-supported agriculture program for students, faculty, and staff. Now the most popular job on the farm is delivering the Skidmore CSA shares on Friday afternoons. All the members on campus are excited to get their fresh produce." He's clearly delighted by the partnership: "Skidmore students and graduates work on the farm, Skidmore classes visit to see how we grow and cook, and we help the Skidmore community enjoy great local food." He himself volunteered in the Skidmore garden by bringing his equipment and roto-tilling it this spring.
Mobilize and teach
ES professor Karen Kellogg, who hired Rogers and Willis in her role as associate dean for infrastructure, sustainability, and civic engagement, says, "Skidmore has a responsibility to increase students' capacity to go do things in their postcollege lives that can make a difference in the world." She calls Willis and Rogers "amazing ambassadors who demonstrate a balanced perspective and a commitment to students. They appreciate different opinions and always look for a way to compromise and move forward, to help students learn how to make good choices. They have inspired the community to bond around sustainability initiatives and build something together."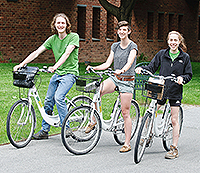 A Bikemore spin with Nick Graver
'16, Emily Durante '15, and Laura
Mindlin '15.
Kellogg cites Skidmore Bikemore, which allows any member of the campus community to borrow a bicycle—anytime, for free—from a self-serve bike rack outside the library. Begun several years ago, it helps reduce the use of fossil fuels, promotes healthy exercise, teaches street safety, and encourages exploration of the campus and its surroundings. A recent $20,000 grant from the Cargill Foundation helped revitalize the program this spring, supplying it with 20 new shaft-driven bicycles (no chains to tangle or break) and an electronic locking bike rack. Within two weeks, 75 people had borrowed bikes.
Emily Durante '15, a double major in environmental studies and geosciences who manages the new Bikemore, was recently named a Newman Civic Fellow by the national Campus Compact, recognizing her many and wide-ranging activities in social issues and work toward positive change. She hopes Bikemore "will continue to set new standards for sustainable mobility, will bring groups together—whether students, faculty and staff, or visitors —and will open up opportunities for Saratoga Springs to offer a citywide bike-share program and additional bike and pedestrian trails to better connect Skidmore to parts of the community." She's looking toward work in urban transportation planning after Skidmore.
Other transportation initiatives include fare waivers on Capital District municipal buses from campus to downtown, faculty-staff carpooling, an online ride-share board, and participation in the annual Bike to Work day.
Sustainable Skidmore also helped establish the Skidmore Student Conservation Corps. Willis helped spearhead the program to link ES course work to hands-on conservation activities in conjunction with other groups on campus and off. Projects in Skidmore's North Woods have ranged from trail maintenance to public lectures to spoon-carving workshops. And Conservation Corps members have worked at the nearby Wilton Wildlife Park and Preserve, helping to build a boardwalk, mounting trail markers, installing a fence, and clearing brush and trees encroaching on crucial wildlife habitat. Trail-worker Charlie Lovejoy '16 says, "I definitely hope to do conservation work after I graduate," so he's grateful for the Wilton experience: "I don't think I would have even known about this opportunity if it weren't for the Student Conservation Corps."
Students have also taught city residents about hazardous-waste collection, cooperated with Skidmore's waste-hauling contractor to adopt zero-sort recycling, and collaborated with faculty to survey and map the more than 1,000 acres of Skidmore-owned land. Such initiatives are inspirational for many students, such as Patrick Babbitt '14, a co-manager of the student-led composting program. Every week, Skidmore Compost collects food waste from the student apartments in Northwoods Village and raises awareness about composting and sustainability. Often on bicycles, the students have collected thousands of pounds of food scraps and coffee grounds, which become a rich soil builder for the campus garden.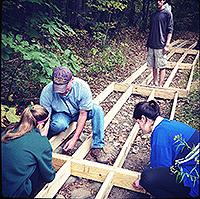 Students and community members
build a North Woods boardwalk.
Babbitt says, "I honed interpersonal skills to mobilize and teach volunteers, and I engaged in creative thought to find ways to expand the program and connect it with broader sustainability issues." Should the compost system expand to an industrial scale—to include yard waste, grass clippings, manure, and eventually scraps from the dining hall—Babbitt calculates it could save "tens of thousands of pounds of waste from the landfill." He adds that the work is a way "to enact my values. I will certainly continue to support environmental causes throughout my life, and very possibly address composting in a future career in urban planning or policy."
A major waste-reduction project is Give and Go. The many usable items left behind when students go home at the end of each academic year are collected by Skidmore and community volunteers so that, instead of being sent to the landfill, the goods can go to local charities.
With so many activities to choose from, Rogers says, "students are excited about getting involved. Before Skidmore, many students never had the opportunity to visit a landfill, use construction tools, or eat a meal of food they picked themselves. Now they're out in the woods building a boardwalk, learning to use power tools, sorting through trash, pulling up invasive species, or planting in the garden." Willis adds, "Every student has a different personal interest. But they learn that what they can do as an individual makes a unique difference for the whole community. They take pride in learning to live and act intentionally, living today for what it will mean tomorrow."