Studying Spaceship Earth
October 7, 2014
by Kathryn Gallien
When members of the Class of 2014 graduated last spring, they wore academic robes made from recycled plastic bottles—a perfect coda for an education marked by growing opportunities to study sustainability.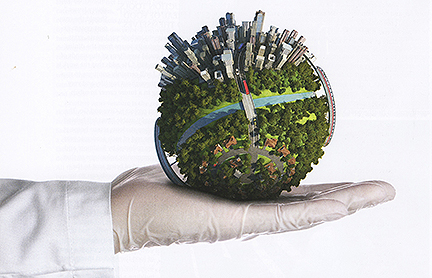 Land of opportunity
"Sustainability is an endless land of opportunity," says Brad Cray '15, a business and psychology double major. He co-founded a green business with sociology major and business minor John Manning '14, thanks to last fall's entrepreneurship course taught by Cathy Hill, Harder Professor of Business Administration. In developing their business plan for Evolv Composting, Cray and Manning recall, "One of the harder tasks was forecasting the financials. We had to do detailed market research on expected profits and losses, in part using Skidmore's business databases." But the course work paid off, and "our business-model canvass greatly assisted us in entering the Saratoga Springs marketplace." As Cray puts it, "Once we had combined our sustainable vision of food-waste handling in Saratoga Springs with a viable business plan, it was a no-brainer to continue the business after the class ended." By summer, they had lined up more than a dozen residential customers and the Comfort Kitchen restaurant (where Manning has worked as a cook).
Evolv supplies its customers with specialized, airtight containers and with the right microbes to ferment a wide range of food scraps and even paper towels and packaging that typically go to landfills. The centuries-old Japanese bokashi method that turns it all into nutrient-rich soil is quick and odorless and can be done indoors. Clients can have the compost collected or keep it for themselves. Evolv aims "to help close the door on food waste and get vital nutrients back into food production through widespread composting that is convenient for everyone."
Now that they've been businessmen for several months, Cray and Manning credit their business plan with "providing us a great basis, though we've pivoted from some of our initial ideas about the operations." They say that after "helping immensely" with their in-class planning work, Hill "has since proven even more helpful by mentoring us and introducing us to the larger Capital Region clean-tech business community." In fact, the duo signed up for the first New York Executive Clean Energy Leadership workshop, a new program spearheaded by Hill with support from New York State's Energy Research and Development Authority. The NY-EXCEL institute brought business professionals to Skidmore this summer for an executive "boot camp" that continues this fall with visits to clean-tech firms around the state.
The academic habitat
A small sampling of courses
• "Origin and Distribution of
Natural Resources"
• "Themes in American Culture:
The Machine in the Garden"
• "Anthropology and Environmental
Health"
• "Ecology of Food"
• "Sustainable Development"
• "The Ecology and Engineering
of Energy"
• "Environmental Politics and
Policy"
• "Ecofeminism, Women, and the
Environment"
• "Industry, Empire, and the
Environment"
• "Business, Ethics, and Society"
• "Environmental Philosophy"
• "Religion and Ecology"
• "Women in the Global Economy"
• "Conservation and Use of
Forested Landscapes"
At Skidmore, sustainability is remarkably adaptable and widespread. First-year students encounter it in several Scribner Seminars. It's a policy challenge in "The Adirondacks: Forever Wild?" It's a global social issue in "Without Bound? An Exploration of Human Population Growth." And it's a psychological, even spiritual question in "Human Dilemmas."
Michael Marx, an English professor who has directed Skidmore's environmental studies program, introduces freshmen to the topic in his honors expository-writing class "What is Sustainability?" His students question it as a buzzword or marketing ploy and also explore its "triple bottom line" of environment, economics, and social justice.
Of course, sustainability largely grew out of the ES program, offering a minor since 1992 and a major since 2002. Its former faculty director Karen Kellogg—who is currently associate dean for infrastructure, sustainability, and civic engagement—is pleased that ES "is now the sixth largest major on campus, and many students combine it with other majors and minors." The more students, the better, she says, since "every student should understand why it is so critical to be thinking about all the issues related to our burgeoning human population and limited resources."
Skidmore currently offers some 70 courses with an express focus on sustainability—from "Political Ecology," with service learning that recently helped Saratoga Springs draw up its first urban-forest master plan, to "Environmental Education," including curriculum design for elementary schools, homeless services, and a wildlife preserve—and as many as 200 courses that touch on sustainability.
The management and business department recently redesigned its curriculum to bring environmental issues more explicitly into more courses. Business professor Ela Lepkow­ska-White, who also directs the international affairs program, explains, "It's broader than the environment. It's also ethics in general, principles of economics and government." She and her colleagues want students to think about how each business decision affects people and the environment.
One of the department's "six dimensions for studying management and business in context" is called Natural Environment and Sustainability, a course of study that helps students "to learn about close connections between business and the natural environment in areas such as resource depletion, air and water pollution, and environmental risk factors" and to explore green technologies, renewable energy, and the role of government regulation. "I believe that business can be very beneficial for society if we do things the right way," Lepkowska-White says. She talks with students about the profitability of sustainable business—"you save money and resources and you also gain another target market, yes?"—and describes it as not just respecting the environment but "being a good businessperson in other ways, by paying fair wages, caring about employee well-being, creating a better society."
She says, "This is so important. If we don't educate our students to be responsible business women and men—and citizens—who will?"
Green workshopping
Lepkowska-White is among the 22 faculty members—in fields from English and math to social work and music—who have participated in two-day workshops that helped them each revise a course syllabus to incorporate sustainability issues. She added an assignment to design a marketing plan for a green business in her "Foundations of Marketing" course.
In foreign languages, Shirley Smith appreciated that the workshop's message was not "we are doomed" but rather "we can all do something now." She built sustainability into her "Elementary Italian" course—"we talked about the slow food movement in Italy, plus the politics of waste management, as part of a unit on the conditional mood of verbs"—and also into her "Food in Italian Literature."
Caitlin Jorgenson, who teaches the English course "The Rhetoric of Food Debates," says the workshop helped her think about giving her students "oppositional voices." She explains, "They need to think through all sides, weigh them carefully, and develop their own basis for judgment."
Education studies professor Hope Casto took the workshop to weave sustainability into her Scribner Seminar "No Place Like Home: An Exploration of Place." As a result, she added to her objectives for student learning "to understand and apply the concept of sustainability and then interrogate and develop a connection between a sense of place and the concept of sustainability."
It's complicated
"The choices we make now
will impact how humans
live in the future. It connects
us not only globally, but
across time."
Marx notes that sustainability requires a deep understanding and also a personal commitment. "Sustainability has implicit in it the idea of sacrifice, of changing certain lifestyles," he says. "Unlike strains of environmentalism that are primarily focused on preserving the planet, using the term sustainability puts humans firmly in the equation." It helps "remind college-aged students that the choices we make now will impact how humans live in the future. It connects us not only globally, but across time."
As ES faculty member Nurcan Atalan-Helicke tells her students, "There's never a solution that will make every interested party happy. We have to think about solutions that are acceptable to as many people as possible." Kellogg agrees, "You have to learn to help people reach a compromise or you're never going to make change."
Gabriel Herrera '14, an anthropology major with minors in ES and Spanish, wants to work in sustainable urban development. During the course of his senior capstone project in anthropology, examining public discourse and perceptions of sustainability in Saratoga Springs, he also learned that "nothing is simple. Every action will, undoubtedly, garner resistance or present challenges on some front. To pursue sustainable initiatives you must recognize there is never an easy way."
Easy or not, a collegewide strategic plan for sustainability is in the works, with a mission statement that underscores the high stakes: "Teaching, learning, and living in accordance with the tenet of sustainability fosters broad education and civic engagement of our community members, and prepares our students to be informed, active citizens and leaders in realizing sustainable futures. The health and well-being of future generations is dependent upon their success."