Hydro plant ribbon-cutting highlights Skidmore's sustainability efforts
April 22, 2015
At the edge of Chittenden Falls on Kinderhook Creek in Columbia County, Skidmore College and its project partner, Gravity Renewables, celebrated the opening of a refurbished micro-hydro plant designed to provide clean energy and advance the College's sustainability initiatives. The April 17 ribbon-cutting ceremony, which included a tour of the plant, was attended by local officials and by a group of Skidmore students, faculty, staff, and trustees.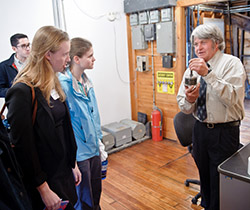 Plant operator Paul McCormack explains the
workings of hydro power.
(
photo: Eric Jenks '98
)
The scenic and historic Chittenden Falls dam, located about a mile north of Stockport, N.Y., was built in 1809 to run a paper mill and then refitted to supply electricity to the power grid in the early 1980s. Time took its toll on the plant, and to bring it up to date, new owner Gravity Renewables did extensive work to replace and refurbish equipment. Now it is up and running, providing four megawatts of electricity annually to the grid, which Skidmore purchases.
How did Skidmore College get involved? As Skidmore's retired budget and energy expert Mike Hall told the audience at the ceremony, it was over a cup of coffee. He was meeting with Omay Elphick '93, director of project development at Gravity Renewables, to discuss Skidmore's sustainability program when the topic of hydro-generated energy came up, specifically the potential for the Chittenden Falls facility. Hall describes it as an "aha moment" when it dawned on him that Skidmore could become a partner in the endeavor.
Now, a year later, Skidmore is getting about 18 percent of its electricity from the dam and is significantly reducing the campus energy bill as a result. Elphick explains, "Skidmore's 20-year agreement to buy the power gives it a stable, affordable electricity source and justifies Gravity's capital investment to make the facility viable again. Together we save this solid, existing resource that might otherwise be at risk of rusting away." The project uses cutting-edge technology called "remote net metering" as a means of measuring and crediting the output of the facility.
At the falls (from left): Michael Hall, PaulLundberg (Facilities Services), Linda Toohey,
and Omay Elphick
(photo: Eric Jenks '98)
The Chittenden dam is one of many renewable-energy projects implemented by the College. Others include geothermal heating and cooling, a large solar field near campus, and solar hot water panels on some campus buildings. Other sustainability-related projects include everything from high-efficiency light fixtures to a new bike-share program on campus.
Among the speakers at the ribbon-cutting was Linda Toohey, Chair of the Skidmore Board of Trustees. "We have been building a living and learning community around sustainability for a long time at Skidmore, and the list of projects we've launched over the past decade is very long indeed," said Toohey. "One metric that perhaps captures this best is that we reduced our greenhouse gas emissions by about 48 percent between 2000 and 2013, while we simultaneously increased our square footage and number of students."
Caroline Hobbs '16, an environmental studies and economics double major, also addressed the group. "Social and environmental issues are a passion at the core of Skidmore's student body, and I'm not alone in identifying that my greatest pride for our institution lies in its dedication to renewable energy initiatives," said Hobbs. "This partnership has opened up a variety of opportunities for students to become involved and learn more about renewable energies."