Skidmore receives $1.5M grant for firefighter safety research
September 13, 2016
Of all the dangers to firefighters, it's the physical rigors that pose the greatest risk; nearly half of all line-of-duty deaths are due to sudden cardiac events. With an expert in this field on its teaching faculty, Skidmore College recently received a $1,467,000 Assistance to Firefighters Grant from the Federal Emergency Management Agency, under the U.S. Department of Homeland Security.
Students research first-responder health.
This is Skidmore's fifth such grant, totaling $5.4 million, to support a research program led by Denise Smith, professor of health and exercise sciences and director of Skidmore's First Responder Health and Safety Laboratory. Smith will again mentor several students in her lab, which will work with previous collaborators from the University of California at Los Angeles, the U.S. Department of Defense, Globe Manufacturing, and the National Fallen Firefighters Foundation. The ongoing work at Skidmore's lab has improved understandings of the way work and heat stress combine to affect various components of the cardiovascular system and has elucidated underlying medical conditions related to cardiac events in the line of duty.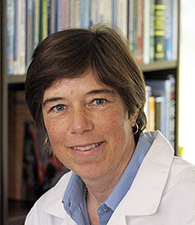 Denise Smith
This latest project will advance the lab's work on wireless, wearable technologies to sense, track, and relay individual firefighters' physiological responses and also monitor toxic particulates in the air. Smith says, "The technology has matured to the point where we can consider incorporating these tools into the fire service across the country, to improve the health and safety of firefighters who risk so much to protect their communities."
Skidmore President Philip Glotzbach adds, "This exciting work embodies the best of what we do at Skidmore: expert faculty members develop research projects that address thorny problems, actively engage our students in the work, and produce results that make the world a better place."