What the %@&*!
September 20, 2016
From Raw to the New Yorker, Art Spiegelman has changed the way people think and critics write about cartooning. A 1992 Pulitzer winner for Maus, his graphic novel series on the Holocaust, and later the artist of "In the Shadow of No Towers," Spiegelman will deliver the Frances Steloff Lecture at Skidmore on Tuesday, Oct. 4, at 8 p.m. in Gannett Auditorium. The event will begin with his receiving an honorary doctorate of humane letters and will end with a Q&A and a book-signing of his most recent works.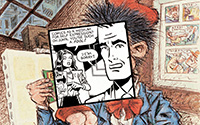 Detail from a Spiegelman meta-cartoon
His lecture, titled "What the %@&*! Happened to Comics?" will explore evolving perceptions of comics as a literary medium. Although they have often been disdained by academics and other literati, they can be eloquent and powerful, Spiegelman argues, in part because "comics echo the way the brain works. People think in iconographic images . . . and bursts of language, not in paragraphs."
Starting his career by cartooning for Topps bubblegum cards, he became a key figure in the 1970s comics subculture and founded the influential avant-garde comics magazine Raw. During the 1980s he drew on his father's concentration-camp experiences to create his acclaimed Maus, an unflinchingly horrifying and humorous book that portrays Jews as mice and Nazis as cats. Maus II later continued the story of his parents in the United States, and his Metamaus won the 2011 National Jewish Book Award.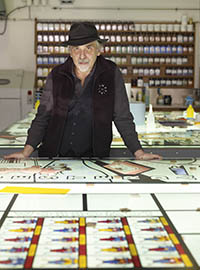 Photo by Enno Kapitza--Agentur Focus
For 10 years Spiegelman served as an artist for the New Yorker magazine, creating dozens of sometimes controversial covers. After 9/11 he created a cycle of broadsheet pages, "In the Shadow of No Towers," which was serialized in the London Review of Books and elsewhere before its release as a book in the U.S.
He and his wife publish the Toon Books early readers and co-edited A Toon Treasury of Classic Children's Comics.Retrospective exhibitions of his work have been held recently at major museums from Paris and Cologne to Los Angeles. His multimedia Wordless, on the history of the graphic novel, premiered at the Sydney Opera House in 2013 and the Brooklyn Academy of Music in 2014. In 2015 he was elected to the American Academy of Arts and Letters.
The annual Steloff Lecture, endowed in 1967, honors the late Saratoga native Frances Steloff, who founded New York City's legendary Gotham Book Mart and acquired a vast collection of literary memorabilia, much of which she donated to Skidmore College.