A blot on Brand USA?
March 1, 2017
While America's free enterprise system is widely admired, "its engagement in particular forms of racialized capitalism (think: banana republics and sweat shops) has simultaneously tainted its global image," says management-studies scholar Pushkala Prasad. She will explore "the profound ambivalence that characterizes Brand USA in the world's imagination" in this year's Moseley Faculty Research Lecture. Titled "(Ir)resistable and (Dis)reputable Empire: Racialized Capitalism and the Tainting of Brand USA," the free, public talk begins at 8 p.m. on Tuesday, March 7, in Gannett Auditorium.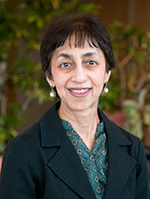 Pushi Prasad
Prasad is Skidmore's Zankel Professor of Management for Liberal Arts Students and a scholar of workplace diversity, international business, and corporate responsibility. Before taking the Zankel Chair and joining he Management and Business Department in 2000, she served on the faculty at Clarkson University, the University of Calgary, and Sweden's Lund University, where she held a chair in corporate social responsibility. She earned a bachelor's degree in history and an MBA in India and a PhD at U-Mass Amherst.
Her extensive scholarship, funded by grants from the likes of the Social Sciences and Humanities Research Council of Canada and the Swedish Quality of Worklife Foundation, has included conference presentations, workshops, guest lectures and panels, and scores of articles and book chapters. Her writing on topics from employee resistance, irresponsible corporate behavior, and global capitalism to analyses of research methods has appeared in the Academy of Management Journal, Organization Science, Research in the Sociology of Organizations, the International Encyclopedia of Organizational Studies, and other publications. She is the author of Crafting Qualitative Research and co-editor of both Managing the Organizational Melting Pot and the Routledge Companion to Critical Management Studies.