"In It" together
October 6, 2017
Billed as "a suite of diversity and inclusion programming designed to raise our cultural fluency and strengthen our community," this year's "In It 2" will engage Skidmore students, faculty and staff Wednesday–Friday, Oct. 11­–13. Events are free and open to the public as space allows. Grappling with the intersections of gender and other identities, the "In It 2" lineup features a screening and discussion with Skidmore alumni and parent filmmakers Gayle Nosal '79 and Beret E. Strong, P'19, an exhibition tour by student-curator Laila Morgan '18 and three major discussion events:
Kergil's book
Wednesday brings Skylar Kergil '13, a transgender activist and popular YouTube blogger, to converse with faculty and staff at 2:15 p.m. in the Surrey-Williamson Inn and then to speak and sign books at 7 p.m. in Gannett Auditorium. His commentaries about gender transition have educated and inspired a huge following and led this year to his first book, Before I Had the Words.
Tatum
On Thursday, Beverly Daniel Tatum, former Spelman College president, will receive a Skidmore honorary degree and then engage in a discussion, Q&A and book-signing, all beginning at 3:30 p.m. in Zankel Music Center. A scholar and trainer on racial identity in education, she won the American Psychological Association's top lifetime honor. A fully revised edition of her bestseller Why Are All the Black Kids Sitting Together in the Cafeteria was published this year. Tickets—required but free—are available at the Zankel box office.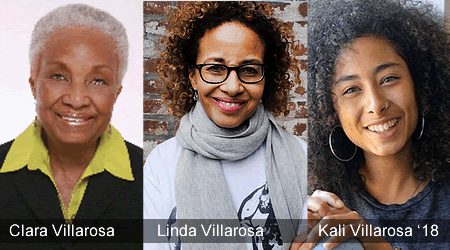 Friday's marquee event is a three-generation panel on gender, race, business and public affairs at 12:15 p.m. in Filene Recital Hall. Founder of the African American Booksellers Association, Clara Villarosa is the author of Down to Business: The First 10 Steps to Entrepreneurship for Women; Clara's daughter Linda, a journalist, has been executive editor of Essence magazine and a health reporter from the New York Times to O to Salon; Linda's daughter Kali '18 is an international affairs major, student club leader and U.S. State Department intern.
The latest "In It 2" schedule and details are here.