Our summer in Skidmore's North Woods
August 3, 2018
Each summer, Skidmore's Office of Sustainability gives two students the opportunity to steward Skidmore's North Woods. This summer, Michaela Bonforte and I were lucky enough to be hired!
The North Woods is 150 acres of forest right on Skidmore's campus. It features five hiking trails as well as a whole ecosystem of unique flora and fauna. Skidmore students, faculty, staff, and community members often visit the woods to hike, run, walk their dog, host a class, do research, and so much more.
As the North Woods stewards, it was our job to manage the woods. This involved trail maintenance, removing invasive species, and hosting community events within the forest.
Over the past two months, Michaela and I accomplished a lot. We pulled more than 5,000 individual invasive plants, removed dozens of fire pits, cleaned up environmentally-damaging litter, maintained trails to keep them safe, hosted six community events, updated trail signage, and taught young children in summer camp about this special place.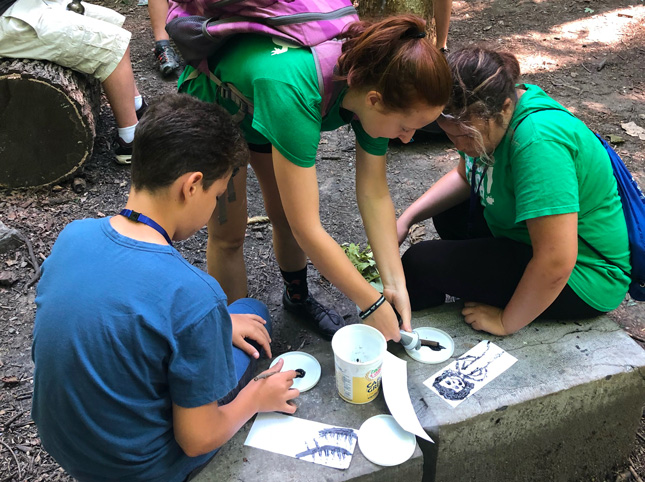 Some of our favorite moments from the summer were leading "hike and s'mores" events and building a bug hotel (a structure that attracts insects and gives them a safe place to stay). A slight detour from the woods, we also helped Community Garden Manager Eli Hersh harvest the bounty of food grown on campus.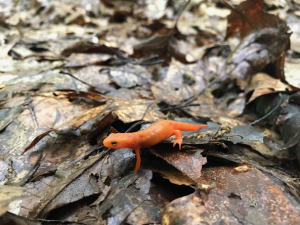 I have always enjoyed hiking and spending time in nature. The North Woods steward position was perfect because it allowed me to turn what I love into a summer job. As an environmental science major, the position was also important as it gave me hands-on forestry and ecosystem management experience, something I would not have gotten in a class.
As for Michaela, the North Woods has been an integral part of her time here at Skidmore. So for her, serving as a steward was about giving back to the woods so that others can enjoy the area as much as she does.
Michaela and I also learned a lot of valuable lessons this summer.
Michaela realized how much time, effort and community engagement goes into taking care of a trail network. For her, it was rewarding to see her work help preserve the important ecosystem and support the community's relationship with it.
For me, my biggest lessons came from two Skidmore retirees – Bob Jones and Jackie Donnelly. Jones, a local history expert, taught us about how the North Woods has changed over time. Donnelly, a naturalist, taught us about all the different plant species.
The North Woods is such a special place that adds so much value to Skidmore's campus. If you haven't had a chance to visit yet, we highly suggest that you do!
A few tips from the Summer 2018 North Woods Stewards:
The red trail is great for a short hike.
My favorite is the orange trail because of the scenery. There's something about the pine needles sprinkled on the ground and the historical spots along the way that make it extra special.
I probably spend the most time in an open area on the spirit trail. It's perfect for yoga.
The trails aren't just for summer! Michaela recommends visiting the woods in the winter as the snow adds another level of beauty. In the winter, you're also likely to see lots of animal tracks and even, on a clear day, a vista of Vermont's Green Mountains.
If you do visit the North Woods, we ask that you help us protect it by following our rules and remembering to leave only footprints!