Culinary creativity wins again
January 14, 2019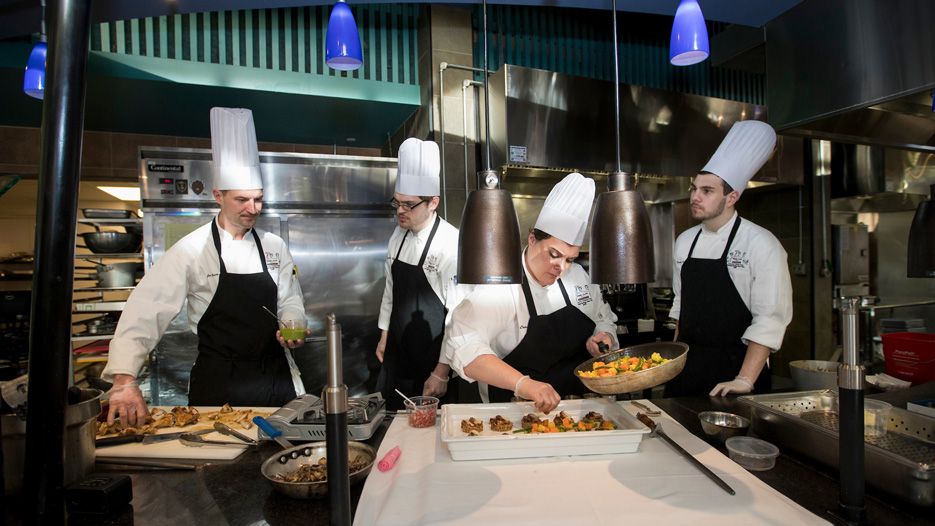 At Skidmore, creativity abounds and its dining is no exception. And as "a kitchen is the heart of the home," it's no surprise to find that Skidmore's culinary team nourishes its "home" with creative flair and award-winning ingenuity.
Gold medal meals six years in a row
Skidmore's dining services team recently earned its sixth consecutive gold medal for culinary excellence in an American Culinary Federation (ACF) sanctioned competition Jan. 11 at Skidmore's Murray-Aikins Dining Hall.
The "Chopped"-like competition pitted Skidmore against 10 colleges and universities from throughout the northeast. Each team was challenged to create original meals from identical ingredients under strict time and style limitations.
Chefs Joe Greco, Daniel Salazar, Matthew Holton and Shelly Carpenter prepared a four-course meal for a panel of judges, including one certified master chef.
The Skidmore team's efforts earned the highest total points to garner the gold medal, a testament to the chefs' dedication to refining their creative chops.
"It gives our staff a fun opportunity to practice and enhance their culinary skills while engaging in friendly competition with the other institutions," said Mark Miller, director of dining services. "They come away with fresh ideas that often translate into tasty new recipes for the Skidmore dining hall menu."
The ACF competition was featured in numerous regional news stories, including News10, Saratoga Living, The Daily Gazette, The Saratogian and Saratoga Today.

The team was also recently recognized with other awards:
For the love of food
While national accolades have become a near-regular occurrence, the chefs agree that it's the high marks they receive from members of the Skidmore community, particularly students, that mean the most.
In a nearly 1,000-word love letter to Skidmore dining, titled "Everything I love about D-Hall," Harry Mooney '21 captured the thoughts of many at Skidmore.
"D-Hall adds something irreplaceably special to my life at Skidmore," said Mooney. "It is one of Skidmore's most brilliant gems. I love it. And I'm certainly not the only one who feels this way."