Everything I love about Skidmore's dining hall
November 5, 2018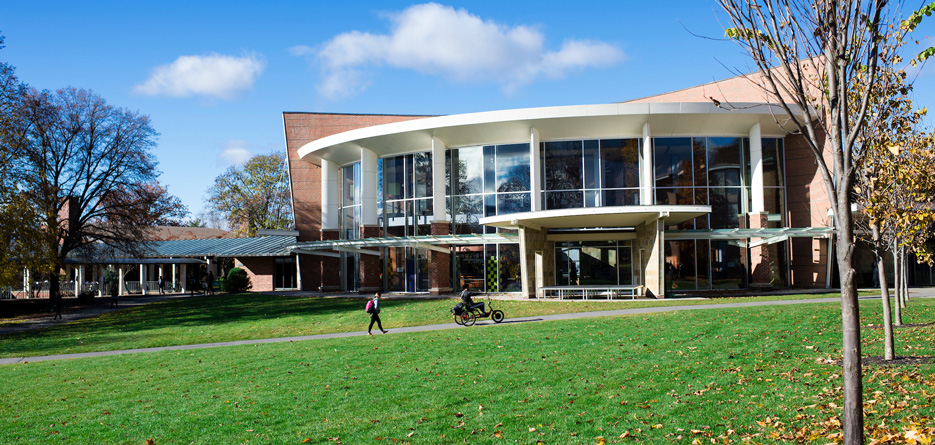 A friend from home came to visit me last winter. "It's like the cafeteria on a beautiful space ship," she said.
As she took in the intricate wood and metal detailing, the ambiance of the interior decor and the abundant natural light pouring in from the windows, I felt a light sense of pride. Seeing it through her eyes was like seeing it for my first time, too.
In that moment, I realized that the Murray-Aikins Dining Hall (D-Hall) adds something irreplaceably special to my life at Skidmore. It is one of Skidmore's most brilliant gems. I love it. And I'm certainly not the only one who feels this way.
It's ranked at the top by The Princeton Review, Niche.com and others with chefs who have repeatedly brought home gold medals in culinary competitions.
A spot where you can grab a light breakfast before class or recover after a long sports practice, D-Hall is here for everyone and all lifestyle varieties.
One of the reasons Skidmore students are so appreciative of D-Hall is its accommodating schedule.
Except for the hour between 4–5 p.m., when it is being cleaned and prepped for dinner, D-Hall is open 7 a.m. – 11 p.m. during the week.
I often leave campus early in the morning to hike and return late at night. Being able to eat full, hot meals at those fringe times fills me with gratitude, especially for the Skidmore staff who wake up early and go to sleep late to feed us.
But what is the food actually like? Let me show you around.
Do you want some pizza? Then check out Supremo's, serving hand-tossed, oven-baked pizza all day. I personally love the pepper and onion pies.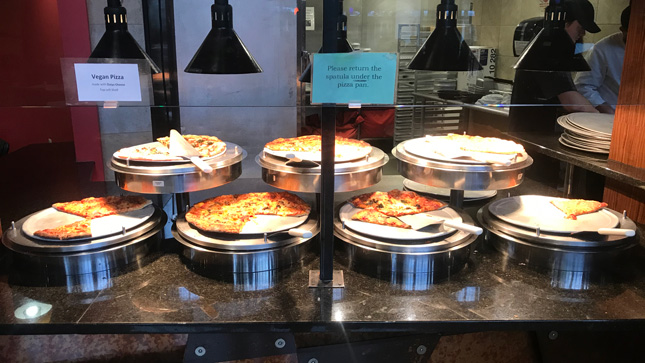 Looking for something healthy? Emily's Garden is dedicated to vegan and vegetarian options, and many of the meals are prepared with produce from our own community garden.
Take a few steps past Emily's and you will find The Corner Deli, where you can order your own sandwich, wrap or panini. Order anything you want. Mustard and Swiss cheese on wheat? Not sure why you would want that, but I'm sure they'll make it for you!
After you're done experimenting with sandwich combinations, move on to The Bakery. Stocked with fresh-baked muffins, cookies, breads, pie, and cake, The Bakery is your six-year-old self's dream. Welcome to college: there are no parents. Have two chocolate chip cookies instead of one. You'll never look back.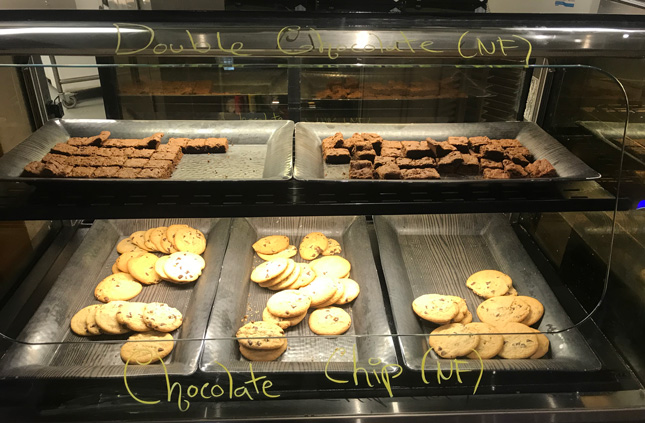 The Diner is our main hot food station, serving everything from pork chops to tomato soup, grilled cheese, burgers, baked potatoes, you name it. Every day and every meal is different. The Diner is also home to Skidmore's famous Chicken Finger Friday. Be careful though, chicken fingers can be dangerous. Read what happened to this student after she ate too many.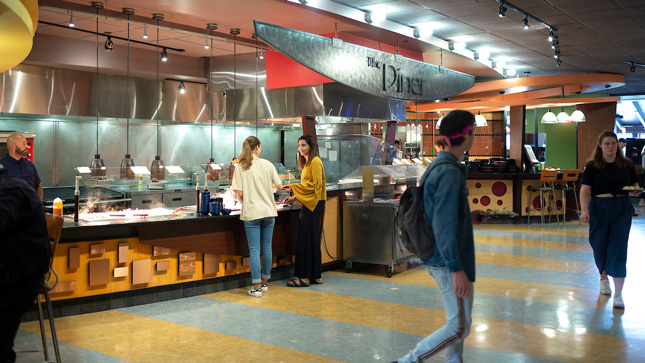 Just around the corner from The Diner you'll find rows and rows of cylindrical shelves filled with all kinds of cereals and granolas. And don't forget the fresh fruit.
Next up is my personal favorite: The Global Cafe. Dedicated to international foods, my favorite dishes come from Global: veggie stir fry and pork fried rice.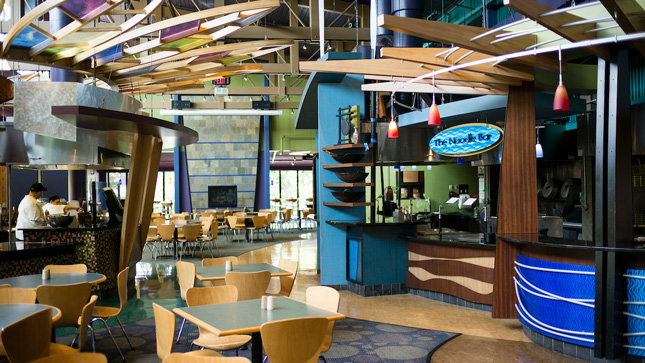 If you have gotten this far and your mouth isn't already watering, you will find Semolina's: our pasta station. For dinner, Semolina's serves one kind of pasta dish. For lunch, however, you can request a dish to order and our chefs and students will make you a delicious custom plate. Everyone wants a spot in this line.
Lastly, if it is the case that still nothing interests you, there is a DIY station where you can cook your own eggs or omelets, or make some Belgian waffles. The only limit is your imagination.
At D-Hall, no matter one's dietary restrictions, nutritional plan, class and extracurricular schedule, everyone finds accommodation. It is truly a wonderful building that has facilitated so many interactions with great friends, new and old.
So far today I've had a veggie and chorizo scramble for breakfast and a gyro for lunch. Is it time for dinner yet?