Shaping the next generation of business leaders
April 18, 2019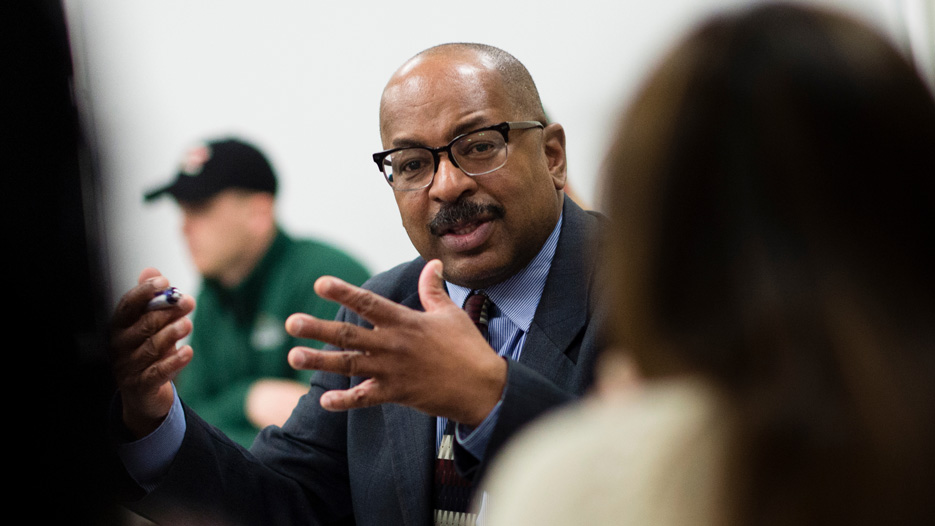 What will tomorrow's business leaders be like?
Thanks to conscious teaching practices and honest conversations, first-year students taking the Scribner Seminar, Industry and Innovation, have learned how to balance economics and business principles with ethics and inclusion.
Industry and Innovation, taught by Tim Harper, associate professor and chair of the Management and Business Department, was one of more than 40 Scribner Seminars for first-year students offered this year at Skidmore.
The small classes — often 16 students or less — are at the center of the College's First-Year Experience. They introduce students to college-level inquiry and disciplines, like management and business, in an engaging and supportive way.
Students in Harper's seminar studied timely corporate topics at an industry level. Then they studied them again from a different angle through the stories of Skidmore alumni and network connections.
This Skidmore-specific approach, Harper noted, is unusual for a first-year class.
"I think it's vital to have a variety of people teaching these topics because they provide a mirror. Our guest lecturers have learned how to navigate workplace spaces. Students see that, although they may face challenges, they can navigate them too," he said.
The result was a learning experience enriched by multiple generations. People came together from disparate backgrounds and cultures to learn, much like the modern workplace.
For example, the students learned how the insurance, financial and business services industries work, from infrastructure and technology to executive leadership and marketing. Then, they heard from guest speakers in those industries — Keith Stewart, a State Farm agent who spent many years working at Xerox; Russ Findlay, a chief marketing officer at Hiscox; and Alycia Sheppard '01, a hedging operations manager at Chatham Financial.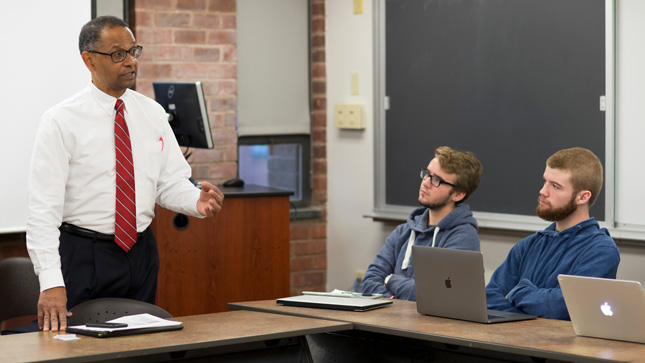 Keith Stewart, a State Farm agent and former Xerox employee, shares his story with the class
Stewart shared what it was like to work at Xerox at a time when the company had to choose where to stake its claim in a rapidly evolving industry.
Findlay outlined the power of branding in response to the market, drawing on his extensive work with Pepsi products.
Sheppard '01 spoke about the practices of her employer, Chatham Financial, which conducts ethics background checks on potential partner firms before deciding to work with them.
"The conversations were rich because the perspectives of our students and guests were," Harper said.
Muskaan Shrestha '22 added, "It was important for me to learn that companies like Chatham are trying to make ethical decisions, even in industries with a different reputation. It offered food for thought about profit versus morals."
Nik Patel '22 said, "It was really nice to have guest speakers explain how these topics apply in a specific company or industry. Also, how they affect the working world."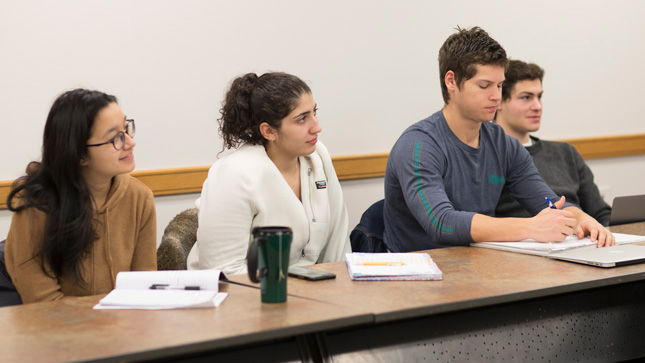 Patel also described how students used the Hub, Skidmore's on-campus maker space, for the production part of their semester project. The assignment: envision, design, produce and develop marketing and retail plans for real items. He explained that the experience, like much he learned in the class, was unexpected.
"This was one of my harder classes because Harper pushed us to convince him of our arguments and support them," said Patel.
But can a first-year class truly influence how someone will work after college? Harper thinks so.
"The framework and rules of engagement we followed, how we analyzed businesses and spoke to one another, are now guidelines for their future experiences," he said.
"This class taught me to be open to others' opinions — and my own," said Will Vamos '22. "Professor Harper set the standards high. He created a positive workplace environment in the classroom. I hope to continue the respect, support and constructive conversations."