Photo essay: Maker space mystery project
April 19, 2018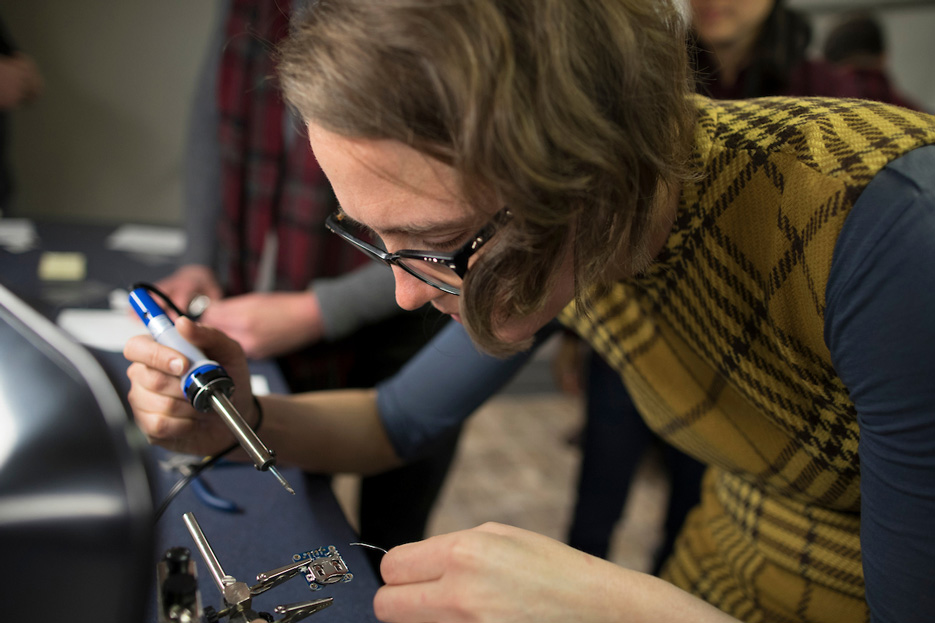 Students, staff, and faculty joined together for an afternoon of mystery "making" at the Hub, a Skidmore maker space.
Upon arrival, makers were presented with a battery, LED bulb, and mini circuit board. With no instructions other than "head to the soldering room first," makers followed student guides on a hands-on tour of the Hub and its capabilities. Room by room, from vacuum thermoforming to 3-D–printed product assembly, makers collected clues and built their creations—the final product a mystery until the very end.
About the Hub
The Hub is a temporary shared maker space created as an early element of Skidmore's project titled "The Idea Lab: Innovative Pedagogy and Maker Spaces."Opened in May 2017, it's home to 3-D printers, sewing machines and conductive thread, art and hardware supplies, lasers for etching and cutting and much more. Part lounge, part experimentation lab, the Hub is where people of all backgrounds can make something together.