Skidmore welcomes President-elect Marc C. Conner
February 7, 2020
Hundreds of members of the Skidmore College community gathered to welcome to campus President-elect Marc C. Conner, who expressed his deep respect for the College's accomplishments and excitement for the future.
"I'm enormously humbled to be asked to take a leadership role at one of the great liberal arts colleges in this nation and to put myself in service of what I think is an admirable mission," said Conner, who will assume office in July. "And I feel great pride as well, to be part of such a great school and to get to work with such a great community."
Conner comes to Skidmore from Washington and Lee University, a private liberal arts college in Lexington, Virginia, where he has served as provost since January 2016. He is a widely published professor of English and a longtime advocate of diversity initiatives.
Conner said he and his wife, Barbara Reyes-Conner, who joined him at the event Friday, Feb. 7, in Arthur Zankel Music Center, found Skidmore to be a special place.
"Creativity pervades everything that Skidmore does. It obviously is not confined just to the arts, but it pervades every field, every discipline, every endeavor," Conner said. "It is also an institution that is proud to talk about the highest ideals of liberal arts alongside the career preparation and the career trajectories of its students."
The president-elect said he is looking forward to making connections with Skidmore faculty, staff, students and the Saratoga Springs community.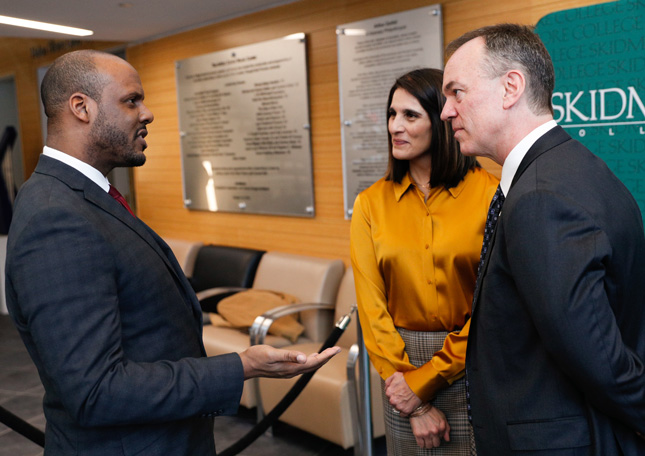 Marc C. Conner and Barbara Reyes-Conner greeted faculty, staff and students during a reception following a community gathering Friday, Feb. 7, at Zankel Music Center.
"There are many roles to being a president," he said. "Building relationships is the heart of the work, it's the heart of the mission. When we think about our highest commitment to a community of diversity and inclusion, that really comes down to building a community of trust, a place where everybody feels at home, everybody feels they can thrive and everybody feels safe enough to challenge and be challenged by an education that we know is daring."
Conner acknowledged that there will be challenges to overcome, but he said he is unabashed in talking about how well the liberal arts prepare students for a remarkable life of achievement.
"The liberal arts education we offer has never been more exciting, it has never been more challenging, and it has never been more necessary," he said. "We are going to help our students become all the things they want to be, all the things they aspire to be."
Members of the Skidmore community also watched a video in which Conner's Washington and Lee colleagues spoke about the positive impact he has made as a leader, teacher and mentor.
"President-elect Marc Conner comes to us with a significant breadth and depth of experience that will serve Skidmore well into the future," said Nancy Hamilton '77, chair of Skidmore's Board of Trustees. "Skidmore, this is a wonderful and momentous day — a day to welcome Skidmore's next president and to recognize the incredible work done by fellow members of this community during the presidential search process."
Search committee co-chairs Jon Achenbaum '77 and Maxine Isaacs '69 thanked the Skidmore community for participating in the search process and noted that the committee included Skidmore faculty, staff, students and trustees.
"Your input helped inform the development of the presidential position profile and the criteria the search committee used to evaluate all candidates," Achenbaum said. "We received hundreds of applications, which is a testament to Skidmore's distinction as a top liberal arts college."
Linda Toohey, trustee emerita and former chair of the Board of Trustees, also paid special tribute to the leadership of President Philip A. Glotzbach, who is retiring after the current academic year, and Marie Glotzbach.
"Since President Phil Glotzbach arrived on this campus in the summer of 2003, Skidmore has grown in myriad ways, thanks to his vision and leadership," said Toohey. "As we look to the future of Skidmore, it is important to reflect on and celebrate the strong foundation that has been set in place for our next leader, Marc Conner."
Conner expressed gratitude to the entire Skidmore community, including Hamilton and the search committee.
"I'm profoundly grateful to Phil and Marie, who have been so kind, so generous, so helpful, absolutely the soul of grace and class, and indeed to the whole community," Conner said. "Everybody is making Barbara and me feel so welcome and, of course, we're so excited to join this community."
Phil and Marie Glotzbach welcomed Marc C. Conner and Barbara Reyes-Conner to campus.