Beatlemore Skidmania 2020 to be presented virtually this fall
July 29, 2020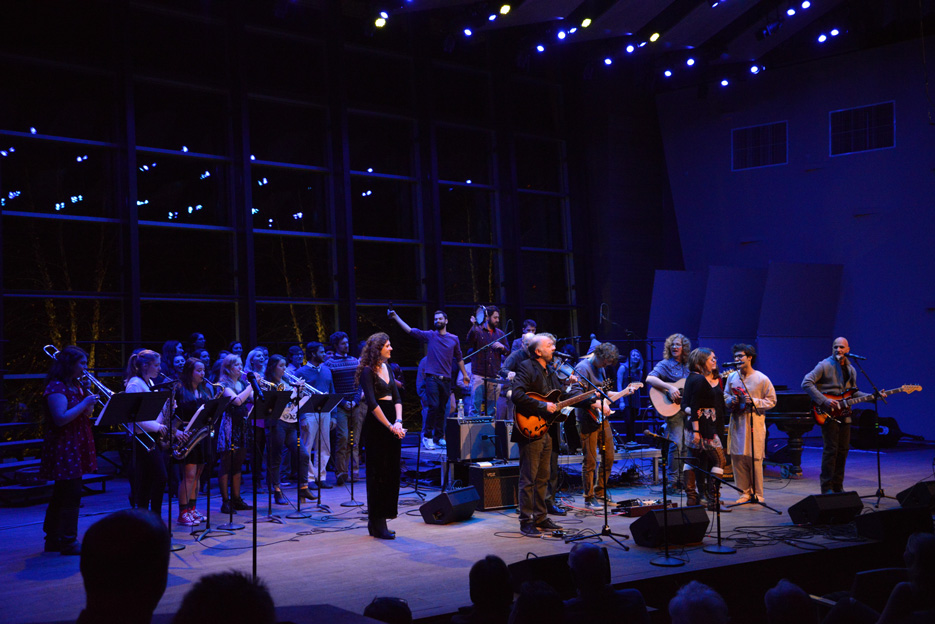 From start to finish, Beatlemore Skidmania will be an entirely virtual event this year, the 20th anniversary of the popular annual concert that celebrates Skidmore students' interpretations, arrangements and performances of Beatles songs.
Beatlemore has in recent years sold out three shows in November in addition to drawing hundreds of livestream viewers, with proceeds benefiting Skidmore Cares, a campus fundraising initiative that supports local community groups. To assure the health and safety of students, staff and audiences amid the COVID-19 pandemic, the 2020 event will be presented exclusively online and is expected to be made available to the public on the last day of fall classes, Friday, Nov. 20.
"Beatlemore Skidmania brings out the incredible creativity and talents of so many of our students from a wide variety of backgrounds — not just music majors — and is beloved by the campus community, greater Saratoga Springs community and alumni," said Joel Brown, who teaches guitar as a distinguished artist-in-residence at Skidmore and organizes Beatlemore along with a committee of student volunteers. "We are proud to continue this event and share it with as many people as possible in the safest way possible."
Though the concert format will be new, the audition process will remain the same. Once the fall semester gets underway, students interested in performing will be invited to send in a video recording of their song. The Beatlemore committee will then select submissions they feel will best contribute to a well-rounded concert program. This year's theme is "The Complete Beatles: 'Please Please Me' to 'Let it Be,'" and interpretations of any song from the band's vast catalog will be considered.
"You can rock it, you can rap it, you can jazz it, you can folk it, you can funk it. You can make it classical, you can add instruments or sounds from around the world, you can even play it like the record — the sky's the limit," said Brown. "We're hoping for the most diverse and inclusive show in Beatlemore history and encourage submissions that interpret Beatles' songs in unique styles and traditions."
Students selected for the show will have time to prepare a polished version of their video, and the videos will be compiled to create the virtual Beatlemore 2020 concert. Members of a group are encouraged to use technology to perform together. More details and deadlines will be announced in the weeks to come.
Any students who have questions or would like help choosing a song are invited to reach out to Joel Brown for guidance.