Beatlemore celebrates "Abbey Road" & "Let It Be"
November 25, 2019
From bluegrass and bold brass to haunting vocals and groovy guitar, Beatlemore Skidmania 19's tribute to the 50th anniversary of the album "Abbey Road" and the recording of "Let It Be" brought down the house and once again showcased the creative talents of Skidmore's student body while raising money for local community organizations.
"In the early days of the Beatles, a typical question posed to the guys was, 'How long do you think this Beatle fad will last?'" said Joel Brown, distinguished artist-in-residence at Skidmore, as he introduced the first of three sold-out shows Nov. 22 and 23 at Arthur Zankel Music Center. "How were we to know that six decades later their records would still be at the top of the charts and they'd still be a driving force in music and pop culture?
"Along the same lines, I ask the question, 'Who could have guessed that 19 years ago, when Professor Gordon Thompson and his Beatles class decided it would be nice to put on a little Beatles show at the end of the semester, that we'd still be doing it after 19 years?'"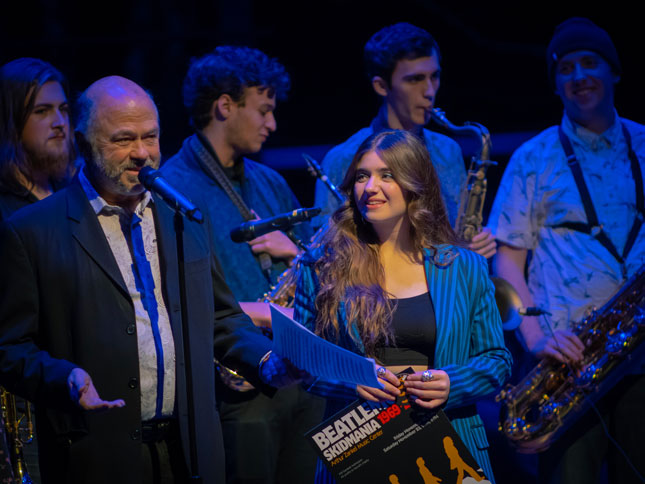 Brown works with a committee of five student volunteers who have a hand in everything from the program to the posters to promotion. Seniors Sami Hutchinson, a psychology major, Katelyn Reichheld, an English major, Emma Holly, a philosophy major, Sophia Cucci, a dance major, and Esther Hibbs, a sociology major, made up this year's committee.
"I've gone to Beatlemore every year since my first year and I've always loved it. I've been a huge fan of the Beatles since I was a little kid," said Hutchinson, who, as a studio art minor, also enjoyed working with Deb Hall's Communication Design class in selecting this year's T-shirt and poster designs. The winning submission was created by Grace Juneau '20.
Committee members were also recurring performers throughout the show, which featured established Skidmore music groups including the Drastic Measures, Sonneteers, Bandersnatchers, Dynamics and Accents, as well as clever new collaborations, such as There Goes the Moon's performance of "Here Comes the Sun."
Although they have a variety of academic pursuits at Skidmore, the students who take part in the show are united by their passion for music.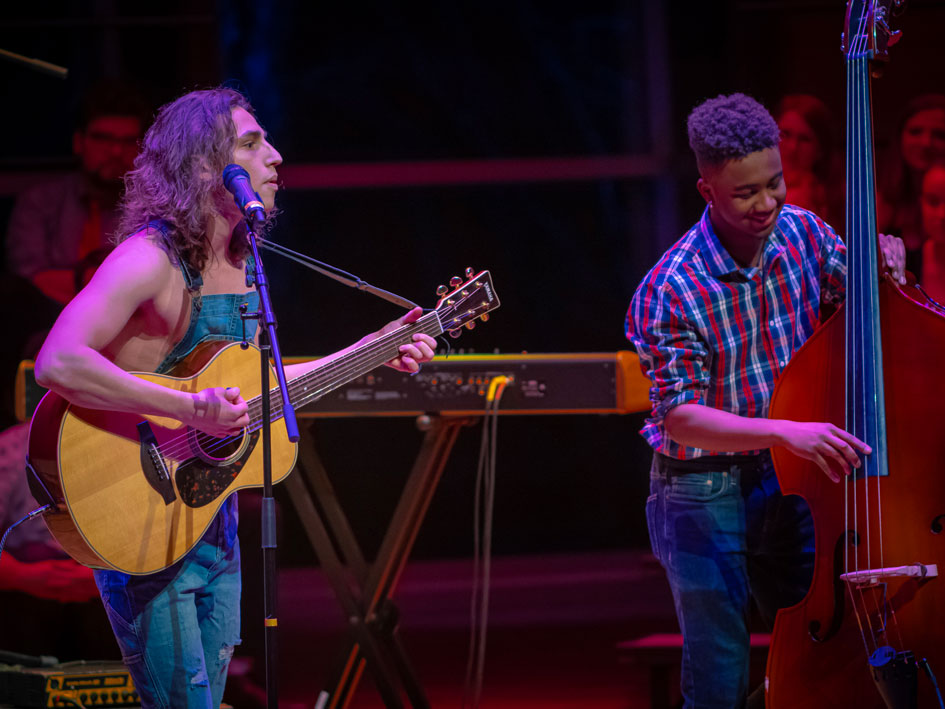 "To me that speaks to the kind of student we get at Skidmore and the kind of student we get in the Music Department, because even most of the students whom we serve in the Music Department aren't music majors or minors," said Brown. "They're just really smart students who have interests in science or math or English or language but also have music as a really important part of their life."
Congressman Paul Tonko (left) with Beatlemore founder Gordon Thompson.
Karen Kellogg, associate professor and director of the environmental studies and sciences program, has been attending Beatlemore for the past 10 years and is always struck by the level of talent.
"I just love to see the students so energized," she said. "And I always am surprised when I know a student in a different context and I don't know they have this whole other side to them. I see it and it makes me just feel so proud and amazed to be part of Skidmore."
Many local community members also return year after year for the magical mix of nostalgia and fresh talent.
"I love the Beatles, and it's refreshing to see how another generation loves them also, and they do their own renditions," said Glenn Durlacher of Queensbury, who started attending Beatlemore Skidmania about 12 years ago.

Further reinforcing that strong community connection, all proceeds from sales of show tickets, T-shirts, posters, stickers and raffle tickets benefit Skidmore Cares, an annual campus fundraising initiative that supports local community groups in need.
For the grand finale, Beatlemore founder Professor Emeritus Thompson and his band The Rust Brothers joined the full cast of performers for renditions of "Golden Slumbers" and "Let It Be" that earned standing ovations.
Hundreds of viewers also watched the shows via livestream, and in case you missed it, video of each concert is still available online.