Skidmore Cares celebrates 15 years of giving back
October 28, 2020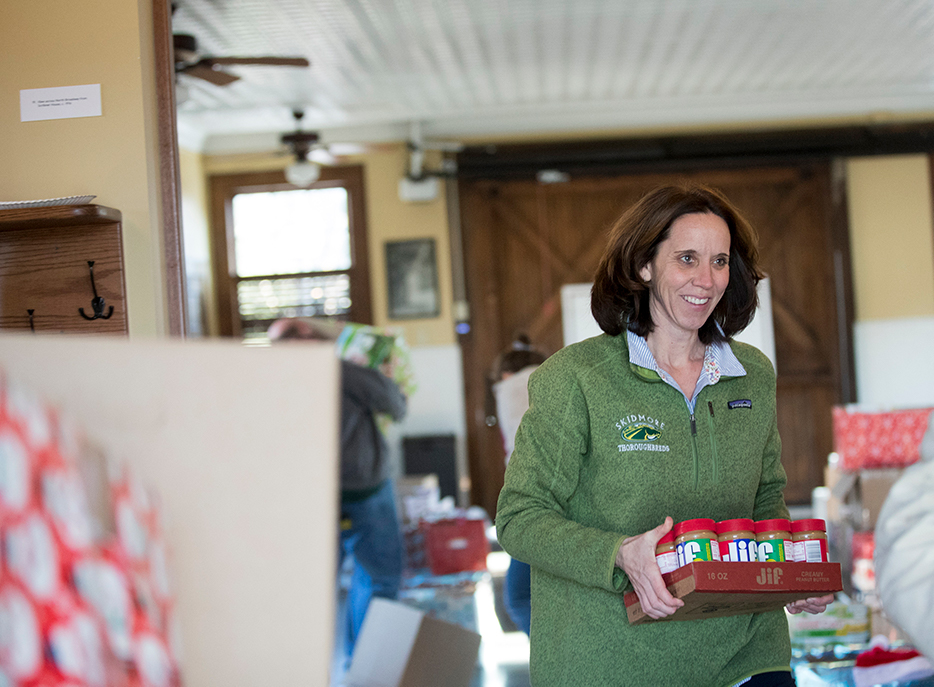 Skidmore Cares, the College's annual holiday community-service program, is celebrating 15 years of supporting nonprofit agencies and schools in Saratoga County.
Since 2006, Skidmore Cares has raised more than $122,000 for community causes and distributed more than 53,000 food items, toiletries and school supplies — a testament to the generosity of the Skidmore community.
To help ensure the health and safety of all involved, the special campuswide event will look different this year but still offer ample opportunity for involvement and giving back. During the week of Nov. 9-13, individuals are encouraged to drop off recommended donations at tables outside the Surrey-Williamson Inn between 8:30 a.m. and 5 p.m.
Contributions from the Skidmore community will be distributed to Shelters of Saratoga, Franklin Community Center, Mary's Haven, Saratoga Economic Opportunity Council, Wellspring, Corinth Central School District, Saratoga Springs City School District PATHS, the Latino Advocacy Program, Salvation Army and Saratoga Center for the Family.
"Barb and I are so proud to be joining this great Skidmore and Saratoga Springs tradition," said Marc Conner, who became Skidmore's president this year. "Giving back to our communities is perhaps more important than ever, as our neighbors and community agencies face new challenges created or intensified by the COVID-19 pandemic."
Kari Cushing, executive director of Franklin Community Center, stressed that there is real need in the Saratoga Springs area.
"COVID-19 has caused a big influx in the number of people who are relying on our services. As of September, we have had 444 new families visit our food pantry," said Cushing. "These are families who have never before had to use our services and are now relying on our food pantry to keep their families fed. In addition, we are serving much larger families than we historically have due to adult children moving back in with their parents."
As community agencies look to Skidmore to help them keep up with growing demand, the combined efforts of faculty, staff, retirees and students can make a tremendous difference, especially during the upcoming holiday season.
"Together, we can share hope and possibility with everyone in our community," said President Conner.