Post-Election Debrief tackles recounts, lawsuits and the future of American politics
November 11, 2020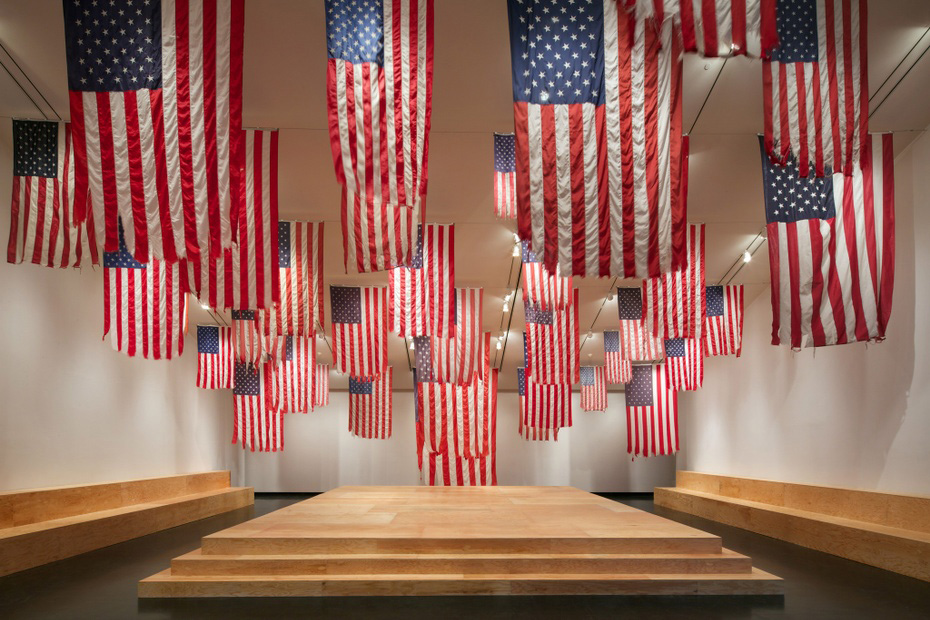 With questions remaining in the aftermath of the 2020 elections, political science faculty provided their expert analyses on topics ranging from recounts and legal challenges to the future of public polls and the Electoral College during a public program of the Tang Teaching Museum exhibition "Never Done: 100 Years of Women in Politics and Beyond."
As panelists of the Nov. 10 Zoom event — the culmination of a semester-long collaboration between Skidmore's Political Science Department and the Tang — Assistant Professor Chris Mann, Professor Beau Breslin and Associate Professor Flagg Taylor reflected on election night, what has happened in the days since and what may happen in the weeks, months and years ahead.
Mann first emphasized that this year's election process has been normal — just as he did nearly a week earlier in speaking at a separate forum for Skidmore students, staff and faculty the night after Election Day.
"The vote counting process has been shockingly normal. As I said to my Election Research class yesterday, I had a lot of nightmares about what we would be talking about at this point in the campaign and almost none of those have come true so far," Mann said, adding that some states are expected to certify their vote counts in the coming days.
Following the certification step, there will be at least one recount — in Georgia. But "when we get to the recounts, history would indicate very little chance of change" in the outcome of the election, said Mann. Major media organizations declared former Vice President Joe Biden the winner of the presidential election on Nov. 7.
What is not normal, Mann pointed out, are some of the court cases and rhetoric lodged in the days since the election.
"There have been a large number of lawsuits filed, but almost none have gotten any traction," he said of the cases filed by President Donald Trump's campaign in challenging the election results. "There are no large-scale credible accusations about fraud, malfeasance or incompetence. It seems much more that this is a rhetorical strategy about throwing doubt on the election."
Professor Breslin, an expert in constitutional law and courts, agreed. "The only potential litigation that ever had any potential legs is the one in Pennsylvania," where the state legislature and judiciary disagree on when absentee ballots could arrive and still be counted, he said. But still, those votes are not enough to change the outcome of the election, he added.
The Biden campaign's threat of going to court over Trump's lack of cooperation during the presidential transition is likely futile as well, the faculty experts said.
Until we get to the final certification and Electoral College deadlines on Dec. 8 and Dec. 14, "it's hard to see that Democrats have legal redress to say Biden is president-elect," said Mann. "It looks like he'll have to muddle through without access to government resources and the security briefings."
Mann, Breslin and Taylor also discussed election surprises, including unexpected shifts in voter demographics.
"I was surprised at how well Republicans did down-ballot and the fact that Trump improved his standing with African American, Latino and Asian voters," said Taylor. "Something interesting is going on that we haven't quite grasped."
Adding to that, Mann noted, "polls missed consistently in overestimating Democrats. We may have reached the point where public polls as a forecasting device are not workable or reliable, and I don't think anyone is going to trust them."
Voter turnout will be critical in the Georgia runoff elections on Jan. 5 that will decide which party controls the U.S. Senate, the experts agreed. Though it is often a huge undertaking to boost voter participation in smaller races, Mann predicts that the high voter turnout seen this November — though likely a result, in part, of extreme polarization in the country — will continue in future presidential elections.
Also in looking to the future, we are likely to at some point witness a constitutional discussion on eliminating the Electoral College, Breslin noted. We can also expect to see the Republican and Democratic parties fighting internally over the next two to four years as divisions inside each party become even more pronounced and there are battles for leadership within each, Mann and Taylor said.
But in the context of what could have been, Mann said there is reason for some solace during a tumultuous moment in history.
"2020 has not taken us nearly to the brink that I thought it would," he said. "It's at least a sigh of relief."
For additional election resources and coverage, visit Skidmore's Election 2020 website.