For Tang internship, Nathan Bloom '21 interviews art star Nick Cave
March 23, 2021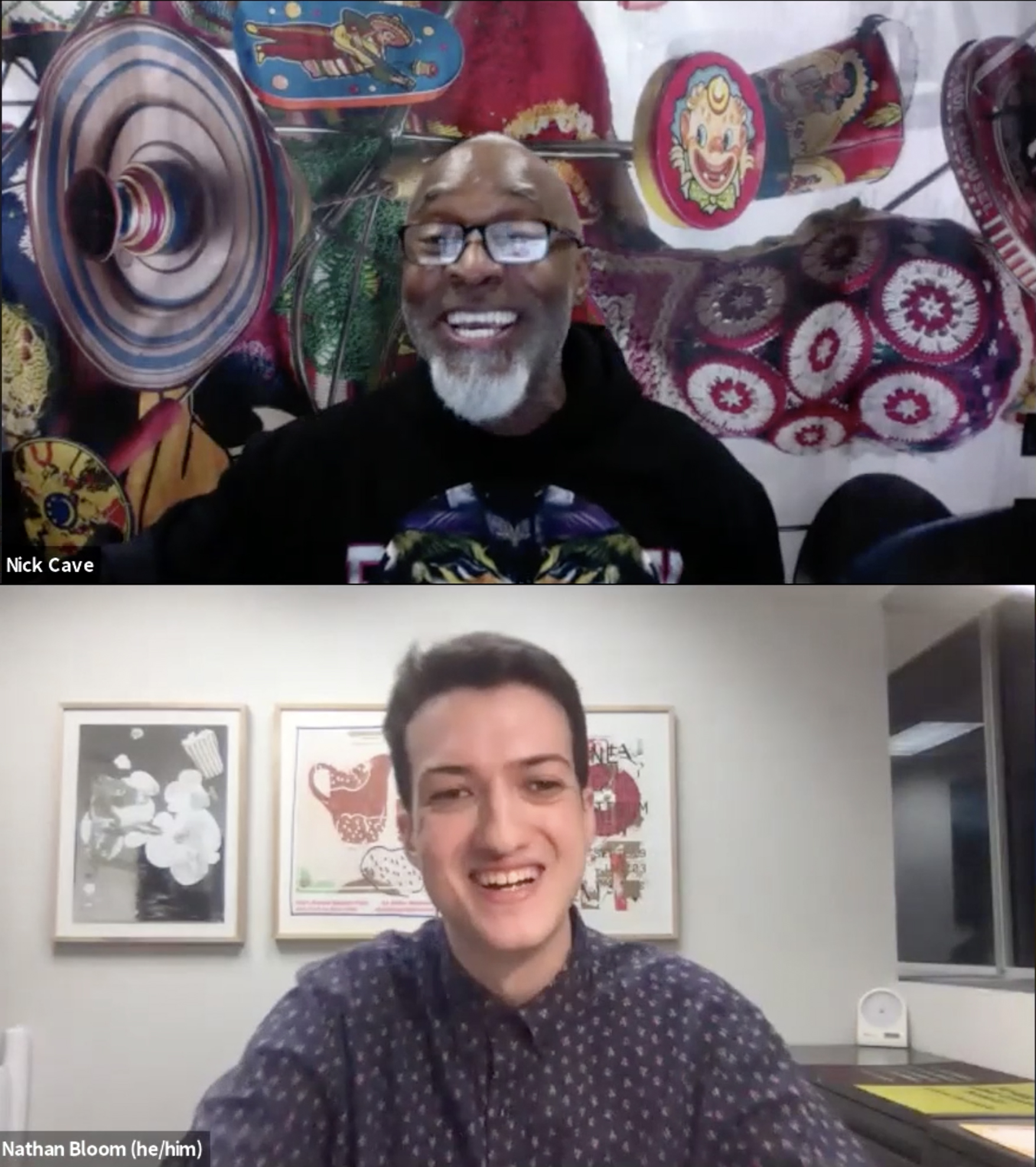 Nathan Bloom '21 first encountered the work of acclaimed American artist Nick Cave at Skidmore College's Tang Teaching Museum and was inspired by his boundary-breaking performance art, awe-inspiring sculptures and community-creating engagement.
When the anthropology major was appointed the 2020-21 Eleanor Linder Winter '43 Intern, his first thought was of Cave. A feature of Bloom's year-long pre-professional internship in museum work is the opportunity to organize the annual Winter/Miller Lecture. He wanted to invite Cave.
"I grew up with social worker parents, who taught me the importance of a tightknit community, so I deeply admire Cave's practice of participatory art-making," Bloom said.
The Winter Internship is one of many opportunities at the Tang for Skidmore students, which include four named paid internships each year, along with about a dozen other paid student positions. These positions provide professional experience in all areas of the museum, including work with collections, exhibitions, design, events, visitor services and communications.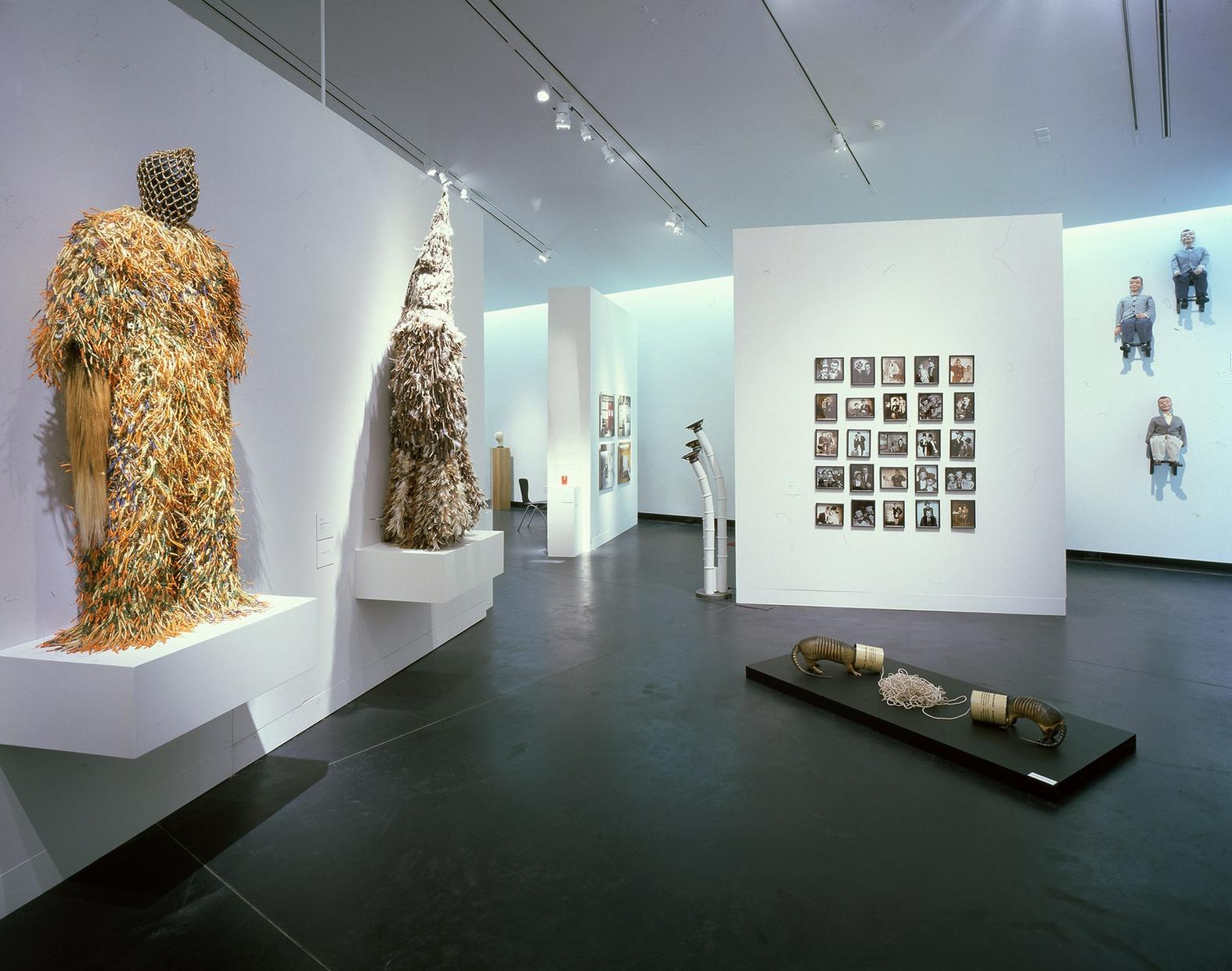 Nick Cave's artwork has been shown on multiple occasions at the Tang. His Soundsuits, left, were featured at "S.O.S.: Scenes of Sounds" (2000).
On March 11, Bloom and Cave spoke before a Zoom audience of more than 250 people in a public conversation that spanned Cave's career, including recent community-based art projects around the country, large-scale installations and his well-regarded Soundsuits, which blend sculpture, fashion and performance. Cave made the first Soundsuit in response to the police beating of Rodney King in 1992. He has since produced hundreds of these works that have been performed in venues across around the world, including at the Tang's grand opening celebration in fall 2000 – an early museum showing of Cave's work.
They also talked about the impact the pandemic has had on Cave as an artist over the past year.
"As artists, we have always been quarantined; we always work in isolation," Cave said. "It has forced me to go inward and look at ways to be accountable for the state of affairs right now."
During the election season last fall, one of Cave's responses to the state of affairs was a 25-foot-high installation that spelled out "Truth Be Told" on the façade of The School, an art space in Kinderhook, New York.
An artwork by Nick Cave spelled out "Truth Be Told" on the façade of The School, an art space in Kinderhook, New York.
"It was built around looking at the last four years and how truth has always been sort of disguised or misled or misdirected," Cave said. The work will go on view this spring at the Brooklyn Museum and MASS MoCA.
"I enjoyed engaging Nick Cave in conversation," Bloom said after the public talk. "I researched his work for months and discovered how thoughtful an artist can be about the world around them. I am lucky to have had the opportunity to speak with him. He was so open about his work. I really hope those who watched were able to walk away feeling more motivated to engage with their communities."

The Winter/Miller Lecture is made possible through a generous gift from the family of Eleanor Linder Winter '43. Past Winter/Miller Lectures have featured Nicole Eisenman (2018), Chris Ware (2019) and Wangechi Mutu (2020).
---
A recording of the 2021 Winter/Miller Lecture is available online.