Skidmore joins with local leaders to celebrate Saratoga Pride
June 7, 2021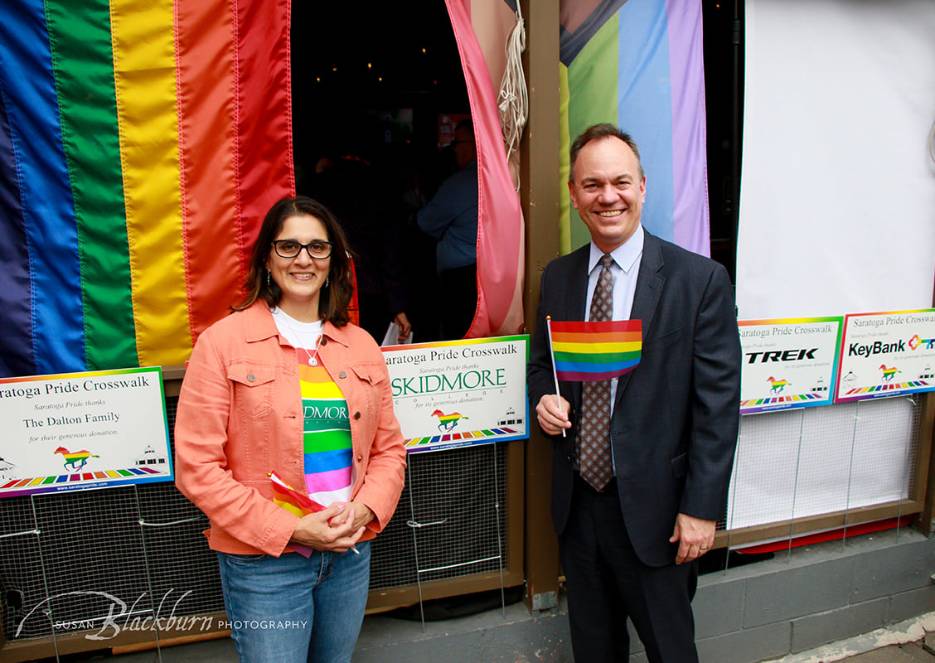 Skidmore College is joining community partners in Saratoga Springs to celebrate Pride Month and support the LGBTQIA+ community.
President Marc C. Conner, Barbara Reyes-Conner, other community leaders and hundreds of local residents affirmed their commitment to building a welcoming community for LGBTQIA+ residents, students and visitors at a celebration to mark the beginning of Pride Month in Saratoga Springs.
"It feels to me that's what this moment is about: It's about community, it's about love, it's about diversity, it's about coming together in body, in spirit, in mind," Conner said at a June 3 event in downtown Saratoga Springs. "At Skidmore, we are so proud and so honored to support our LGBTQIA+ population. We're so honored to be part of the diversity of this community."
The Conners joined U.S. Congressman Paul Tonko, Assemblywoman Carrie Woerner, Saratoga Springs Public Safety Commissioner Robin Dalton, Commissioner of Finance Michele Madigan, Saratoga County Supervisor Tara Gaston, representatives of Saratoga Pride and many others at the gathering. Vice President for Strategic Planning and Institutional Diversity Joshua C. Woodfork, Deputy Chief Diversity Officer and Director of The Center Anita Jack-Davies, and many Skidmore students, faculty and administrators also participated.
The event was the first in a series of activities organized by Saratoga Pride that celebrate Pride Month.
"The pride in Saratoga Springs is much bigger and much deeper than I knew. I was surprised by the large the number of people who showed up, especially the number of young people and the allies who came to show their support," said Cindy Swadba, a founder of Saratoga Pride. "This community support and affirmation is especially important for LGBTQIA+ youth by demonstrating that our community is a safe and welcoming place."
Swadba expressed appreciation for continuing support shown by the College and members of the Skidmore community over the years. She noted that Skidmore community members were instrumental in helping the group to secure the Pride banners that are now displayed each June throughout downtown Saratoga Springs and helped the group to expand its communications to the broader public. The College has also regularly hosted a ceremony to mark the Transgender Day of Remembrance, a day each November that brings attention to violence committed against transgender individuals.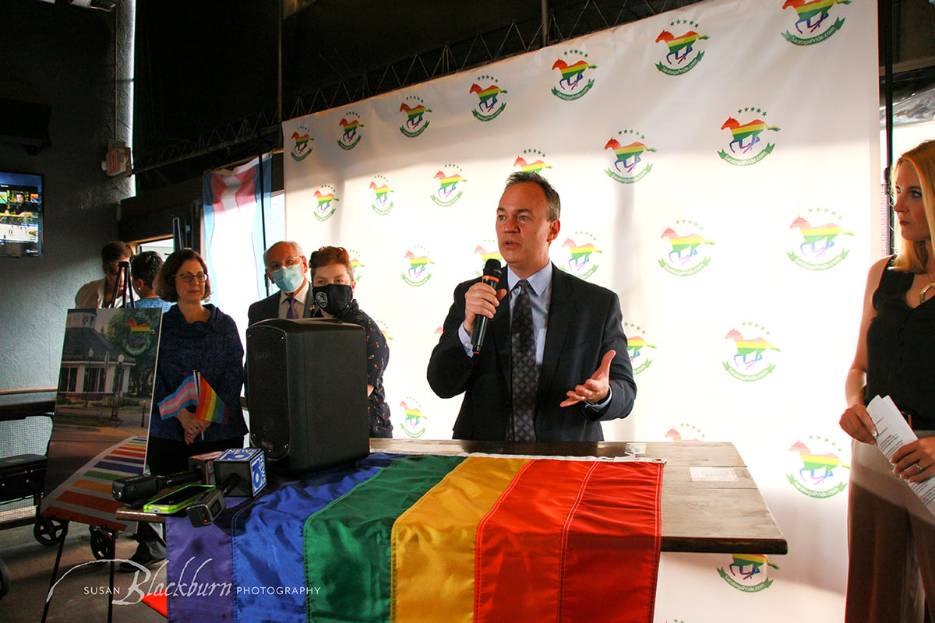 President Marc Conner delivers remarks at a Pride Month event. Saratoga Springs Commissioner of Finance Michele Madigan, U.S. Congressman Paul Tonko and Saratoga County Supervisor Tara Gaston can be seen in the background. (Susan Blackburn Photography)
Skidmore is committed to fostering an inclusive community and considers diversity as integral to its educational mission. In his first months at Skidmore, President Conner launched the College's Racial Justice Initiative, a series of projects that seek to address the realities of racial injustice locally, nationally and globally.
Skidmore supports LGBTQIA+ community members through student clubs and organizations, including the Skidmore Pride Alliance and Queer Lives in Color, as well as an employee resource group, which serves as an affinity space.
This fall, Skidmore will further strengthen its commitment to equity and inclusion with the opening of The Center, a space to connect people and programs and think collaboratively and creatively to advance social change.
In celebration of Pride Month, the City of Saratoga Springs officially opened a new, rainbow-colored crosswalk at the entrance of the city's famed Congress Park, which Commissioner Dalton said represented Saratoga Springs as a supportive community. Skidmore College, the Adirondack Trust Company Community Fund, KeyBank, Trek Bicycles of Saratoga Springs and other local businesses and individuals provided support.
"This crosswalk will serve as a permanent symbolic welcome mat for all to see and appreciate as they enter the city," Dalton said.