Art, ideas, and students come together at the Tang this fall
September 28, 2021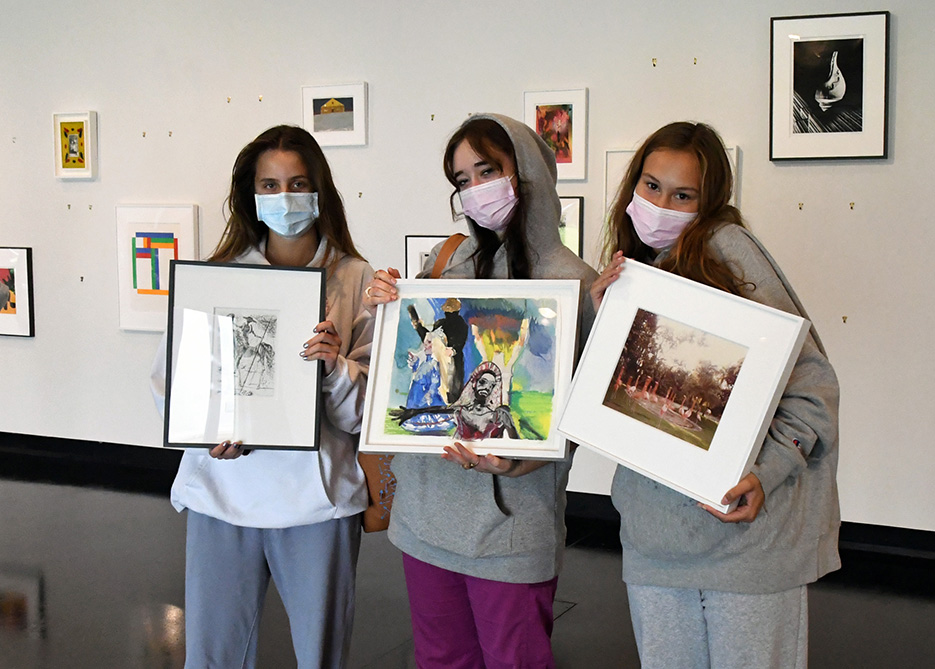 Connor Palias '22 lined up outside the Tang Teaching Museum recently, a full 11 hours before it opened. He was first in line for Roommate: Living with Tang Art, a program that lets Skidmore students borrow work from the Tang collection to hang on their walls for the academic year.
Palias wanted one work of art in particular: "Palme blanche sur fond rouge" by Henri Mattise. The opportunity to hang the piece at home offered a unique opportunity to learn about the acclaimed French painter, who — Palias pointed out — is also namesake of Philadelphia 76ers rising star Matisse Thybulle.
With diverse interests and motivations, 50 students were able to take home both a work of art and a deeper appreciation for the breadth of the Tang collection. Some works are by artists with familiar names, such as Pablo Picasso, Alexander Calder, and Salvador Dalí. Most pieces introduce students to contemporary artists. A few were created last year, including Paul Mpagi Sepuya's photograph "Studio (0X5A4983)," which was selected by Malchijah Hoskins '22, and Benjamin Degen's screen print "Mountain," chosen by Cella Sawyer '24.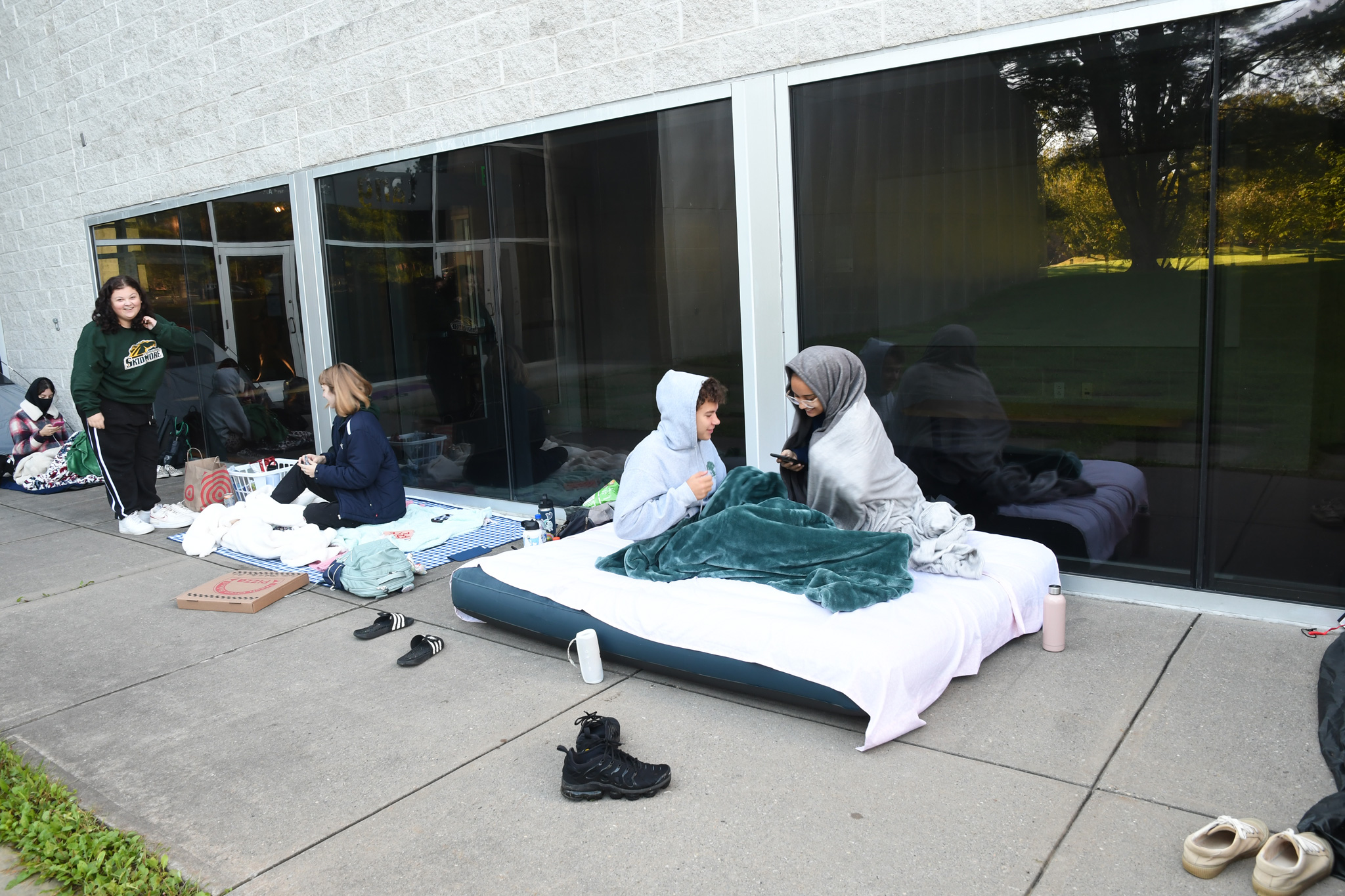 Students line up outside the Tang on Sunday, Sept. 18,to take part in the program Roommate: Living with Tang Art. Photograph by Cindy Schultz.
"Roommate extends the traditional museum walls to the living spaces of our students," said Dayton Director Ian Berry. "We believe this special access to the collection and the opportunity to experience art in everyday settings can be fundamental in developing each individual's relationship to art and ideas."
Roommate is one of many ways that the Tang is bringing Skidmore students, art, and ideas together this fall.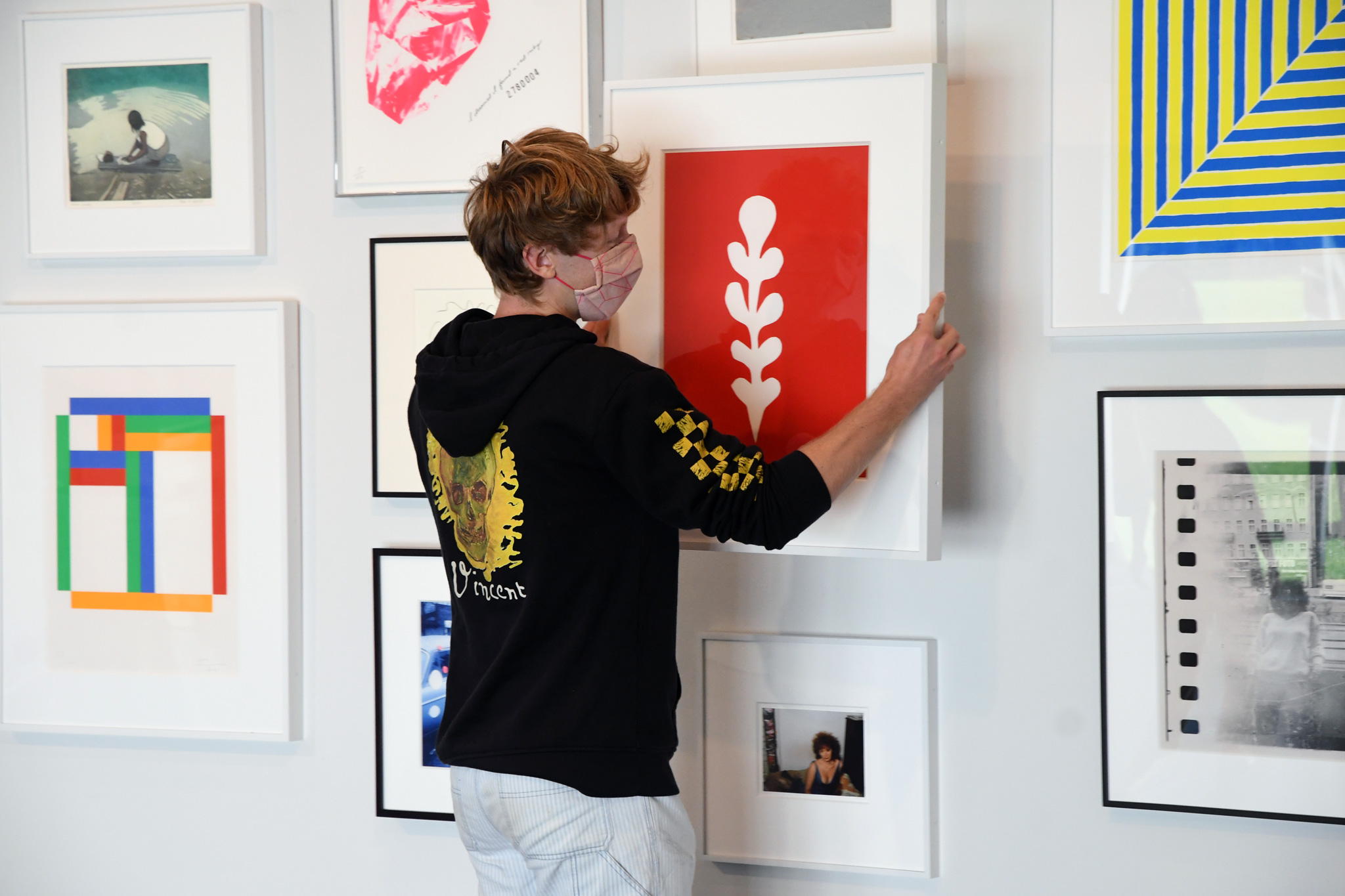 Connor Pailas '22, who was first in line, takes his selection, "Palme blanche sur fond rouge" by Henri Mattise .Photograph by Cindy Schultz.
Curatorial projects and classes
Student curatorial projects on view this semester include the online exhibition "Look After Each Other: Intimacy and Community," which foregrounds the humanity of people with HIV and AIDS and is organized by Nathan Bloom '21, the Tang's 2020-21 Eleanor Linder Winter Endowed Intern. He will give an Instagram Live tour of the exhibition on Dec. 1, World AIDS Day.
Also on view is "Un-Representation," in the Winter Gallery, which presents abstract art by Black artists as a catalyst for meditative restoration. The show is organized by Maria Staack '22, the 2020–21 Meg Reitman Jacobs '63 Endowed Intern, who, in addition to leading a curator's tour on Oct. 22, is also leading meditation sessions for Black students.
Sophia Paulino Adames '22 is coordinating Tang Live, a series of live events on the Tang Instagram account that often feature tours of student curatorial projects, interviews with interns at the Tang, and performances by student musicians. Events will continue to be posted on the Tang event calendar.
Class-based projects and presentations open to the broader community offer yet another way for students to engage with the Tang. Students in The Dancing Brain, a Scribner Seminar taught by Associate Professor and Chair of the Dance Department Sarah DiPasquale, will work with museum educators to create movement-based lessons for Family Saturday events on Nov. 20 with families from the greater Saratoga Springs region.
Students in Power, Privilege, Oppression, a Bridge Experience Course taught by Assistant Professor of Social Work June Paul, will share their research on works from the Tang collection in a public exhibition Dec. 7–13 and through public presentations on Dec. 9. The students will explore how individual artworks reflect the justice–based foundations of social work and the role of social workers in addressing unjust systems and structures that marginalize and disadvantage particular groups in the contemporary United States.
Tours, virtual events, and in-person opportunities
Every Sunday at 2 p.m., a Tang guide provides a tour of the museum. Tang guides are Skidmore College students and visitor services associates who are part of a new program that introduces them to the Tang and the museum world, trains them how to be gallery ambassadors and tour guides, provides guidance in how to talk about art, and offers them valuable real-world experiences interacting with visitors.
Also on tap this semester are virtual and in-person crochet circles for new and experienced crafters of all skill levels to crochet corals for the "Saratoga Springs Satellite Reef," part of the worldwide Crochet Coral Reef project by Christine and Margaret Wertheim and the Institute For Figuring. Corals submitted to the Museum will be assembled together to form the "Saratoga Springs Satellite Reef," which will be exhibited as part of "Radical Fiber: Threads Connecting Art and Science,"opening at the Tang in January 2022.
At 6 p.m. on Thursday, Sept. 30,exhibiting artist Laura Ortman, who is also a composer and musician, will present a solo outdoor concert on the Tang roof deck that will include amplified violin, effect pedals, noisemakers, and other instruments. Her audio and visual work are on view in the exhibition "Elevator Music 41: Laura Ortman—Dust Dives Alive. "
---
From the galleries to student dorm rooms and beyond, the Tang offers a myriad of ways to engage with art in person and online this fall. Find out more on the Tang website.