Nutritious yet delicious ice cream wins 12th annual Freirich competition
April 14, 2022
Colin Fischer '22 and Tom Duncan '22 have won the first-place $20,000 prize in Skidmore College's annual Freirich Entrepreneurship Competition to develop their protein-enhanced ice cream business.
The annual competition, which underscores the College's longstanding commitment to cultivating creativity, innovation, and entrepreneurship, offers student entrepreneurs the opportunity to develop and improve their business ideas through workshops, coaching, peer and alumni mentorships, and practice sessions.
"We make delicious, protein-packed ice cream that is filled with the nutrients that your body needs," Fischer told judges during the final round of the competition on Friday, April 8. "I don't believe anyone should have to give up something they love to be healthy. That's why I came up with Vida Ice Cream."
Like the six other finalists in this year's competition, Fischer and Duncan developed a detailed business plan and faced tough questions from judges.
Tom Duncan '22 and Colin Fischer '22 celebrate after winning the 2022 Freirich Competition.
Natalie Masannat '22 took the second-place prize of $10,000 for a natural makeup studio in Aman, Jordan. Ava Wood '24 placed third and received $5,000 for crocheted wearable art. In fourth place, Malika Sawadogo '24 secured $2,500 for bags and clothing made using handmade fabric from Burkina Faso.
All participants in the contest work closely with peer mentors and alumni — including competition founder Ken Freirich '90 — to fine-tune business plans throughout the academic year. Fischer and Duncan were supported by Dylan Telano '23, who took first place for his growing online writing platform last year, as well as alumni mentor Tal Chitayat '03, CEO of Full Circle Brands.
Fischer and Duncan expressed appreciation for the support they received from peers and alumni.
"They said, 'Keep going. Keep going.' And here we are today," said Fischer, flanked by Duncan.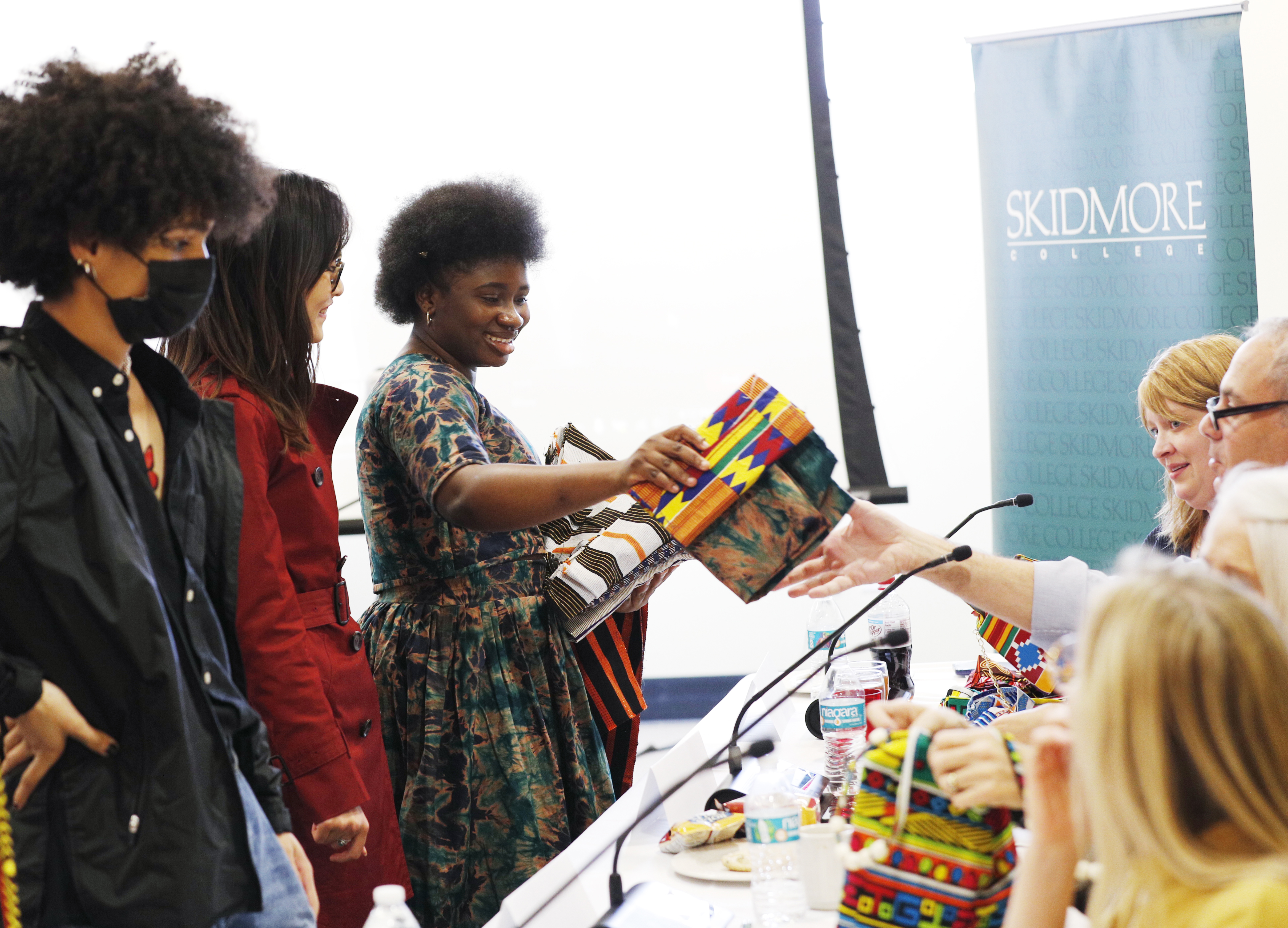 Freirich Competition finalist Malika Sawadogo '24 hands out designs from her business MESTH during competition finals.
College President Marc Conner called Ken Freirich "a trailblazer in entrepreneurship at Skidmore," hailing the competition he has endowed as a "seminal part" of a Skidmore education that encourages students to pursue bold, creative projects and learn as they strive for constant improvement. Conner also pointed to a new, $10 million Sands Family Foundation Initiative for Creativity, Innovation, and Entrepreneurship that will increase support for the competition as it further prepares students for success in their lives and careers.
The Freirich Competition has really become a catalyst for entrepreneurial spirit in our community and a mainstay of the liberal arts education at Skidmore.

Catherine Hill

Teaching Professor of Management and Business
"The Freirich Competition encourages everyone from across our campus to find their inner entrepreneur," added Teaching Professor of Management and Business Catherine Hill, who coordinates the annual competition.
The competition is open to students from all majors. Fischer is a psychology major; Duncan is studying both psychology and philosophy.
Over the years, scores of alumni have participated as mentors and judges, fostering a unique relationship between Skidmore students and alumni and preparing the next generation of entrepreneurial leaders.
"The competition means so much to me because it allows me to give back to an institution that has given so much to me," Ken Freirich said. "Moreover, I have always been amazed by the incredible talent, creativity, and the diversity of businesses. The students are awesome and continue to inspire me."