Dylan Telano '23 wins 11th annual Freirich competition for VoyceMe
April 14, 2021
As the winner of this year's Freirich Entrepreneurship Competition, Dylan Telano '23 has secured a $20,000 first-place prize to support his growing online writing platform.
The annual Skidmore College event provides student entrepreneurs the opportunity to develop and improve their business ideas through workshops, coaching, peer and alumni mentorships, feedback and practice sessions.
Eight finalists shared presentations and answered live questions from judges during the final round of the competition on Friday, April 9.
"I've learned from my experience that through hard work and creativity you can solve any problem," Telano said. "Through an active network of support, I was constantly encouraged and motivated to work that extra hour."
Thanks to the Freirich Entrepreneurship Competition, I was able to turn a loose idea into a business.

Dylan Telano '23
After placing in fourth place in last year's competition, Telano developed and launched VoyceMe. He built on his initial idea to create an interactive publishing platform to make it easy for authors of all levels to post their stories and engage with their audience, while allowing readers to find and interact with every story. Tapping into the increasing popularity of the anime and manga industry, VoyceMe has experienced strong growth.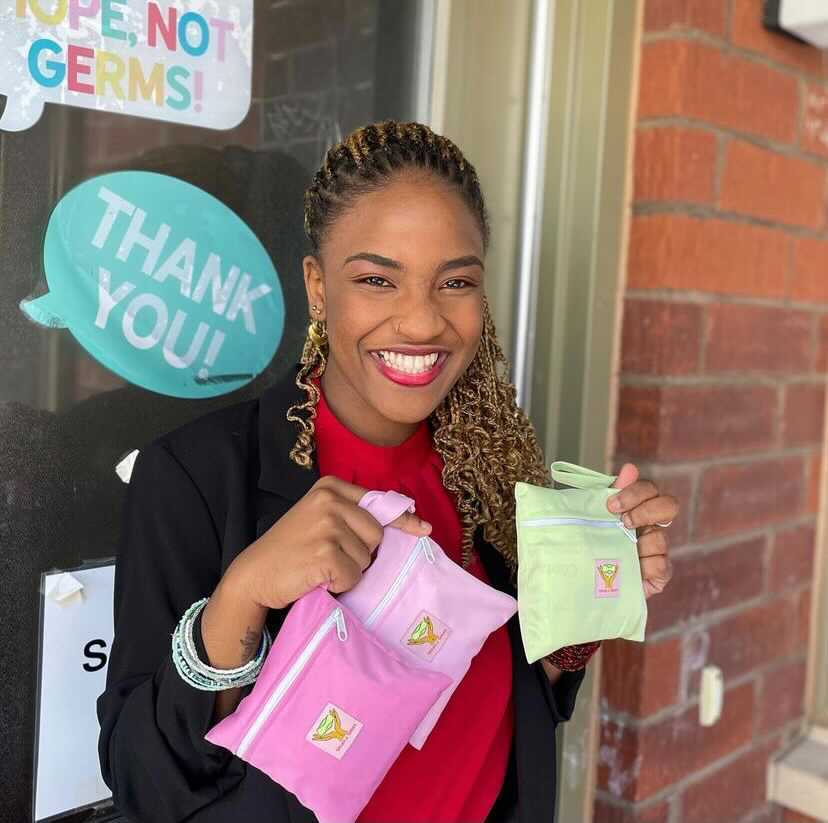 Haja Bah '21 shows off Uman 4 Uman's reusable, sustainable, healthy and affordable sanitary pads. Image courtesy of Uman 4 Uman.
Haja Bah '21 placed second for the social enterprise Uman4Uman and received a $10,000 prize. Uman4Uman focuses on addressing the issue of period poverty and education among young girls and women in Sierra Leone by providing them with reusable, sustainable, healthy and affordable sanitary pads.
Arlene Silva '21 placed third and won $5,000 for HidroVerde, which specializes in hydroponic techniques to provide sustainable agricultural solutions to drought-related challenges in Cape Verde.
Maddy Colantonio '21 placed fourth and received $2,500 for CaraCara Custards, a small-batch, gourmet frozen custard company. Finalists who did not place will each receive $1,000.
"I am so proud of all the students who competed this year," said Cathy Hill, teaching professor of management and business, who served as competition coordinator. "It has been a hard year, and the Freirich competition gave students something hopeful and innovative to focus on."
Competition founder Ken Freirich '90 praised the progress of all participants as they worked with peer and alumni mentors to refine their projects.
"This may have been the most competitive final in the competition's 11-year history," Freirich said. "It was really, really tough. The two criteria we talked to the judges about were viability and the ability to make it happen. Almost everyone met those criteria."
The experience began in September with a call for entries and a series of workshops to help students prepare for semifinal presentations in February. Over 60% of students who enter the competition come from majors other than business.
Hundreds of students then compete through multiple rounds of pitching their dream business plans to a panel of judges. If they make it through to the end, they are rewarded with cash prizes ranging from $5,000 to $20,000 and in-kind services.
More than 125 alumni have been involved in the competition as mentors and judges, fostering a unique relationship between Skidmore students and their mentors and supporting the launch of the next generation of entrepreneurial businesses.