Skidmore employees pursue healthy, greener options
May 18, 2012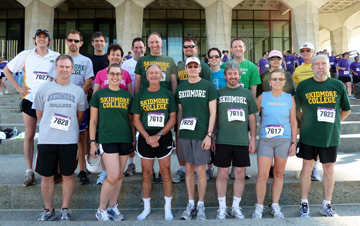 Several groups of Skidmore employees have made their mark this week in community initiatives that promote healthy competition and greener commuting options.
On May 17, 19 Skidmore staff members joined a record 9,323 runners/joggers/walkers from 448 Capital District businesses and institutions (another record) to participate in the 36th annual CDPHP Workforce Team Challenge 3.5 Mile Run-Walk. Overall there were 5,296 female participants and 4,028 male participants in the event, which took place at Empire State Plaza in Albany.
"The scene there is wonderfully chaotic and the weather was perfect," said Gove Effinger, who annually coordinates Skidmore's participation. First across the line for Skidmore was Chris Repka in a blistering 19:55, followed 15 seconds later by Dave Barr. After the event most team members gathered at TGI Fridays in Clifton Park for drinks, dinner, and great conversation.
Skidmore has been in the Workforce Challenge for 23 years. Those participating for 2012 were the following:
Men's Team A: Chris Repka (Health & Exercise Science), Dave Barr (Health & Exercise Science), Tom Marcellus (Skidmore Shop), Ron Seyb (Government). The team finished 11th out of 223.
Men's Team B: Kyle Nichols (Geoscience), Darren Drabek (Student Academic Services), John Brueggemann (Sociology), Gary Wilson (Theater). The team was 92nd out of 223.
Co-ed Team A: Denise McQuade (Biology), Alice Dean (Math & CS), Gove Effinger (Math & CS), Peter von Allmen (Economics). The team finished 78th out of 169.
Co-ed Team B: Ann Henderson (Registrar Emerita), Liz Katzman (Communications), Leo Porter (Math & CS), Mike Eckmann (Math & CS). The team was 110th out of 169.
Co-ed Team C: Laura Carolevschi (Economics), Beth Ruane (Library), Stan McGaughey (Special Programs). The team was 122nd out of 169.
Photo op! The 2012 Skidmore Bike to Work team.
On Friday, May 18, a total of 33 Skidmore people participated in the National Bike to Work Day, sponsored locally by Bikeatoga and coordinated on campus by Riley Neugebauer, sustainability coordinator.
The annual event fosters a friendly competition among participating employers to see which has the largest group of employees taking part. Unofficial results put Skidmore in first place (with 33 team members) to capture the coveted Biketoga trophy, although official results will not be released until next week.
Three Skidmore participants tied for longest ride: Deb Amico (Special Programs) rode from Ballston Spa; Paul Dwyer(Communications) traveled from Round Lake; and Paul Coleman (IT) also rode from Ballston Spa. And four members of the campus community — John Brueggemann, Tom Marcellus, Chris Repka, and Darren Drabek — earn kudos for participating in both events.
Based on the enthusiasm generated May 18, Neugebauer has proposed "Bike to Work" Fridays for all interested, starting Friday, May 25. She suggests meeting at 8:30 a.m. at Saratoga Coffee Traders, 447 Broadway, (on the west side) across from where Caroline meets Broadway.
Says Neugebauer, "Hopefully I'll see most of you there one time or another and we can enjoy each other's company by bike, or over some coffee or tea on the way to work in the morning. I'll plan to go next week and try to remember to send a reminder, unless someone else wants to take this on as a mini-project. Let your office-mates know! There is no pressure to participate and no long-term commitment. All are welcome to join the effort."