A musical weekend upcoming at Zankel
September 30, 2012
The Arthur Zankel Music Center at Skidmore will host three great events next week.
Kenny Endo
Thursday, Oct. 4, 8 p.m.-Uncommon Time: Taiko, Tabla, and Timbal — Kenny Endo Trio
One of the leading artists in contemporary percussion and rhythm, Kenny Endo is at the vanguard of the Taiko genre with his Japanese style drumming. A performer, composer, and teacher of Taiko with numerous awards and accolades, he has been a Taiko player for more than 35 years, blending Japanese Taiko with rhythms influenced from around the world into original melodies and improvisation. This is the first Filene Concert Series event of the fall season at Zankel.
Friday, Oct. 5, 8 p.m. - Yvonne Chavez Hansbrough, Baroque Flute Trio

Filene Concert Series artists Yvonne Chavez Hansbrough, baroque flute; André Laurent O'Neil, viola da gamba and baroque cello; and Andrew Appel, harpsichord, will present a program that includes Bach's Sonata in E Minor and Trio Sonata in G Major, and Blavet's Sonata in D Minor, Opus 2.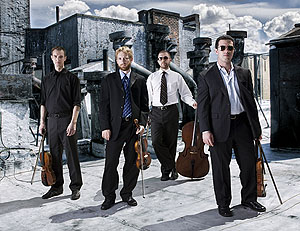 JACK Quartet
Saturday, Oct. 6, 8 p.m. - JACK Quartet
Four wicked players creating an explosion of sound: the JACK Quartet is the new definition of the modern-day string quartet. These electrifying young musicians are dedicated to commissioning and performing new works by the most groundbreaking composers, while delivering vibrant, energetic performances. The program includes pieces by James Tenney, Oscar Bianchi, and Clemens Gadenstätter.
Tickets to all three events are as follows: $8, general public; $5, seniors and Skidmore community (including retirees and alumni); and free for all students (including Skidmore) and children.
Posted On: 9/30/2012